Freightliner is a common name amongst truckers.
They are great-looking, reliable trucks with a reasonable price. Prices for new trucks can vary, depending on feature customs you add to your design.
We will take you through how much you can expect to spend on a new and used one.
We will give you tips on where to buy your truck, what the cheapest one is, and if they're worth it.
Here are the average new and used prices of the most Popular Freightliner Semi Truck models:
| | | |
| --- | --- | --- |
| MODEL | NEW | USED |
| Freightliner Cascadia | $160k | $89k |
| Freightliner Coronado | $120k | $70k |
| Freightliner Columbia | $140k | $115k |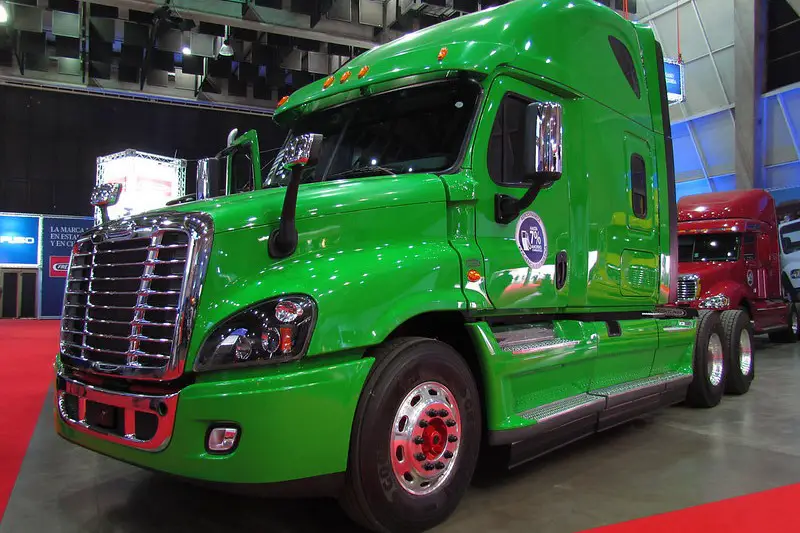 How much is a Freightliner Semi Truck?
The average price of a new Freightliner semi truck is between $140,000 and $160,000. The average price of a used Freightliner semi truck is around $90,000 – $115,000. The prices of Freightliner trucks will vary due to the features, model, age, mileage, condition, and popularity of the truck.
How much is a Brand New Freightliner semi truck?
Brand new trucks are not cheap. A new Freightliner cost starts from $160,000 and can go over $200,000.
You can custom-build your truck, which would put the price up even higher.
Some truck models like the 122SD, M2 106, 112, and 108SD come with different style backs. It can increase the price to almost double on some models.
The 122SD tanker can sell for $260k or more, depending on the length of tank you want.
How much is a Used Freightliner Semi Truck?
Used Freightliners can be found for as little as $10,000 with over a million miles on the clock.
A used truck in good condition that has room for more miles, can go for around $30k.
It is a good idea and our advice to have the vehicle checked before parting with any money.
How much is a Freightliner Cascadia Evolution?
The Cascadia Evolution is one of the most popular trucks Freightliner has.
A new one starts at $160,000 and can cost over $240,000. You can pick up a used one for $80k.
We found a used 2017 model with 730k miles on the clock for $93k and a 2016 model with 500k miles for $105k.
Prices will vary with the condition and age of the truck as well as where you buy it from and its mileage.
What is the Top of the line Freightliner Truck?
The new Cascadia has a modern design aerodynamic cab with dramatic contour lines flowing from front to back. The inside is designed for driving and relaxing in comfort.
It has an optional insulation package to reduce the sound inside the cab.
It has more controls mounted on the steering wheel. It has a microwave and refrigerator, with a variety of sleeping and storage arrangements.
A new upper bunk telescopic ladder, overhead aircraft-inspired LED ambient lighting with dimmer switch, giving the feel of natural light inside the cab.
It has a swivel tv bracket with tv, fold-down dining table, and chairs to make room for a fold-down Murphy bed, 12v power sockets.
It has the DD15 engine and DT12 automated manual transmission with intelligent powertrain management.
It also has the new Detroit drive axle with axle lubrication management and a 2.16 direct-drive axle ratio.
What is the Best Freightliner Truck to Buy?
The best Freightliner truck to buy will be the one that suits your needs.
The Cascadia, Columbia, and Coronado are ideal for highways. The M2 106 and 112 are great for agriculture, box, or towing.
The 122SD model is best for tankers, and the 108SD is best for off-road use like mining. The 114SD models are ideal for cement trucks. And the Econic SD is a good refuse truck. 
They are all great trucks. Choosing the best one for you is easy when you know the line of work you will be in.
What is the Cheapest Freightliner Semi Truck you can Buy?
The cheapest Freightliner truck would be the Cascadia at $10k with over a million miles on the clock.
The cheapest truck you can find to use in service is again a Cascadia 125 Evolution 2018 model with 477k miles at $86k.
A Cascadia 125 2017 model with 263k miles at $76k, a Cascadia 125 2016 model with 493k miles at $49k. A 2015 122SD model with 184k miles at $86k, and a 2004 M2 106 with 552k miles for $29k.
When starting in this business, you don't want to spend too much money. But you also don't want to go too cheap.
Remember, cheaper is not always better unless, of course, you have a mechanical background.
Have any used trucks check out by an independent company.
How much does Maintenance Cost on a Freightliner Semi Truck?
The average cost of maintenance to a Freightliner semi truck is around $16k a year, including tires.
The price can dramatically change if you neglect your vehicle. Be sure to do your daily checks and not ignore any warning lights that may come on.
In addition to your daily checks, our advice is to keep a record of your mileage and service your truck before it is required.
Keep your tires at the correct pressure to help reduce any unnecessary wear.
How much does Insurance Cost on a Freightliner Semi Truck?
When insurance comes around, it can hit a truck driver or company pretty hard. The best thing to do is make a plan and save for the occasion.
Insurance on a semi truck can cost between $600 to $1000 a month.
They look at what you will be hauling, how long you have had your CDL and the miles you cover.
Our advice is to shop around for cheaper quotes and ask your fellow truckers who they are using.
Changing insurance companies every year or two can also reduce your fees.
Are Freightliner Trucks Worth it?
Every trucker has their favorite make and model. This has sometimes been passed down to them subconsciously through family members that were truckers.
It is a preference. Let us put it this way. A Freightliner is not only a great-looking truck at a reasonable price, it is practical and reliable to a fault. Well built and comfortable.
These trucks are, in our opinion, worth every dime.
Are Freightliner Trucks Safe?
The Freightliner Cascadia is equipped with a Detroit Assurance 5.0 safety system. It enables full braking on any objects that have come to a standstill in front of the vehicle.
Active lane assist has two functions: the lane departure protection that brings the vehicle back to its lane if it strays, and the lane-keep assist.
A side guard assist is a sensor mounted on the side of the cab that detects anything in the driver's blind spot.
Are Freightliner Trucks Fuel Efficient?
The newer models are very fuel-efficient, with the Cascadia Evolution reaching 9.31 miles per gallon with a full load. The driving conditions and driver's skills play a significant role in fuel efficiency.
Changing gears at the correct time and having correctly inflated tires also add to the equation.
The new aerodynamics and lower cab, along with the DD15 engine, also aid in reducing fuel.
Do Freightliner Trucks Last Long?
A Freightliner truck will last as long as any other well-looked-after truck.
They can go for over a million miles and more in some cases; one we referred to early was at nearly 1.2 million miles.
Regular maintenance and general care of your truck will ensure its longevity.
Driving it carefully and not overloading it, making sure you refuel way before you need to also helps prolong its life.
Don't use cheap oil to lubricate your engine. Ask for the best. Use original parts and don't try to cut corners, and your truck will also reach over a million miles. 
How well do Freightliner Trucks Hold their Value?
Trucks depreciation starts from the moment it is put in service and spreads over 5 years.
There has been some debate about this time frame, and if you are unsure, you can seek legal advice or the IRS instructions.
A Freightliner truck Cascadia won the Heavy Duty Conventional Day Cab Award 2021 with a 35.86% 5 years retained value. The average model resale price was $159,515.
The M2 106 model won Heavy Duty Conventional Cab and Chassis Award 2021 with a 35.73% 5 years retained value. The average model resale price was $95,759.
The numbers above show an overall pretty impressive resale across their range.
Where in the U.S. Can you Buy Freightliner Semi Trucks?
Freightliner has over 700 dealerships and partner services across the United States, making it easier for their customers to reach out for all kinds of services and repairs.
Here is a list of some Major Dealerships:
Freightliner of Philadelphia – Levittown – +1 215 945 0350
Freightliner of Harrisburg – Pennsylvania – +1 717 564 6151
Baltimore Freightliner – Maryland – +1 410 685 4474
Truck Centers Inc – Freightliner dealer – Effingham – Illinois – +1 217 342 3300
Truck Centers Inc – Freightliner dealer – St Louis – Missouri – +1 314 381 3800
Freightliner of Bridgeport – New Jersey – +1 856 491 4128
Stoops Freightliner – Lima – Ohio – +1 419 228 4334
Kentucky Freightliner Trucks Inc – Lexington – +1 859 253 2620
Happy Trucking!