Each truck may have similar doors as they seem to work just the same. But there is more to a Kenworth truck door than meets the eye. 
Today, let us check if all Kenworth doors are the same and what to consider when swapping out doors.
Here's a Short Summary of Whether are all Kenworth Doors the Same:
Not all Kenworth doors are the same since they may vary in weight, dimensions, and features. Some Kenworth doors are interchangeable and are compatible with specific Kenworth models. Kenworth doors may also have other features like vent windows or daylight doors that allow more light into the cabin.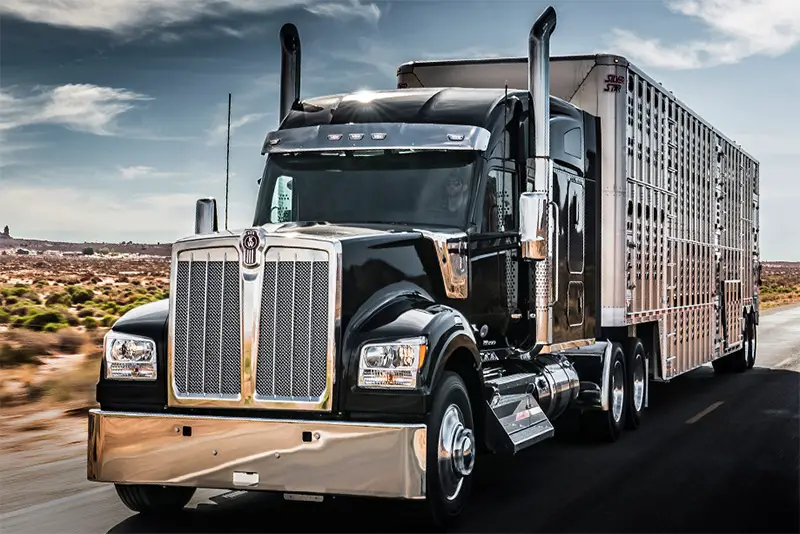 Are All Kenworth Doors Interchangeable?
Not all Kenworth doors are interchangeable. Interchangeable doors make it easier to find parts if you need them to be repaired. 
This way, it also costs cheaper than having it custom-made. There are several Kenworth Truck Models with interchangeable parts.
Which Kenworth Models Have Interchangeable Doors?
The Kenworth Truck models with interchangeable doors are models T680, T880, W990, and Kenworth 963. 
Even if they have interchangeable doors, they still possess the quality of a fixed-built door. 
To know if the Kenworth doors of your truck are interchangeable, you may ask your dealer or refer to the manual. 
What are Kenworth Daylight Doors?
Daylight doors provide extra lighting inside your truck cabin. Light coming from the daylight makes the inside of your truck like home.
In addition, as the light struck to the truck's interiors, it gives off a serene ambiance as you go along your journey on the road. 
Which Kenworth Models have them?
The Kenworth Truck models equipped with daylight doors are W900, T600, and T300. Several trusted online sites and physical stores sell this kind of part if you need one. 
It is excellent to have daylight doors as you can also see the inside of your truck from the outside.
What are Kenworth doors with Vent Windows?
Vent windows help provide good air circulation in the passenger or driver's seats. If the heat is too much inside the truck cabin, it may be the reason for mold buildup in the seats. 
In addition, the vent windows also help the driver to watch closely whenever he is taking turns or driving in reverse.
Which Kenworth models have them?
W900, T2000, and T660 are the Kenworth Truck models that have vent windows in their doors. 
If you are a driver who prefers fresh air along the road without fully opening your windows, this type of door is perfect for you. 
Besides, it can help you perfect your turns or parking skills in reverse. 
What to consider when swapping out Kenworth doors?
Sometimes, you must change your Kenworth doors due to several factors such as scratch, damage, or upgrades. 
In this case, you need to check out its dimensions, type hinge mechanism, interiors, and other features to ensure that everything will be a perfect fit. Let us see why it is vital to check those things. 
Door dimensions, shape, and weight
This is the first thing that you need to check. The dimension, shape, and weight will determine if it is a great match or fit in your Kenworth truck doors. 
It is not advisable to settle on something close in dimension, shape, or weight. 
If you settle for something that is not ideally fit, you will notice problems as you use it in the long run. 
For example, when it rains, water quickly gets in or is hard to close without using extreme force. 
Window type
It is also essential to know the window type of your Kenworth Truck door for ease. It can be manual operated or automatic operated. 
If you are a regular truck driver, window type plays a vital role in the comfort of juggling work inside the cabin together with all the controls. 
Automated window types are better compared to manually operated windows. Everything with a press away compared to manually rotating the window handle requires extra energy and pressure. 
Hinging mechanism
The hinge mechanism is just as important as the other things you need to look into a truck door. 
If you are a driver who loves opening winding widely open in a blink or just small openings, the hinging mechanism is behind that idea. So before you purchase, check out the hinges as well.
The hinge is a mechanical bearing connecting two solid objects, usually only allowing a limited rotation angle between them.
It determines how wide or narrow the opening of the truck door will be when you open it. 
Some prefer an average opening to ensure it will not hit or swing on its own when opened. 
Latch and striker post
If the hinges determine how wide the door will open, the latch and striker post is the one in charge of keeping it tightly close. 
In this sense, ask this matter too in your dealer to ensure that there will be no problems when you use it. 
It will not be seen immediately as the external appearance of the door might blind you. This is a matter inside the door.
A mechanical system controls the window glass and locks inside the door. The one responsible for the locks is the latch and striker post.
 If they are too loose, you will notice that you will need extra pressure or push with your door to close them. 
It is not that great to have your truck doors regularly slam your truck. Other mechanical parts inside the truck door might also be damaged due to extreme tremors or shock caused by the door slamming. 
Key and Locking Mechanism
If you value security and privacy inside your truck cabin, you must ensure that only you and authorized personnel are allowed inside the truck. 
A significant key and locking mechanism will keep unauthorized those who want to get inside the truck. Make sure your truck door has this in perfect condition to avoid problems in the future.
Trucks require significant investment, and some people would love to have them, even in the most illegal way. 
So if you leave your truck unattended or easily accessible through the key and locks, it can get carnapped. Yes, it can be, no matter how big and visible. 
Interior trim
Just like your home, you prefer some designs to make it homely. Same with trucks, you can choose the interior design that you want. 
It can be light or dark-colored, depending on your preference. In that sense, the truck doors must match too. That is to avoid that irking vibe of mismatch along the road. 
Side mirror
It would be best to consider this when swapping truck doors because not all truck doors available for the swap are the same as yours. 
Some have side mirrors included, while others do not. Also, you might want to check what kind of side mirrors are included.
Side mirrors can be customed, depending on your preference. If you are going to swap, make sure that you are clear with the side mirror talk. 
Also, do not be afraid to ask the other end of the swap deal if the side mirrors are still the original from the manufacturer or have changed already. 
There might be minimal adjustments with the hinges to ensure a perfect opening, but there will be none other than that. Check the sides to know if it needs changes or fixes.
Other Features
Aside from the things mentioned earlier to consider, there will be other things that you must check too. 
One, for example, is the door handles, the type of glass used in the window, the rubbers on the side of the windows, and even added custom items like the paint or any accessories.
Being specific with the feature details will let you know if the swap will be a successful deal. It will also allow you to determine if there are original items from the truck door that have already been damaged, replaced, or repaired. 
You may ask if it is still under warranty and if it is repaired or replaced. It will also let you know if things need to be done on your end to make the truck door perfect for use. 
Do Doors Require Adjustment During Swapping?
If the truck door for swap is of the same size, shape, or dimension as your truck door, there is no need to adjust anything. 
There might be minimal adjustments with the hinges to ensure a perfect opening, but there will be none other than that. Check the sides to know if it needs changes or fixes.
Also, if the truck door you have has dents or scratches, then you fix those dents that might affect the functionality of the door