Volvo Trucks are one of the world's largest manufacturers of heavy-duty trucks, and they live up to their reputation as they continue to offer quality, innovation, and customer satisfaction for years.
But how good does the Volvo truck engines are? In this article, we delve deeper into understanding just how good Volvo truck engines are.
Here's a short summary of whether the Volvo Truck Engines are Any Good:
Volvo truck engines are good, robust, reliable, and fuel-efficient. Volvo truck engines come in a wide range of engine sizes with power and torque suitable for most applications. Popular Volvo truck engines include the diesel engines D11, D13, Cummins X15, and the natural gas Cummins ISX12N engine.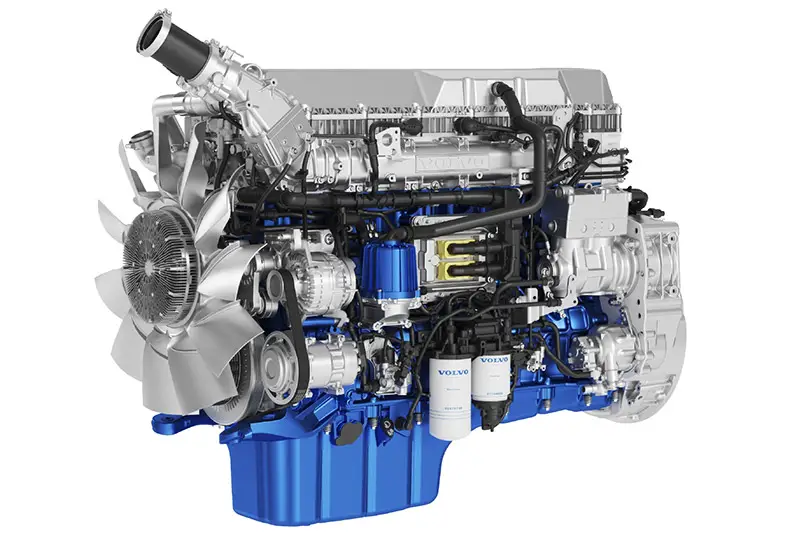 Are Volvo Truck Engines Reliable?
Volvo trucks maintained an excellent reputation in the trucking industry, recognizing them as one of the top truck brands globally.
Volvo truck engines are high quality overall. They are reliable, stable, and dependable, ideal for anyone who prefers style and comfort while driving.
You can easily recognize the performance of a Volvo truck engine with its ability to take steep turns with ease more than the average semi-trucks. Thus, you can trust it to go the extra mile and last a long time.
How Long do Volvo Truck Engines Last?
The Volvo truck engines are already famous for their durability and safety. Old Volvo trucks manufactured during the 1980s and 1990s can still be used today.
Volvo engines can last up to 20 years or 200,000 miles with proper care and regular maintenance.
It can last longer because of its superior material and the Volvo truck's great engine esign. Regular oil changes and machinery maintenance also play an essential part in the life of a Volvo truck engine.
What Engines are in Volvo Trucks?
Several powerful engines allowed Volvo trucks to show off outstanding performance.
The D11, D13, D12, and D16 engines are the most popular. There are also the D13TC, Cummins X15, Cummins ISL G, Cummins ISX12 G, Cummins ISX12N, and the I-shift transmission.
All these engines can provide excellent performance regarding power, torque, volume, emissions, and eco-friendly features.
Is the Volvo D12 a Good Engine?
As one of the most used and popular Volvo engines, it is already an indication that the D12 is a good engine.
For years, the Volvo D12 has shown promising results regarding its overall performance.
It features an appealing exhaust brake that can maintain the engine temperature at low idle and sufficient combustion chamber temperatures without setting it too fast at idle. It also has excellent fuel mileage.
Volvo D12 Engine Specs
The Volvo D12 is a heavy-duty diesel engine that delivers approximately 800 ft-lbs. of torque at 465 horsepower.
When it comes to its base configuration, it features a single overhead cam engine. It activates the electronic fuel injectors and four valves per cylinder with every camshaft rotation.
Its engine compressor can compress air at 18.7 cubic feet per minute. Its standard exhaust pressure governor or EPG can maintain the engine's temperature while running at idle speeds.
The D12 also has a fuel pre-heater to prevent fuel gelling. It also uses a VDS-2 oil in severe-duty or EO-N premium. Its recommended oil change service intervals are 12,000, 15,000, and 25,000 miles.
Volvo D12 Engine Problems
Even robust and high-performing models such as the Volvo D12 face several problems such as exhaust gas recirculation or EGR issues, faulty injectors, and the most common one is overheating.
Many drivers who use this engine brought up overheating issues even with only a few kilometers of running.
Fortunately, Volvo has already addressed this concern by offering a three-year or 350,000-mile warranty for D12 truck owners who experience this common problem.
This offer is also referred to as the Volvo Guaranteed Overhaul program.
Volvo D12 Engine Rebuild Cost
No matter how reliable the Volvo D12 engine is, there will come a time when some parts of it will get weak and die eventually. Rebuilding might be the only solution.
To rebuild a Volvo D12 engine, you may need up to $3,000 to $4,000 for an overhaul rebuild kit. The cost of labor is still excluded here.
The rebuild kit already includes piston crowns, piston skirts, ring sets, piston pins, retainers, liners with o-rings, main bearing STD, main thrust STD, rod bearing STD, camshaft bearings, upper gasket set, lower gasket set, and thermostat.
What do the Volvo D12 Engine Reviews Say?
Most reviews claim that the Volvo D12 is a reliable engine with several improved additions to increase your truck's overall performance.
It is a good investment and offers several programs if you encounter issues. Overheating is the most common you may face while using this engine. But apart from that, there are not many occurrences of other problems.
Is the Volvo D13 a Good Engine?
Many will agree that the Volvo D13 is the most efficient and versatile engine in its class.
The main objective of designing it is to meet and exceed its hauling capabilities and also take pride in its fuel efficiency.
It also carries a B50 rating, which means it can last about 1.2 million miles before undergoing a major repair or overhaul.
Volvo D13 Engine Specs
The Volvo D13 engine is an in-line 6-cylinder with a 12.8-liter diesel engine.
It uses a high-pressure unit injector system, a twin-entry turbo with a water-cooled exhaust manifold, and an overhead camshaft.
The overall specification of the D13 contributes to world-class fuel efficiency, low emissions, and outstanding operating economy.
Volvo D13 Engine Problems
There is no such thing as a perfect engine. Thus, even the Volvo D13 has its fair share of problems that may commonly or rarely occur.
The significant problems the D13 has, based on the majority of truck drivers and operators, are abrupt engine failure and coolant loss, which causes high engine temperature.
You can still also experience several issues after treatment with the Volvo D13, such as EGR issues and oil leaks.
Volvo D13 Engine Overhaul Cost
The day will come when a D13 engine must face a major repair or overhaul. It usually happens to every truck engine, not just Volvo engines.
If you want to relive the performance of your Volvo D13 engine, you may need to pay $10,000 to $40,000 for the complete overhaul. You should also allot $5,000 for the labor cost.
You can seek a regular mechanic service and buy the recommended alternative parts to save money.
D13 Volvo Engine vs. Cummins ISX
The Volvo D13 and the Cummins ISX have a powerful engine design that provides excellent driving performance.
The Volvo D13 comes in the following hp/torque models suitable for various applications: 375/1450, 405/1450, 425/1550, 435/1650, 455/1750, 500/1850.
Additionally, the Volvo D13 engine models include Eco-Torque and XE Torque specifications.
The Cummins ISX12N comes in 5 engine sizes (hp): 320, 330, 350, 385, and 400.
Here is a table to better compare the Volvo D13 and the Cummins ISX12N of similar-sized engines :
Specifications
Cummins ISX12N 400
Volvo D13 405
Type
4-cycle, spark-ignited, in-line
6-cylinder, turbocharged, CAC
4-cycle, in-line 6 cylinder
Governed Speed
2100 rpm
2100 rpm
Max. Horsepower
400 hp
405 hp
Peak Torque
1,450 lb-ft @ 1200 rpm
1,450 lb-ft @ 1000 rpm
Net Weight (dry)
2,650 lb
2,605 lb
Fuel Type
CNG / LNG / RNG
Ultra Low Sulfur Diesel, 15 ppm
The difference between the two is the range of engine sizes, with Volvo D13 having a much larger range than the Cummins ISX12N.
The Cummins ISX12N uses natural gas, whereas the Volvo D13 also uses diesel fuel.
Natural gas engines typically burn cleaner with lower environmental emissions. The semi-truck equipped with the Cummins ISX12N will most likely have a maintenance-free exhaust treatment system.
What do the Volvo D13 Engine Reviews Say?
The Volvo D13 offers ideal performance, power, and efficiency, making it the most versatile and outstanding among all the other engines in its class.
Regarding efficiency, the Volvo D13 has an increase in its fuel capacity. It also has a hybrid common-rail fuel-injection system for more refined control and accurate fuel injection.
The Volvo D13 also takes pride in its astounding power levels. It has 375 horsepower and 1,450 lb-ft of torque at 1,000 RPM. You can also pump it up to 500 horsepower and 1,850 lb-ft of torque at 1,100 RPM.
Volvo ensures the D13 has well-crafted specifications to provide you with the best driving experience.
Volvo truck owners typically praise the Volvo D13 engine for its robustness, reliability, and the awesome miles per gallon they get out of it.
Is the Volvo D11 a Good Engine?
Similar to the D12 and D13, this engine is also fuel-efficient and lightweight. Its design mainly aims to improve reliability and minimize the cost of operation.
The Volvo D11 features a range of 355 to 405 horsepower and 1,550 lbs to keep up with the competition of larger engines.
Is the Volvo D16 a Good Engine?
The Volvo D16 is also a reliable and good engine with five power ratings from 500 to 600 horsepower.
If your truck has the D16 engine, you can expect it to move large payloads with ease and can even overcome steep grades.
Unfortunately, Volvo discontinued manufacturing the D16 because of limited market demand for the engine displacement.
A long-term investment is also required to maintain the D16 in the operating requirements of the North American market.