Freightliner is one of the most popular brands of semi trucks in America.
They sell over 100,000 models and employ over 300,000 people in their company's centers. 
Having been in operation since the 1940s, Freightliner has a historical reputation for quality and affordability, while proving over the last 20 years to be innovative and adaptive. 
Here's the Answer to Is Freightliner a Good Truck
Freightliner is one of the best brands of semi trucks in America today. They produce affordable high quality trucks that are very reliable. Freightliner semi trucks are relatively fuel-efficient, easy to maintain, and can last for over 1000,000 miles. Freightliner trucks have a high resale value.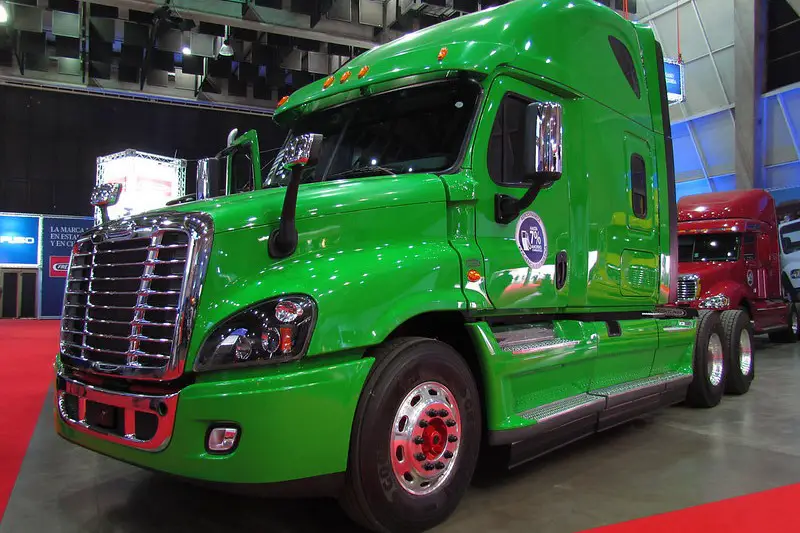 Are Freightliner Semi Trucks Reliable and Dependable?
Freightliner semi trucks are one of the dominating brands of semi trucks in America.
They are synonymous for both affordability and quality which makes them a favorite of both new truck drivers and seasoned drivers. 
They are good for both long-distance and local driving, depending upon the model you choose to get.
Freightliners use Detroit engines which are one of the most popular amongst truck drivers. They are heavy-duty engines and able to travel far without breaking down. 
Some models do need a bit more maintenance than the average Peterbilt truck, however, if well maintained they perform very well.
Another feature of the Freightliner which makes it a favorite is the power they supply the truck. 
Truck drivers can depend upon its ability to go long distances and haul heavy loads without encountering many issues.
With a reputation for quality, a history of well built trucks going back to the 1940's, and ith 40% of the truck market share in their possession, their reputation speaks for itself for sure. 
How long do Freightliner Semi Trucks last?
Freightliners are a high-quality brand, even though they are also seen as affordable. On average these trucks last about 15 years, and anywhere between 500,000-1 million miles in their life span.
Freightliner has also recently launched its all-electric commercial truck back in 2018. Although still under testing, these trucks have been reported to reach the 500,000-mile mark (collectively) with ease, and are quickly becoming very popular. 
This is a great accomplishment from the company and has demonstrated its dedication to adapting to the shifting market.
The quality of such trucks is a statement of the company's high-quality creations, while also ensuring the prices of their vehicles remain below average. 
How much Horsepower does a Freightliner Semi Truck have?
The amount of horsepower in a freightliner semi truck depends upon the model and the size truck you purchase.
Freightliner has a large variety of trucks, each with different uses and specifications, but they are all famous for their strength. 
The class 8 semi truck known as the Cascadia has a very powerful engine, capable of traveling long distances with ease. They get around 350-605 horsepower at their highest level. 
There is also the Cascadia Evolution which is also a class 8. These trucks get just a little less than the Cascadia Evolution, and reach around 505 horsepower at maximum. 
There are also some smaller class 7 models, but Freightliner is known for its powerful trucks even in the smaller trucks.
They are one of the best brands of semi trucks for hauling large loads reliably and efficiently. 
How much Torque does a Freightliner Semi Truck have?
Freightliner is capable of pulling a lot of weight, and are notably strong, study, and powerful semi trucks. Although, as usual, the amount of torque varies based on the model you have. 
The New Cascadia is a powerful class 8 semi truck with a number of improved features, but one of its key features is its strength.
The New Cascadia can get up to 2050 pounds-feet of torque. 
The other models of Cascadia include the Evolution and the traditional Cascadia get slightly less torque, but still an impressive amount.
The Evolution gets around 1750 pounds-feet, and the traditional Cascadia gets about 1850 pounds-feet. 
The smaller class 7 and 6 trucks can get anywhere between 520-1850 pounds-feet of torque. 
What Engines do Freightliner Semi Trucks use?
Freightliner semi trucks utilize the famous Detroit engine.
The versions of these engines depend upon which you select, and certain models can be outfitted with Cummins engines as well (however, these don't tend to have the good reputation as the Detroit engines). 
The traditional Cascadia is the most popular model of the class 8, and is usually outfitted with the D13.
It can also be outfitted with the D12 or the Cummins engines, but the D13 is the best. You can read more on this here on page 4.
The Evolution model from the Cascadia line is outfitted normally with the Detroit D12 engine. You can find details on this here on page 6.
These are just two of the more popular models, but typically, Freightliner's are outfitted with some version or another of the Detroit engine. 
How long do Freightliner Semi Truck Engines last?
Freighliner has implemented the Detroit engine in their trucks to guarantee reliability, strength, and longevity.
The maintenance of these engines is vital to ensure they continue to function well and efficiently. 
On average the Detroit engines have a rating of B50 of 1.2 million miles. This means that somewhere around half of all the Freightliner trucks get over 1 million miles.
This puts this truck right below the Volvo, which is saying something because Volvo semi trucks are known for their high quality creations. 
Although the Detroit engine has been improved to minimize the time spent on maintenance, it is still vital to ensure your semi truck engine lasts for many miles. 
Are Freightliner Semi Trucks Fuel-efficient?
Freightliner semi trucks have been continually improved over the years to meet the ever-changing EPA regulations.
This capacity to adapt to shifts in the environment is one of the defining features of this company's financial success. 
The Detroit engine is relatively fuel-efficient. They are incredibly powerful and strong engines, which makes them somewhat heavy which can create some extra lag on the efficiency of the engine.
However, the company has been innovative in adjusting the construction of these engines and their trucks to fix this issue. 
Feightliner has also created an electric model. These models are known as the eCascadia and the eM2s trucks.
These models are not quite as big as the class 8 Cascadias, but they have been integral in moving this company into a more fuel-efficient future. 
All in all, Freightliner is considered a fuel-efficient brand, the average semi truck getting 7-9 miles per gallon.
These features have only been improving, as the company creates lighter engines and more aerodynamic truck designs. 
Are Freightliner Semi Trucks Comfortable?
Freightliner class 8 Cascadia trucks were constructed with long distances in mind.
The Cascadia has been outfitted with very comfortable cabins, which include sleeping quarters, and eating space. 
The truck has also been aerodynamically designed, which not only ensures efficiency, but also comfort.
The more aerodynamic a model is, the better suited it is for the driver's comfort while on the road or when sleeping. 
This minimizes friction (shaking, rattling, etc…) and noise, which helps ensure the driver can sleep peacefully.
You can find some photos and details of these cabins on the Freightliner blog.
Are Freightliner Semi Trucks Safe?
Freightliner has worked to ensure their semi trucks meet the needs and safety requirements of their drivers.
The Cascadia class 8 trucks have been equipped with a variety of features to help protect their drivers over long distances. 
These features include lane control features, which help to ensure the driver remains in their lanes without drifting.
The brakes and engine have been designed to mitigate collision and minimize damages if impact is experienced. 
Other safety features include the Virtual Technician feature, which notifies the driver of issues with the truck while they're on the road.
If it is a minor issue, it will notify them, or if the issue is dangerous and must be dealt with before you continue driving. 
Freightliner has an informative article on their blog about the truck's improved safety features.
Freightliner Semi Truck Maintenance Schedule
Routine maintenance is very important to keep your truck going smoothly.
The schedule for changing the oil and filters varies depending on your model and the type of driving you are doing.
There is schedule 1, which is local driving and includes less than 60,000 miles a year, and schedule 2 which is over 60,000 miles per year. 
The schedule you should follow can be found in the manual of these models, which state that the oil should be changed after the first 10,000 miles if you are driving local and under 60,000 miles per year. 
If you are traveling long distances, and reaching over 60,000 miles per year, you should change your oil every 25-40,000 miles. 
 You can find more information regarding your trucks oil change in the manual found here. You can find the schedule listed on page 12 of the manual. 
What kind of Oil does a Freightliner use?
The type of oil your engine requires does depend upon the size and model of the engine for your Freightliner.
However, the overall consensus is that the Freightliner Detroit engines work best with low viscosity oil. 
The best type of oil to use for your Cascadia Freightliner truck is 10W-30. Be sure to always check your truck's individual model's oil specification, however, before getting the oil changed. 
Are Freightliner Semi Trucks Expensive to fix?
Freightliner semi trucks are popular in part for their quality and partially for their economy.
Freightliners are designed to minimize the amount of maintenance they need and to ensure the maximum amount of time on the road. 
Even with the best maintenance care, however, every truck needs repairs every so often. The price of the repairs you want to get done on your truck depends upon the damage.
However, Freightliner tries to minimize the costs by having a large number of maintenance centers throughout the country. 
On average, however, if you were looking for major repairs, such as an engine replacement, this can cost you up to $40,000.00.
At this point, evaluate whether the cost of repairs is worth it, or if it is time for a new truck. 
How long is a Freightliner Semi Truck Warranty and what does it cover?
Freightliner has relatively minimal warranty coverage. Most warranties depend upon where you purchase your truck.
You are urged to contact these dealers individually to find out more about the warranty options. Here is a dealer search that you could use.
Freightliner semi trucks limited warranty cover most trucks for up to a year, and include some repairs of defective materials, maintenance, and recall issues.
Recall issues can usually be addressed even after this period. 
Freightliner also has extended warranties which extend the warranties for up to 6 years.
Additionally, you can purchase maintenance coverage to help to handle the costs of repairs and routine care. You can find more about these options here.
Do Freightliner Semi Trucks Hold their Value?
Freightliner semi trucks have an excellent reputation for being affordable and high quality.
While maybe not as efficient or long-lasting as some more expensive models, such as Peterbilt or Volvo, these trucks will most likely meet your needs. 
With continuous improvements and innovations, the Freightliner trucks have been improving.
They've shown their capacity to adapt, as well, with their new electric model and their continuous fuel efficiency improvements.
What are the Best Freightliner Semi Truck models?
The Cascadia line is definitely the most popular and most loved of the Freightliner semi trucks.
These class 8 trucks include the New Cascadia, Cascadia Evolution, and the traditional Cascadia.
These models have been adapted to be fuel efficient and powerful. They are capable of traveling far, while also navigating towns and cities safely.
They are certainly the models which show the capabilities of this brand the best.