Freightliner is famous for its good quality and high-performing trucks. One of their most popular and reliable truck models is the M2.
The Freightliner M2 is a medium-heavy-duty truck good for regional or shorter routes. It may be lighter than other commonly used truck models, but it delivers just the right performance.
If you are interested in owning a Freightliner M2, here are the things you should know before you buy.
Here's a Quick Answer to Whether are Freightliner M2 is a Good Truck:
The Freightliner M2 is a great truck with a powerful Cummins or Detroit diesel engine. It is versatile, durable, reliable, and typically lasts over 600,000 miles. The M2 is a Class 6 – 8 truck, but can handle day-to-day usage. It also has an ergonomic design for the comfort and safety of drivers.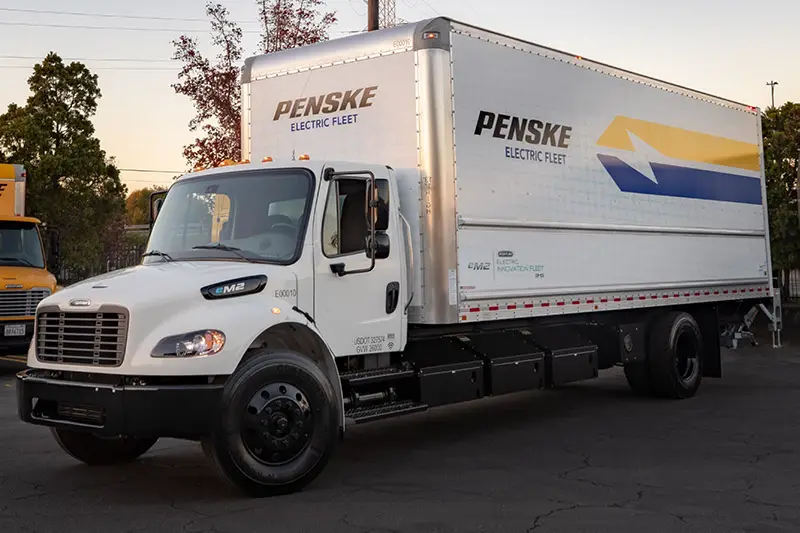 What Models Does a Freightliner M2 come in?
Freightliner M2 comes in three models: M2 112, M2 106, and the eM2.
The Freightliner M2 112 is a class 7 or 8 truck with 260-505 HP and 720 to 1850 lb-ft torque. This model can be used for various on-highway and vocational applications, such as bulk haul, regional distribution, fire, rescue, etc.
The Freightliner M2 106 is a class 6 or 8 truck with 200-350 HP, 560 to 1150 lb-ft torque, and weighs 66,000 lbs. It is ideal for medium-duty applications such as box trucks, dump trucks, moving trucks, service trucks, tankers, tow trucks, and utility trucks.
The Freightliner eM2 is a different one from the previous M2 models. It is the first Freightliner electric truck and the latest lineup produced by this famous truck brand.
What are the Applications of a Freightliner M2?
The Freightliner M2 is ideal for medium-duty, on-highway, and vocational applications.
If buying a truck is for medium-duty applications, such as for pick-up and delivery and other services and utilities, the M2 106 is the best option.
For on-highway usages, such as bulk hauls, CNG, fire and rescue, flatbed, regional distribution, and TL/LTL, the M2 112 should be the one you choose.
How Much Does a Freightliner M2 Cost?
The average price of a Freightliner M2 ranges from $70,000 to $100,000 for used units while $125,000 to $150,000 for brand new trucks. The cost may vary depending on the truck model. 
Freightliner M2 106 Price
A brand new 2020 Freightliner M2 106 cost around $115,000. It might be slightly higher depending on the manufacturing year, equipped engine, horsepower, and other specifications.
Freightliner M2 112 Price
A brand new Freightliner M2 112 may cost up to $100,000. As usual, the price depends on the year model.
If you have been eyeing this truck for quite some time now, and you still cannot find the means to afford it, you can check some good-quality used models which only cost from $50,000 to $90,000.
How Long does Freightliner M2 Last?
Freightliner medium-duty trucks are quite durable and can last a long time if well maintained.
On average, a Freightliner M2 truck will last for approximately 600,000 – 700,000 miles.
Comparing its two models, the M2 106 and M2 112, the M2 112 is a beast on the road, but the M2 106 may have a longer lifespan due to its better build quality in handling which can be attributed to its sway bar design.
What Engine is in Freightliner M2 and How Long does it Last?
The engine is the main reason the Freightliner M2 can perform several applications and run specific mileages despite its classification.
The engines used in Freightliner M2 trucks typically last just over 400,000 miles before they require any major overhaul.
The engine used in the Freightliner models varies, which explains the uniqueness of these two models.
Freightliner M2 106 Engine
Several engines can equip a Freightliner M2 106 truck.
The engines used are Cummins B6.7, Cummins L9, Detroit DD5, and Detroit DD8.
The Cummins B6.7 has 200-325 HP / 520-750 lb-ft torque, the Cummins L9 has 260-350 HP / 720-1150 lb-ft torque,
the Detroit DD5 has 200-240 HP / 560-660 lb-ft torque, and the Detroit DD8 has 260-350 HP / 660-1050 lb-ft torque.
The M2 106 also has several available transmissions, such as the Eaton Fuller manual, Eaton Fuller automated, Eaton Procision 7-speed dual-clutch, and Allison automatic.
The same goes for its axles, as it has up to four available you can equip with the M2 106. It includes the Steer— 20k, AWD Steer — 18k, Single Drive —30K, and Tandem — 46k.
Freightliner M2 112 Engine
Several engines are also used for Freightliner M2 112 to maximize fuel efficiency and power.
The engines used are Detroit DD13 with 350-470 HP / 1250-1650 lb-ft torque, Cummins L9 with 260-380 HP / 720-1250 lb-ft torque, and Cummins Westport ISL G Natural Gas with 300 HP/860 lb-ft or 320 HP/1000 lb-ft.
Regarding the available transmissions, you can equip the M2 112 with the Eaton Fuller 9-, 10-, 11-, 13-, and 18-speed, Eaton UltraShift PLUS 10- and 13-speed, or Allison 3000, 4000, and 4500 HS and RDS.
While the available axles can reach up to 22K in the front, 58K in the rear, and Configurations 4×2, 6×2, 6×4, and 8×4.
Are Freightliner M2 Trucks Cheap to Maintain?
The maintenance cost for Freightliner M2 trucks will depend on their issues or faults. Thus, we cannot determine if it is cheap or expensive.
Some maintenance or repair may not require you for parts replacement. Therefore, it will be cheaper.
Fortunately, there is a preventive maintenance plan for Freightliner trucks. As its name implies, it helps you avoid serious problems you may encounter in your truck, helping you save more for future repairs.
With the Freightliner preventive maintenance plan, your truck can undergo regular diagnosis, inspections, and selected maintenance to maintain its condition.
It can also detect potential issues and keep them from further damage.
How Much Does an M2 Freightliner Weigh?
The average weight of a Freightliner M2 truck ranges from 60,000 to 80,000 pounds.
For the M2 106 to support its body and equipment, it has a gross vehicle weight rating (GVWR) of 66,000 pounds.
The M2 112 has a heavier GVWR than the M2 106, which is 80,000 pounds. 
How Much Weight Can a Freightliner M2 Carry?
The Freightliner M2 has a Gross Vehicle Weight Rating (GVWR) of up to 66,000 lbs.
The unlaiden weight on an M2 is typically between 10,000 – 13,000 lbs depending on its configuration which means that it can carry a payload of approximately 50,000 lbs.
As a medium-to-heavy duty truck, you can use for several applications, such as bulk hauls, regional distribution, and other utility services, the weight capacity it can carry is enough to make its job done.
Is a Freightliner M2 A CDL Truck?
CDL means Commercial Driver's License. A driver needs to have this type of license if they will be driving a truck. However, there are certain implementations about this matter.
If a truck's GVWR is 26,000 pounds, it is considered a CDL truck.
Freightliner M2 truck has a GVWR of 66,000 pounds. Thus, it is a CDL truck, and anyone who intends to drive it should also have a CDL.
What Class is a Freightliner M2?
A Freightliner M2 belongs to the Class 6 to 8 category.
Freightliner also has Business Class M2 model range. They only produce it in North Carolina and Mexico.
How Does Freightliner M2 Compare to Other Medium-Duty Trucks?
Regarding medium-duty trucks, the Freightliner M2 takes the lead among other truck brands from the same class.
It reaches an average of 40% sales among class 6 trucks, almost 50% in class 7 trucks, and 40% in class 8 trucks.
Probably the reason Freightliner M2 tops its competitors is its four engine options, which allow you to have a broader range of specs and features.
These engines include the Detroit DD5, Detroit DD8, Cummins B6.7, and Cummins L9.
Another thing that the Freightliner M2 provides, which makes it a better option than its competitors, is its customers' active safety systems from Wabco OnGuardACTIVE to mitigate collision and cruise control.
Another system in Freightliner M2 Bendix AutoVue is responsible for the departure warning systems.
What is the Warranty on a Freightliner M2?
Regardless of the model, Freightliner trucks offer a new vehicle warranty classification.
The basic vehicle warranty offers a standard and limited warranty of one year. It covers all the components of the basic vehicle.
The driveline component warranty offers two years of the standard warranty, which includes clutch, differentials, and steering axle. It also has a limited warranty for one year.
The cab corrosion, structure, and sheet metal warranty classification have two years of unlimited warranty.
It includes cab structural components, sheet metal panels, doors, and a sheet-molded compound hood.
It also has a one-year limited warranty.
Lastly, the frame rails and cross members warranty classification offers two years of the standard warranty, which includes frame rails and attaching cross members. It also has a limited warranty for one year.