Different models of Peterbilt trucks have different speeds, from the fastest to the slowest, with their horsepower and calculated engine, respectively. 
If you want to know more about the speed of various Peterbilt models, read on.
Here's How Fast a Peterbilt can Go:
The top speed of a Peterbilt typically ranges between 60 to 78 mph and depends on the model of the truck. A 1986 Peterbilt 357 top speed is 60 mph whilst a 2012 Peterbilt 579 top speed is 78 mph. The fastest showcase Peterbilt is the Shockwave Jet Truck, which has a top speed of 376 mph.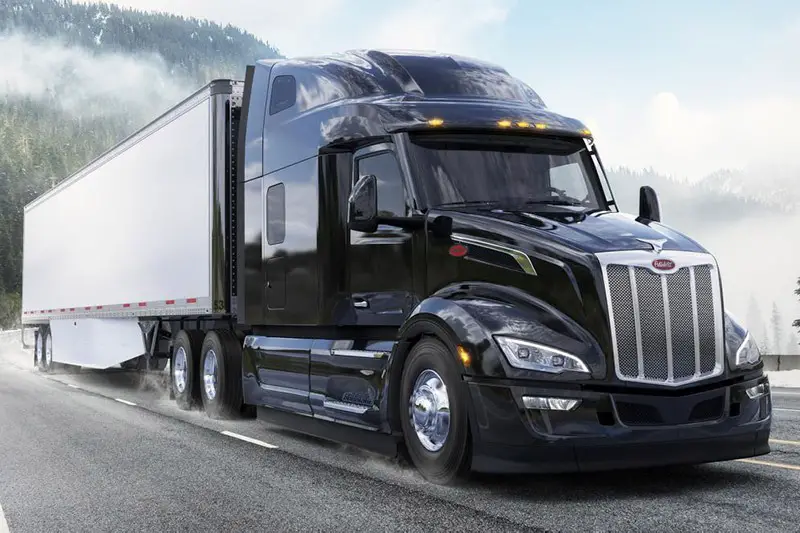 Most Popular Petebilt Models and their Top Speed:
| | | |
| --- | --- | --- |
| Model | Year | Top Speed |
| Shockwave | 1985 | 376 mph |
| Peterbilt 389  | 2006 | 60 mph |
| Peterbilt 579 | 2012 | 78 mph |
| Peterbilt 379 | 2004 | 65 mph |
| Peterbilt 359  | 1987 | 74 mph |
| Peterbilt 220  | 2011 | 73 mph |
| Peterbilt 320 | 2012 | 68 mph |
| Peterbilt 357  | 1986 | 60 mph |
| Peterbilt 365 | 2007 | 76 mph |
What is the Fastest Peterbilt?
Shockwave is the fastest Peterbilt. At 376 miles per hour, Shockwave, a Peterbilt semi-truck, holds the world record for jet-powered full-sized vehicles. 
The truck is powered by three Westinghouse J34-48 jet engines with a combined output of 36,000 horsepower, allowing it to complete the quarter-mile in 6.63 seconds.
The truck is fired up and runs in controlled conditions because it may smoke cars and other vehicles in its path. 
The vehicle is so rapid that parachutes are needed to slow it down before the brakes are engaged effectively. 
That acceleration was last seen on the Bonneville Salt Flats, where supersonic automobiles set records.
Shockwave is now being driven by Chris Darnell, who regularly wins rolling drag races against planes traveling 300 miles per hour (480 kilometers per hour) at airshows. 
It uses 400 liters of fuel per mile and significantly more when the afterburners are turned on. Two aircraft parachutes are required to slow the truck down at the end of a race.
What is the Slowest Peterbilt?
Peterbilt 389 is the slowest Peterbilt truck, with only 60 mph as its top speed. The Cummins ISX 565 in this Peterbilt 389 is aptly joined with the Eaton Fuller 18-speed. 
With those split gears at the bottom, available exclusively in the 18-speed configuration, a massive truck in heavy-duty applications may save tires and other components from the torque of slow-speed curves.
When hauling high weight and only need to use half ratios when accelerating or downshifting, using a full gear (400 rpm) puts more pressure on the engine and transmission, resulting in slower acceleration.
How Fast can a Peterbilt go with Empty Load Uphill?
A Peterbilt semi-truck with an empty load moving uphill will reach a top speed of roughly 50 miles per hour, depending on how much momentum it has before starting up the slope. 
The gradient determines the rate of an empty semi-truck traveling uphill.
Semi-trucks will be substantially slower, climbing uphill in most circumstances. Even without heavy luggage, driving up the hill gets more difficult due to gravity dragging it back even more.
How Fast can a Peterbilt go with Full Load Uphill?
A Peterbilt can go 45 mph with a full load uphill as the speed limit on most hills is posted at that specific speed. 
Some automated transmissions will automatically upshift when the engine speed hits a particular point. To avoid an upshift, drivers may need to put the transmission in "manual" or "hold" mode while the engine runs at 1,800-2,000 rpm.
The weight and speed of the truck, together with the steepness of the gradient, may eventually lead the transmission to upshift to protect the engine from Overspeed if they are traveling too fast, to begin with. 
The issue is not a short engine brake; instead, the truck travels too rapidly for the engine brake to keep up.
How Fast can these Popular Peterbilt Models go?
If you wish to know which Peterbilt model suits your work or business needs, here's a guide to help you in your decision-making.
Peterbilt 579 Top Speed
The Peterbilt 579, built-in 2012, has a top speed of 78 mph as it has a horsepower of 485 at RPM 1,600 and a torque of 1,650 at RPM of 1,100.
Peterbilt 379 Top Speed
The Peterbilt 379 which was built in 2004, has a top speed of 65 mph as it has a horsepower rated 550 at a calculated engine speed of 1,350 RPM.
Peterbilt 389 Top Speed
The Peterbilt 389 top speed built in the year 2006 of top speed is 60 mph as it has a horsepower rated 550 at a calculated engine speed of 1,350 RPM.
Peterbilt 359 top speed
The Peterbilt 389, built-in 1987, has a top speed of 85 mph and a horsepower rated 400.
Peterbilt 281 Top Speed
The Peterbilt 281 was built in 1976 top speed is 74 mph on the highway due to its engine, Cummins NTC, which has a 350 hp and a Spicer 5-Speed with a 3-speed auxiliary.
Can Peterbilts be Tuned to Go Faster?
Yes, Peterbilts models can be tuned to go faster. When the proper tuning can be done correctly, any Peterbilt model can change its speed to go faster than its default speed. 
Giving your regular truck tune-ups would boost your Peterbilt's horsepower.
Your engine's systems will lose efficiency with time, so frequent schedule tune-ups to keep your engine running smoothly. 
Cleaning clogged or unclean systems is a specific technique to regain the horsepower you've lost over time. Replacing filthy filters is a simple and inexpensive way to tune up your truck.
Oil changes and routine maintenance operations are critical for a long-lasting, efficient engine. Clean, high-quality oil and effective oil filters reduce friction between your engine's moving parts, extending their life. 
If you have a modern truck, you can improve engine responsiveness and power by switching to a high-quality synthetic oil.
Slower trucks should be checked every several thousand miles to see whether they need a tune-up, with an oil change required every 3,000 to 5,000 miles. 
This advice not only improves efficiency but also helps you avoid costly repairs over the life of your Peterbilt truck.
What Tuning is Done on a Peterbilt to make it Go Faster?
The tuning can be done on a Peterbilt to make it go faster is to have the Fast Idle Control feature on the truck. The Fast Idle Control (FIC) feature allows you to change the engine's idle speed within set parameters. 
The FIC enables the driver to adjust to shifting engine speeds.
For example, on a cold day, the driver can increase engine speed to speed up engine warm-up. 
Raising the idle when parked can improve HVAC performance and may be helpful for other service tasks such as charging the batteries or air system.
For the vast majority of applications, the default FIC settings are sufficient. Most of the default settings aren't required. 
Before altering the default, it is strongly advised that the owner be consulted to determine the Peterbilt unique application.
Are Peterbilts Used in Semi-truck Racing?
Yes, the Peterbilts model can be in semi-truck racing. The trucks in this racing series are big, powerful, and fast, with more than 1,000 horsepower and 6,000 pound-feet of torque. 
Anyone who has driven significant highways knows how intimidating a Peterbilt semi-truck can be.
What's the Most Popular Peterbilt Model Used in Racing?
The Peterbilt 359 is the most popular Peterbilt model used in racing. Because of its pricey options list and intelligent use of materials, a Peterbilt 359 became a drag racing platform legend. 
The aluminum frame of the 359 was available, as well as an aluminum cab and sleeping section, which helped keep the weight down.
The 359 also had a wide engine bay, allowing owners to choose any engine and transmission combination. 
The Caterpillar 3408 engine was one of the most popular configurations. This enormous V8 has a displacement of 18.0 liters and can produce around 450 horsepower depending on the model.
The massive Caterpillar 3408 engine uses 46.2 liters of oil and 54.9 liters of coolant.
And, if you want to drag race the sucker, it has a tremendous capacity for upgrading its power output.
How Fast do Peterbilt Race Trucks Go?
Peterbilt race trucks can go around 100 miles or 161 kilometers per hour. 
Due to the vast forces caused by hurling that much metal around the track at high speeds, the trucks are limited to a minimum weight of 12,000 pounds and a maximum speed of 100 miles per hour on the trail.