Perhaps you've been browsing on the internet to find the best semi truck brand. Then you find International semi trucks on your Google search results. 
And then you ask yourself, is International a good semi truck? Is it worth the hype and the investment?
Read on to find out the truth.
Here's a quick answer to whether International is a Good Semi Truck:
International has good semi trucks and is known to be reliable and dependable. International has been manufacturing semi trucks since 1902. Their A26 engine is one of the most fuel-efficient engines. International semi trucks have high resale value and can easily last well over 500,000 miles.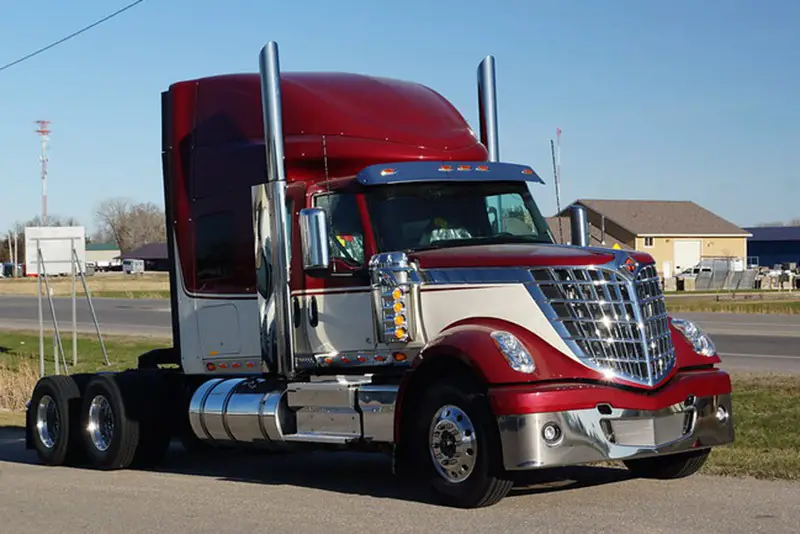 Are International Semi Trucks Reliable and Dependable?
International has been in the trucking industry since 1902.
The number of years they have been producing medium and heavy trucks only suggests that the brand is reliable and dependable. 
The brand is committed to having long-lasting relationships with its customers based on trust and reliability.
No wonder why International is one of the most favored trucking companies across America and other countries. 
More than that, International is known for its power and efficiency.
They are much reliable in moving freight, and particularly powerful for special deliveries like horses, cattle, and other large items.
How Long do International Semi Trucks Last?
If there's one thing certain in this world, it is the fact nothing lasts forever. The same goes with semi trucks. 
Each truck can run up to 45,000 miles a year. That said, in general, a semi truck can last up to 15 years.
However, according to International, their trucks can last up to 20 years. But of course, with proper maintenance, you can prolong its life even more.
How much Horsepower does an International Semi Truck have?
When buying a semi truck, car enthusiasts always take into account the horsepower of a vehicle. This is because more horsepower means a faster and stronger engine. 
The horsepower of International semi trucks ranges between 200 to 600 hp.
The brand's 2010-2015 models provide less than 300 horsepower while the latest models mostly deliver higher horsepower.
If you want to maximize the performance of your truck, go for the latest semi truck models of the brand.
It has better acceleration which is an important factor in your semi truck's overall performance. 
How much Torque does an International Semi Truck have?
Engines in International semi trucks generate between 100 to 600 lb-ft of torque. The good thing about the brand is that they deliver higher torque. 
For instance, as early as 2010 when International's DT466 was manufactured, it offers 540 lb-ft of torque. 
Did you know why torque or horsepower should be measured? This is to inform the shoppers what to expect from their car in terms of performance.
Like horsepower, the more torque an engine has, the better performance it will provide.
Higher torque is ideal when the semi truck is meant for climbing steep grades, towing, and hauling. 
What Engines do International Semi Trucks use?
The engine is the heart of a vehicle. This is where all the power of a vehicle is stored. Without it, an automobile would render useless. 
Interestingly, International employs various engines to offer optimum performance and fuel efficiency to their semi truck models. 
International uses N13, A26, Cummins, and Maxxforce engines. These engines are available in International's LT, RH, Lonestar, HV, HX, and MV series. 
Are International N13 Engines Good?
You have probably heard N13's incomparable performance. Well, the tale is true.
This engine is specifically made by Navistar International for International trucks.
N13 is a Maxxforce engine but unlike other Maxxforce series, it offers more features and is technologically advanced.
Besides the low noise and small size which is known for, it is 4x better than the EGR engines.
Is the International A26 Engine any Good?
International's A26 engine is the brand's best-seller engine. It was manufactured in 2017 to match the industry's standard of smaller engines. 
The engine is nicely sized but regardless of size, it's a big performer in terms of convenience and reliability.
Truckload enthusiasts love it because it is fuel-efficient and easy to maintain. Overall, it's a strong puller, quiet, and smooth.
How Long do International Semi Truck Engines Last?
Many years ago, engines can last up to 8 years only. However, later on, with the advancement of technology, the industry produces more durable and powerful engines. 
Typically, International semi truck engines last up to 10-15 years. With proper maintenance, your semi truck can serve you up to 500,000 miles and more.
To keep the engine in good condition, observe timely maintenance.
This means that every few months, have it checked by a mechanic. It may need oil changes or parts replacement.
Are International Semi Trucks Fuel-efficient?
One of the most common problems of semi-truck is their fuel efficiency. Due to its big size, it can only run up 2,500 miles with a full tank.
This problem, however, was solved by International.
International has started manufacturing fuel-efficient engines in 2017 with A26. This engine was said to be born with a futuristic way of thinking. 
In 2018, International ran a test with other competitors to see which truck has the best engine. The test was participated by Freightliner, Volvo, and Kenworth. 
Interestingly, International ranks first with their LT 625 Class 8 tractor which is equipped with an A26 engine.
If we are to rank International's most fuel-efficient engines, the ranking would be:
1st place – A26
2nd place – N13
3rd place – Cummins 
Are International Semi Trucks Comfortable?
All semi-trucks should have some sort of level for comfort.
However, with the driver and cargo in mind, International made sure that their trucks are good for all types of jobs – may it be for hauling, towing, construction, deliveries, and the like.
The newer models of International trucks are more spacious. It also has increased cabin size and the seats offer lumbar support.
Are International Semi Trucks Safe?
Safety is the most important factor that is usually forgotten when buying a new semi truck. Fortunately, International trucks are built with safety in mind. 
From the engine, noise level, to driver's seat, everything was taken into consideration when building International trucks.
International has focused to improve the driver's driving experience.
Most truck drivers have long journeys and sleep is very important. After all, the safety of one mostly depends on the driver.
The truck is spacious, the driver's seat is wide, the cab was insulated to reduce noise. In this way, accidents may be reduced because of a better driving experience.
International Semi Truck Maintenance Schedule
The key to a long-lasting semi truck is maintenance by a professional mechanic.
Routine service is recommended every 6 months. However, if the truck is often used, it should be checked every 15,000 miles. 
But if you think that the truck has no damage or is perfectly fine, you can have it checked on your own. This will save you a bit of money.
Basic service includes a change of oil, change of filters, and inspections.
What Kind of Oil do International Semi Trucks Use?
International use 5W-40 for both diesel and gasoline-powered engines. It provides better support to higher mileage engines of a semi truck. 
This kind of oil is perfect for trucks that need to travel frequently. This will deliver long-lasting lubrication especially to moving parts which are usually worn due to age.
Are International Semi Trucks Expensive to Fix?
Repairs and maintenance may not initially impact you. But these two are inevitable costs you have to face when owning a semi truck. 
Is international truck expensive to fix, you ask? It definitely is!
It depends on what equipment is broken, but engine overhauls can cost you over $20,000 and transmission replacement can cost you north of $4,000.
However, if the semi-truck is for commercial or business purposes, you can save a lot from this cost if you're an independent owner-operator.
After all, rental fees and maintenance costs are charged to the lessee.
How long is a International Semi Truck Warranty and what does it Cover?
International offers generous warranty packages to their customers. Typically, the brand offers from 1 to 3-year product warranty depending on the model. 
Interestingly, in March 2021, International offers a 1-year warranty for pre-owned LT and RH series with A26 and Cummins engines. This is a great offer for second-hand semi truck owners.
Moreover, if you are planning to buy a semi truck from International, buy the ones with an A26 engine. In this way, you'll get to maximize the brand's warranty offerings.
In 2018, International announced 3 warranty packages for their vocational trucks customers. To be eligible, the truck should be powered by an A26 engine.
These warranty plans include a 2-year Extention of the International A26 Customer Assurance Program, a 4-year Vocational Confidence Warranty Package for four years, and a 4-year A26 Barrel Protection Plan for HX and HV series trucks.
Do International Semi Trucks Hold their Value?
Semi trucks have become more expensive in the last couple of years. But due to their low supply, they remain to have the strongest resale value in the automotive industry. 
International trucks have high demands. This means that their trucks won't depreciate easily like most vehicles making them hold their value longer. 
This is great news for truck buyers who are resale value-conscious. They will sleep with ease knowing that their investment's resale value is still high for a long period. 
What are the Best International Semi Truck Models?
Whether it's commercial or personal use, there's always an International truck model that is built for it. 
However, to identify the best semi truck model, you have to determine the job that the truck will have to perform. 
Is it for heavy hauling? for local delivery? Or, is it meant for public service (Fire & rescue, dump truck, pick up & delivery)
Well, here are the best semi truck model based on performance:
Best for Hauling and Towing: LoneStar, Internal 99001
Best for Public Service: RH Series, TranStar, DuraStar
Best in Design and Technology: MV Series, LT Series, CV Series, 
Best for Construction and Utility: HV Series, HX Series, WorkStar
Best for Tanker: RH Series, ProStar