Everyone deserves a reliable and dependable semi truck. One that does not only delivers its money worth but is also fun and safe to ride.
Does Kenworth deliver these promises? 
Read on and find out if Kenworth will meet your standard.
Here's a quick answer to whether Kenworth is a Good Semi Truck:
Kenworth has good trucks that are well known to be reliable, dependable, and are of a high-quality build. They have powerful PACCAR engines that are fuel-efficient and suited for heavy-duty hauling. Kenworth semi trucks typically last over 1000,000 miles and have a good resale value.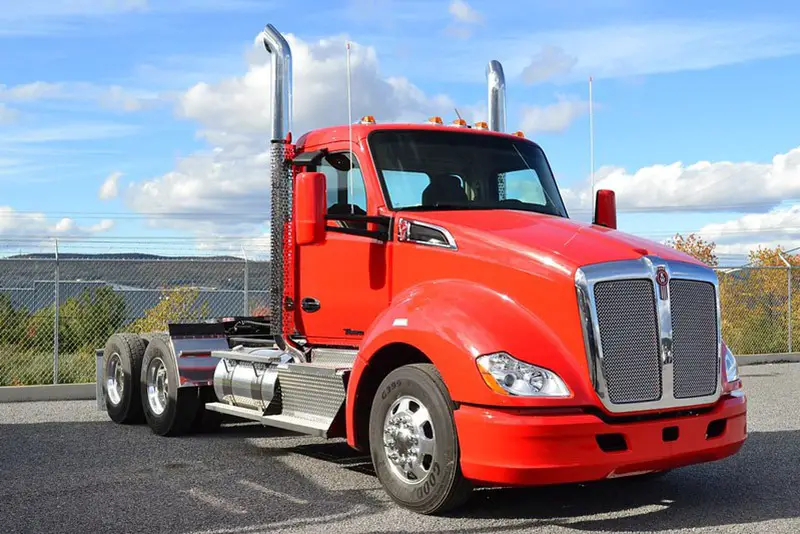 Are Kenworth Semi Trucks Reliable and Dependable?
Vehicles manufactured by Kenworth are known to be reliable and dependable.
Whether loading cement for construction or delivering perishable fruits and vegetables, their performance is hard to beat.
Founded in 1923, this brand has a remarkable history of producing high-quality trucks. 
Are you familiar with the famous Peterbilt trucks?
Well, Kenworth and Peterbilt are both from the same company, PACCAR. Hence, it's no doubt why truck enthusiasts have favored Kenworth through the years.
Besides having great customer service, the brand has a strong dealership network across the world. They always step ahead its competitors to produce better and advanced trucks.
If you measure a truck's reliability through its technology feature, you won't regret patronizing this brand.
How Long do Kenworth Semi Trucks Last?
Semi trucks can't last forever. That's a fact.
Interestingly though, Kenworth is built with high-tech tools to last long. 
Kenworth can last up to 750,000 to 1 million miles.
However, with proper care and maintenance, you can push its life a bit longer.
How much Horsepower does a Kenworth Semi Truck have?
With today's electronic controls and technology, Kenworth's horsepower is higher than other brands.
Most semi trucks, depending on the model, can deliver 240 – 460 hp.
On average, Kenworth has horsepower ratings ranging from 260 to 600 hp.
Take note that higher horsepower is incredible for heavy hauling.
However, expect a higher horsepower rating when the semi truck is equipped with the MX series engine.
For instance, the PACCAR MX-11 engine offers a starting horsepower of 355. In comparison, PACCAR MX-13 delivers a starting 380 hp.
How much Torque does a Kenworth Semi Truck have?
Kenworth engineers work hand in hand to increase its customer satisfaction.
Over the years, substantial investments have been made to produce a quality engine for better torque control.
Kenworth delivers a range between 1,450 to 1,850 lb-ft as the highest torque rating.
DC tools are incorporated into the brand's engines to deliver superior torque control on its air-powered tools.
This innovative tool is a significant investment to ensure that the fastener is equipped with the proper torque.
If you're looking for a higher torque rating, you go for PACCAR engines. They can deliver 1,850 lb-ft, the most increased torque Kenworth trucks can produce.
What Engines do Kenworth Semi Trucks Use?
PACCAR company produces PACCAR MX engines for their trucks. Thus, PACCAR engines are used for both Kenworth and Peterbilt vehicles. 
PACCAR MX 13 and M11 engines were ten years in the making. Successfully launched in 2010, the company has spent $1 billion to produce quality engines.
The MX13 and M11 engines are assembled in PACCAR's technological plant located in Columbus, Mississippi.
The journey to manufacturing these engines caught the attention of Dartmouth College and Harvard Business School.
Thus, these two universities visited the plant for case studies on advanced engine manufacturing in the US.
Overall, the PACCAR engines are known for being smooth, fuel-efficient, and durable.
How long do Kenworth Semi Truck Engines Last?
Kenworth engines can last up to 15-17 years, equivalent to 750,000 miles.
However, these estimates can vary depending on the quality of maintenance. With proper care, it can handle years of normal depreciation.
Interestingly, Kenworth engines are a league on their own.
It can withstand the trickest and most challenging job on the road. It can perform heavy cargo for an extended period.
Are Kenworth Semi Trucks Fuel-efficient?
With Environmental Protection Agency (EPA) emission standards, fleet operators aim to achieve a high fuel efficiency level. 
Taking this into account, Kenworth has introduced valuable innovations that lead to making the MX-13 engine.
While MX 11 also performs well, MX 13 engine is the strongest competitor of the best engines in the market.
The MX 13 engine has idle system management designed to assist drivers in the most challenging road conditions. It reduces fuel consumption without harming the performance of the truck.
Moreover, its new model, T680, is built to achieve maximum fuel efficiency through the engine. It is honed to minimize the vehicle's low-pressure zone of the trailer, resulting in a limiting drag of the truck.
With its more harnessed performance and power, fleet operators should expect reduced fuel cost long term.
Are Kenworth Semi Trucks Comfortable?
Intelligent, reliable, and comfortable. These are the few words to describe the Kenworth truck best. 
But do these attributes matter? Well, this only proves that the brand caters well to their truck drivers on the road. 
Kenworth has introduced countless comfort for drivers such as noise control, easy-to-turn handless, seat comfort, and the like.
However, its most favorite feature among truck enthusiasts is seat enhancement.
It can accommodate any driver regardless of size and shape. It does not only provide a comfortable seat to drivers but also to driving partners who may be sleeping.
Truck drivers consider the seats as an improved sleeping space.
After all, a well-rested driver is more alert and can react instantly during tough situations. 
Are Kenworth Semi Trucks Safe?
Kenworth is truly a value for money.
It introduced safety features that can be assets for truck operators and businesses. 
Listed below are the best components of the brand that makes them worth the hype and investment:
Predictive cruise control. New truck models such as the T-680 have cruise control with GPS. With this feature, the truck can auto-adjust when facing road changes.
This feature will ensure safety in off-road and stormy weather situations.
Advanced computer system. Kenworth semi trucks are installed with the most advanced computer system.
It monitors the performance of the driver of the car during the entire ride.
If something goes wrong on the road, it will instantly alert the driver. This feature will prevent or minimize the risk of accidents.
Lightweight construction. Unlike other trucks, Kenworth doesn't have a large cab attached.
Its T-680 model is the lightest truck you can avail of from the brand.
A lightweight truck means more weight for cargo and safety for hauling a heavy load. 
Kenworth Semi Truck Maintenance Schedule
Routine maintenance is a critical part of owning a semi truck. 
In general, you have to follow the manufacturer's recommended time. The maintenance schedule is usually indicated in the truck's manual. 
However, you should bear in mind that maintenance varies by usage. 
Do you use the truck one to two times a week? Then your maintenance schedule should be less frequent.
Do you use it three times or more a week? It needs regular preventive maintenance.
Oil change and battery inspection are the most frequent maintenance service the vehicle need.
Regardless of usage, you should check the battery every six months. 
Oil change depends on the frequency of usage.
For regular use, an oil change is needed for every 40,000 miles. For frequent usage, it requires at least 35,000 miles.
Are Kenworth Semi Trucks Expensive to Fix?
It's not a secret that being a truck operator is a lucrative career.
Hence, the moment you choose this path, expect that it may be an income lost or revenue gained every time you use the semi truck. 
Monthly repairs of Kenworth semi trucks range between $10,000 to $20,000.
Maintenance repairs may include oil change, battery service, transmission repairs, or damaged tires.
To prevent hefty repair costs, follow the maintenance schedule and hire a good truck driver. 
What Kind of Oil does a Kenworth Use?
According to Kenworth, the PACCAR MX -13 engine and the T680 model should use SAE 10W – 30.
This type of oil will maximize the lubrication and fuel-efficiency features of the vehicle.
As such, considerable saving is guaranteed for truck owner-operators.
However, most professional mechanics recommend SAE 15W-40 for working semi trucks during the summer.
Thinning of the oil is the biggest issue of semi trucks in this type of season. Hence, thicker oil is needed for working trucks for construction, hauling, and towing. 
How Long is a Kenworth Semi Truck Warranty and What does it Cover?
Kenworth provides generous and extended warranties. So, truck owners can shop with peace of mind.
After all, warranties allow the owner to save a significant amount of money.
If the vehicle demands a high cost for repair, you may use the warranty. It can sometimes pay for itself.
Kenworth offers an average of 1-3 years warranty for each warranty program.
All in all, you can enjoy an extendable 10- 12 years of warranty. 
The brand's best warranty offerings include:
2-year Pre-Owned Warranty Program. Kenworth has a positive and rich history in the pre-owned market.
With this program, second-hand buyers can shop with confidence, knowing that they're backed with a generous warranty.
To avail, the truck should be at least 4 (model) years old.
3-year PACCAR Financial Class 8 Warranty Program.
Only US customers buying Class 8 factory trucks are eligible for this program. This warranty offers an extended 300,000-mile warranty for three years.
2-year 10-8L Engines Part Warranty
Cummins has partnered with Kenworth for this program. The warranty covers all Kenworth trucks with Cummins engines.
Cummins will pay from any labor and repair costs for any engine failure that may arise, as stated in the Engine's manual.
3-year Extended Warranty Program for T680
This warranty covers 400,000 miles after treatment warranty. It can be availed by any T680 owners with the PACCAR MX-13 engine.
Do Kenworth Semi Trucks Hold their Value?
Kenworth semi trucks hold their value. Whether you're buying a new truck or a second-hand one, it's worth every penny. 
However, when it comes to the resale value, the age of the truck matters. As such, the older it would be, the lower the resale value it has. 
Because money doesn't go on trees, you better shop wisely, especially when you're looking for a used semi truck. 
Always choose a model that holds their value better. 
It's recommended that you buy 2013 or higher year models.
What are the Best Kenworth Semi Truck Models?
Kenworth has enumerated their best and world-class trucks on their website. For further information, check this link.
But if you're curious about what consumers have to say, it seems like the T680 models (T680 NextGen, T680, T680E) are well-favored. Thanks to the MX-13 engines, aerodynamic design, and user-friendliness feature.
For heavy working trucks, however, consumers love the T880. This truck is often used as a dump truck, lowboy, or logger.
Meanwhile, for older trucks, here are the crowd's favorites:
Best in vocational work: T350
Most durable: T359
Best-seller: K200
Most Driver-friendly: T403
Most popular among haulers: T909