Mapping out your trip before departure is vital to helping you save fuel and time on the road. However, another factor that heavily influences a route is roads, bridges, and highways semi trucks may or may not go over. 
This guide will help you navigate your next trip successfully!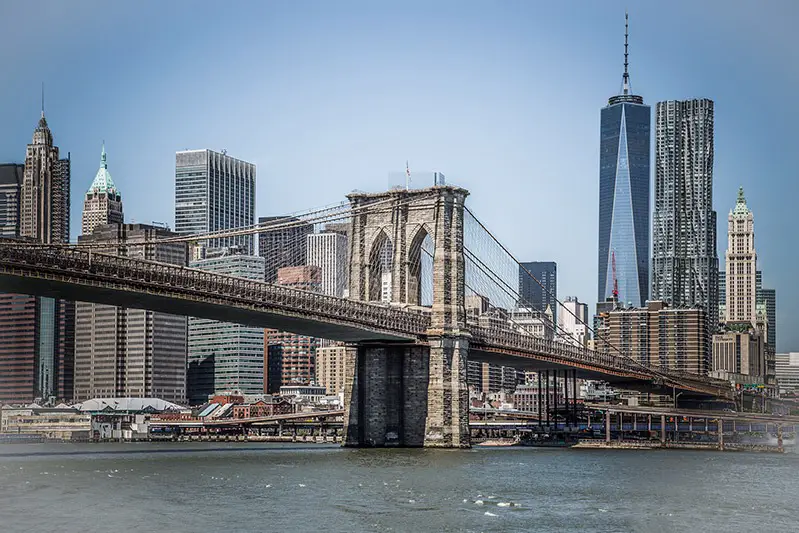 Can Trucks go on Brooklyn Bridge?
The Brooklyn Bridge is a very strict bridge about what types of automobiles can go over it. Semi trucks are essentially forbidden to travel over this bridge since it is an old bridge and the weight of the semi truck produces too much wear on the bridge.
Generally, vehicles that exceed 3 tons are not supposed to travel over this bridge. This is not to say it never happens. However, they are not legally allowed and can result in fines and tickets. Semi trucks are strictly forbidden. 
Can Semi Trucks cross the Chesapeake Bay Bridge?
The Chesapeake Bay Bridge is not restricted so much for weight but wind power. The wind of the bridge can get very strong very quickly. The semi truck trailer can act almost like a sail, catching strong winds and pulling the semi truck off the bridge.
Due to these high winds and threats of being blown from the bridge, semi trucks cannot enter the bridge when hauling less than 30,000 pounds and winds over 40 mph. 
Can Trucks go on Ed Koch Bridge?
Semi trucks are heavily restricted on the Ed Koch Queensboro bridge, but they are allowed. They are permitted to travel at the bottom half of the bridge and specific lanes on the top of the bridge. These restrictions are very important and heavily enforced to prevent accidents and collisions on narrow roads. 
Can Trucks go on the George Washington Bridge?
The George Washington Bridge has some complicated restrictions regarding truck traffic on the bridge. At times (especially during construction), truck traffic may only travel eastbound. Truck traffic is permitted on the upper levels only and is not allowed on the lower levels since this is for smaller vehicles primarily. 
Can Trucks go on Manhattan Bridge?
The Manhattan Bridge permits semi trucks, but only on the lower levels. Additionally, you can only exit at specific streets (especially if your semi truck exceeds 26 feet) due to many narrow streets in Manhattan. Off Tillary street there is the truck entrance, which is the best to take. 
Can Trucks go on Marine Parkway Bridge?
Semi trucks are permitted on the Marine Parkway Bridge if they meet the weight and height requirements. Semi trucks hauling over 80,0000 pounds must request a permission slip from the New York Department of Transportation. They may not exceed 13 feet in height. 
Can Trucks go on the RFK Bridge?
Yes, semi trucks are permitted on the Robert F. Kennedy bridge if they meet the height requirements. They are not permitted to exceed 13.5 feet in height due to tunnels and over arches that they may hit. They may be no more than 80,000 pounds unless granted permission. 
Can Trucks go on the Tappan Zee Bridge?
The Tappan Zee Bridge (a.k.a. The Mario M. Cuomo Bridge) does permit semi trucks, but with some restrictions for oversize loads. Oversized and overweight semi trucks cannot travel during the morning and evening rush, must carry hazard flags, and, if applicable, be escorted by the police. 
You can find an extensive list of regulations and contact information here: https://www.thruway.ny.gov/commercial/forms/tap623.pdf
Can Trucks go on Verrazano Bridge?
Semi trucks are permitted to travel over the Verrazano bridge so long as they do not exceed 15 feet in height when traveling on the upper level and 14.5 feet when traveling the lower level. These restrictions include that semi trucks may not exceed the 80,000 pound limit.  
Can Trucks go Over Whitestone Bridge?
Semi trucks are permitted on the Whitestone bridge up to 80,000 pounds. Whitestone connects Queens to the Bronx. You need to be careful which exit you take because the New York City parkway (route 678) runs near this bridge, and there are many restrictions on the parkways in New York. 
This map will help you navigate the parkways and roadways better: http://www.nyc.gov/html/dot/downloads/pdf/2011_truck_route_map.pdf. The ones marked in yellow are heavily restricted to semi trucks, so pay close attention to these routes since these roadways are near the Whitestone. 
Can Trucks go on Williamsburg Bridge?
The Williamsburg bridge has heavy restrictions about weight restrictions on the bridge. There are 3 subway systems that take over 100,000 passengers daily. There are footpaths for pedestrians and 8 lanes of traffic. No semi trucks may travel on the lower roadways.
Can Trucks go on Willis Avenue Bridge?
The Willis Avenue Bridge has one of the greatest height clearances of 24 feet, and semi trucks are generally allowed over this bridge. All New York bridges are heavily monitored for overweight/oversized vehicles, and you should check with the NYC transit authority about any construction on this bridge. 
You can find valuable updates on bridge and roadway closures here: https://www1.nyc.gov/html/dot/html/motorist/weektraf.shtml. 
Are Trucks Allowed on FDR Drive?
The FDR drive is absolutely off-limits to semi trucks. There are strict weight and height limitations, not to mention it favors faster traffic. There is only a very short strip on which semi trucks are permitted to travel, and this is so they may get to South Street, which will take them off of FDR Drive. 
Can Trucks go on Harlem River Drive?
No, semi trucks are not permitted over the Harlem River Drive. The clearance is much too low for most semi trucks to fit, or any commercial vehicles for that matter. Even buses are typically not permitted over this drive for their protection. 
Back in 2018, a school bus struck an overpass, which took off the bus's roof entirely. The accident hurt several school students. This was a mistake since the school bus was not meant to be on the bridge at all. 
Can Trucks go on Riverside Drive?
No, Riverside Drive does not permit semi trucks because it is connected to the parkways of New York. In New York, parkways are heavily restricted from commercial vehicles, and virtually no semi trucks can drive at any part due to low stone bridges with a clearance of less than 14 feet. 
Can Trucks go on Baltimore Washington Parkway?
Commercial vehicles are not permitted on the Baltimore Washington Parkway. This includes any vehicles hauling goods for payment, regardless of the size. The roadway is part of the park service and was designed as a scenic tourist route through the area. 
Many truck drivers have received citations for violating this strictly enforced roadway restriction. Some have petitioned local and state governing authorities over this restriction, but so far, the limitations stand. 
Can Trucks go on Belt Parkway?
No, trucks cannot travel on the Belt Parkway. The Belt Parkway is part of the New York Parkway system, which was built in the early 20th century. These roadways were built for passenger vehicles and do not permit large semi trucks, school buses, or any vehicle which cannot meet the clearance of 6 feet 11 inches. 
Trucks, buses, and other vehicles that do not meet the requirements of the roadways may get traffic citations. Even points on their license. It is a severe violation since it puts the driver and other motorists in danger if they strike a bridge. You can read more here: http://tlc-mag.com/archive_issues/NYS_DOT_pkwy_restrictions_oct13.html
Can Commercial Trucks go on Garden State Parkway?
The Garden State Parkway permits semi trucks and other commercial vehicles from exit 0 up until exit 105. After this exit, however, there are strict regulations on semi trucks due to lower overpass bridges. Violators will receive fines of up to $500 and may face jail time if they fail to pay. 
Can Trucks go on Grand Central Parkway?
Prior to 2017, no trucks exceeding 12 feet 6 inches could travel the Grand Central Parkway. However, in 2017 an expensive roadway project of over $2 million altered the roadway by lowering the roads. This has allowed trucks of 14 feet to travel this roadway rather than the truck routes.  
This construction project has helped many semi truck drivers by cutting down their travel time and permitting them to take a more direct route through the Brooklyn-Queens Expressway. It will help cut downtimes and the consumption of fuel. This was hoped to lessen pollution in the area.  
Can Trucks go on Cross Island Parkway?
Semi trucks are permitted only on certain sections of the Cross Island Parkway. Portions by the Robert Kennedy Bridge allow trucks of no more than 3 axles and ten tires to travel on this section of the parkway. Pay close attention to all posted signed about clearance and weight since they are strictly enforced. 
Can Trucks go on the Merritt Parkway?
Semi trucks may not travel on the Merritt Parkway or many other Connecticut parkways due to local and state regulations regarding the roadways and clearance. These roadways were constructed for faster-moving traffic, such as small passenger vehicles. 
There are many regulations on the parkway, including restrictions on buses or any commercial vehicles bearing a logo. This means the parkway will purohit almost all semi trucks from entering the road. You can see a complete here: https://www.cga.ct.gov/PS94/rpt/olr/htm/94-R-0032.htm
You can read further on the justifications for these restrictions here: https://www.cga.ct.gov/PS94/rpt/olr/htm/94-R-0032.htm
Can Trucks go on Ocean Parkway?
Ocean Parkway is one of the few parkways in New York that allows semi truck traffic, but only for local deliveries. The freeways are designed in such a way that it does not favor heavy traffic, but semi trucks can travel on this roadway with minimal restrictions. 
Southbound traffic is permitted for traffic after Merrick Road or Montauk highway and is one of the main truck routes to the beaches of Long Island. 
Can Trucks go on the Palisades Parkway?
No, semi trucks cannot travel on the Palisades Parkway for any extent of the road. Anything north of exit 105 on the Garden State Parkway is off-limits to semi trucks. The Palisades Parkway will not permit any trailers either, even when hauled by a passenger vehicle. 
These restrictions are due in part to the preservation of the scenic view, and the flow of traffic on the roadway. You can find out more here: https://www.palisadesparks.org/palisades-interstate-parkway
Can Trucks go on Taconic Parkway?
Semi trucks are not permitted on the Taconic parkway. Since this parkway is part of the New York Parkway system, it strictly forbids trucks of over 6,000 pounds on the roadways. Trucks over 6,000 pounds must have a commercial license plate, which disqualifies them from traveling on the New York Parkway.
Are Semi Trucks allowed on the Tail of The Dragon?
No, semi trucks of over 30 feet are no longer permitted to operate on the Tail of the Dragon. This roadway passes through Tennessee and has some very sharp turns and low overpasses, leading to many accidents over the years. Many passenger vehicles have been totaled by semi trucks. 
One of the leading causes of accidents was the narrow, hilled turns since they led to semi trucks moving into the opposite lane in order to make the turn. Prior to the ban, the state put the burden of avoiding accidents on passenger vehicles, warning them to avoid oncoming vehicles, which crushed many cars.  
Can Semi Trucks go over Hoover Dam?
The Hoover Dam was closed to most commercial vehicles and large trucks after 9/11 security concerns. However, there are still heavy regulations that limit the types of buses and trucks which may travel over it via the routes which were made for travel of larger vehicles. 
The restrictions of the Hoover Dam are a little complicated and do not explicitly ban semi trucks from traveling over, but there are restrictions on 18 wheelers and the loads they carry. 
Please refer to this form for help in determining your travel: https://www.usbr.gov/lc/hooverdam/police/prohibitedvehicles.pdf
Can Trucks go through Holland Tunnel?
Generally, no, semi trucks can't travel through the Holland tunnel. Trucks hauling trailers are not permitted, and trucks with more than 3 axles are also prohibited. This does not mean all trucks are prohibited, however. Some trucks are permitted, but essentially no semi truck pulling a trailer. 
Can Commercial Trucks Cross the Canadian Border?
Yes, commercial trucks can cross the Canadian border. Expect a lot of inspection of your cargo and background checks. You can enroll in the Free and Secure Trade System (FAST) prior to your visit to help expedite your inspection and be less suspect. Barring restrictions on your load, trucks are allowed over the border.