Semi truck engines come in various sizes but most look the same from the outside.
The average class 8 engine is 14.8 liters and weights 2880Ibs with a torque of 1850Ibs and around 550 horsepower.
We will be diving into some serious engine brands taking a closer look at the impressive power that keeps them moving, seeing how long they last and which is the most reliable.
Here's a short summary to what Size Engines do Semi Trucks have:
In general, small semi truck engine sizes range from 6L to 8L like the Paccar PX-7 6.7 liter engine. Medium size engines range from 9L to 11L like the Cummins L9 8.9 liter engine, and heavy-duty size engines range from 12L and larger, like the Volvo D16G750 16.1 liter engine.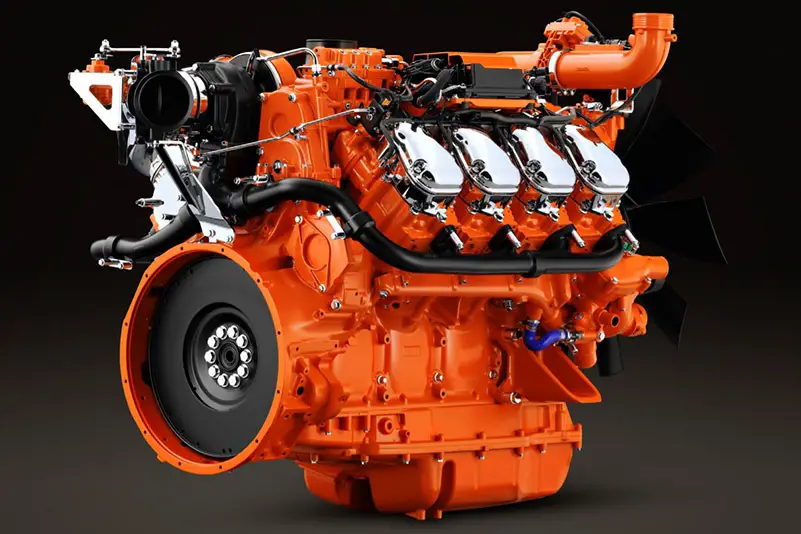 Here is a List of the Most Popular Semi Truck Engines and their Sizes:
Caterpillar 3408 – 18 liter V8 Diesel – 1814kg weight – 600-800hp – 2000Ib torque.
Detroit Diesel DD15 – 14.8 liter inline 6 – 1306kg weight – 400 – 505hp – 1550 – 1750Ib torque.
Paccar MX 13 – 12.9 liter inline 6 – 2600Ibs weight – 405 – 510hp – 1850Ib torque.
Mecedes Actros OM 473 – 15.6 liter inline 6 – 2640Ibs weight – 625hp – 3000Ib torque.
Cummins ISX15 – 14.9 liter inline 6 – 1344kg weight – 600hp – 2050Ib torque.
Volvo FH16 750 (D16G750) – 16.1 liter inline 6 – 3134Ib weight – 750hp – 2618Ib torque.
Scania R730 (DC16-21) 16 liter V8 – 730hp – 3500Ib torque.
What Size Engines do Semi Trucks have?
When we talk semi truck engines we all know they have awesome power and are a good size as they need to be. A truck can have an engine as small as 6 or 7 liters depending on what it's used for.
The big rigs would probably struggle a little with this size engine so they use more powerful ones like a 14, 15, or even an 18 liter which sounds crazy I know, but they do have a lot of heavy lifting to do.
What Size Engines do Peterbilt semi trucks have?
The Peterbilt 389 has an option to come with a Cummins ISX15 engine at (15 liters) or a Paccar MX-13 engine at (12.9 liters), the 579 and 589 have the option of the Paccar MX-13 the MX-11 a (10.8 liter) or the PX-9 an (8.9 liter).
The 220 and 330 use the Paccar PX-7 a (6.7 liter), the 325 uses the Paccar PX-6 engine another (6.7L), the 337 uses the PX-6 and PX-8 engines (8.3L) and the 348 uses Paccar PX-7 and PX-9.
The 379 model comes with a lot of options like the Detroit Diesel series 60 an (11.1L), Cummins ISX (15L), N14 (14L), ISM (10.2L), Caterpillar C11 (11.1L), C12 (12L), C13 (12.5L), C16 (15.8L), C15 (15.2L) or C156NZ (15.2L).
What Size Engines do Kenworth semi trucks have?
The Kenworth T800 comes with the option of a Detriot 60 series (11.1L), Cummins N14 (14L) or a Caterpillar C15 (15.2L) the T880 comes with a Paccar MX13, MX11, PX-9 or a Cummins ISX12.
The T660 uses a Detriot Diesel 60 series or a Cummins X15, the T400 uses Paccar MX13 or Cummins ISX12, ISX15, the T680 uses Paccar MX13, MX11 or a PX-9 and a Cummins ISX12, ISX12G (both 11.9 Liters) or an X15 a (14.9L).
The W900L comes with a Cummins ISX15 or a Caterpillar C15 both of which are mentioned above all are well-built powerful machines that deserve respect, they certainly get mine.
What Size Engines do Volvo Semi Trucks have?
Volvo offers the D13 engine on their FMX model with a (12.7 liter) inline 6, the FH16 750 comes with a (16.1 liter) engine, the FL and FE have a (7.2 liter) and the FM has a (12.8 liter) engine.
Volvo produces some of their engines in-house and the other is made by Germany's Deutz AG who has been supporting Volvo for years they both make exceptional engines from the B36, D36, D39 to the D12 and D13.
Whatever the engine, Volvo is always advancing toward the best it can be.
What Size Engines do Mack Semi Trucks have?
The Mack Anthem has a (13 liter) engine on their MP7, MP8, and MP8TC, the Pinnacle CXU613 also uses an MP8 (13L) the MD series comes with a Cummins B6.7 engine (6.7L).
The LR series and the TerraPro both have an (11L) MP7 engine as does the Granite model. Mack trucks are part of Volvo.
Their engines come from the same production line making them one the best.
What Size Engine do Freightliner Semi Trucks have?
Freightliner Century Class uses a wide range of engines like the Caterpillar C13, Cat C15 (15.2L), Cummins ISX (15L), Cummins N14 (14L) the Detroit series 60 (11.1L), Detroit DD13 (12.8), DD15 (14.8) and the DD16 (15.6L).
The Columbia uses the Detroit 60 series (11.1L) or a Cummins ISLe5 (8.5L) euro II engine, the Coronado SD 122 uses the DD15 or the series 60, the Cascadia, and the Cascadia evolution uses a DD13 or DD15 engine.
The Freightliner SD series uses a Cummins B6.7, Cummins L9 (8.9L), or the Detroit Diesel DD8 (7.7L).
What Size Engines do International semi trucks have?
International LoneStar uses a Cummins ISX15 (14.9L), Cummins X15 (14.9L) or a MaxxForce 13 (12.4L), the ProStar uses a Navistar N13 (12.4L) engine, a Cummins ISX15 a MaxxForce 11 (8.9L), or a MaxxForce 13.
The DuraStar uses a Cummins B6.7 (6.7L), the Cummins L9 or the Navistar N9 (9.3L), the international WorkStar uses a Cummins ISL9 (8.9L), the Navistar N9, the Navistar 10 (9.3L), or the Navistar 13 (13L).
What Size Engines do Western Star Semi Trucks have?
Western Star 5700XE uses the Detriot DD15, DD13, or DD16 engines, the Western Star 4900 uses the Detroit DD13, DD15, DD16, or Cummins ISX15 (15L) engines.
The Western Star 49x uses the Detroit DD15, DD16, Cummins X12 (11L), Cummins X15 (14.9L), or 60 series, the Western Star 4700 uses a DD13, a Cummins L9, or a Cummins X12 (11.9L).
The Western Star 6900XD uses a Detroit Diesel DD15, DD16 or a series 60 tier III (14L), the Western star 4964FXT model uses a Detroit DD15 or a Cummins X15.
Are Bigger Size Semi Truck Engines always Better?
Bigger is not always better when it comes to truck engines, it is more to do with quality and what you will be using the truck for. You may find that having a bigger engine when driving locally is not so good.
Having a smaller engine when driving through mountains hauling logs or coal is also not a good idea. Our best advice is to match the engine size to the job you'll be doing.
If you are considering having the option of hauling more than one different trailer type it would be best to do your research on the types of tractors that will suit your needs.
Which Size Semi Truck Engine is more Reliable and Last Longer?
A reliable and long-lasting engine can be any size. Paccar is famous for producing top-of-the-line engines with very high mileage expectations and they usually reach them.
Their sizes range from 6.7L to 12.9L which goes to show a reliable engine comes in all sizes, a well looked after engine no matter what the make can last as long as you like.
There are many great engines out there, no matter which one you choose be sure to take care of it and it will take care of you.
Are Maintenance the Same for All Size Semi Truck Engines?
The length of time it takes to maintain a semi truck is generally the same for all size engines. What is different however is what will need doing and that depends largely on the condition it is in.
A larger engine shouldn't take much longer than a smaller truck engine. Mechanics also add to the equation for how long they can take so make sure you go to a reputable workshop.
If you are doing the maintenance yourself it's best to do it on your day off and take your time.
Which Size Engine should you Go With for your Semi Truck?
It again depends on what you will need it for. New mid-range engines have great durability, efficiency, and power sufficient enough for most tasks.
A 13 liter can produce around 500 horsepower and nearly 2000 torque.
That's plenty, be sure to shop around and ask for advice from truckers that have been in the game a while, but ask why they think you should get what they suggest.
It could be they have their opinion based on older models and have never experienced the new technology.
What is the Most Powerful Semi Truck Engine?
It is a close one with the Volvo FH16 at 700hp that is an all-round performer and keeps an efficient good drive throughout, and the Volvo FH16 750 model with its 750hp that can almost mirror the 700.
The Scania 770s is right up there with the first two with an impressive 770hp V8 engine that can pull almost anything. Iveco has a FPT V20 model that boasts a serious 910hp
Happy Trucking!