Kenworth and Volvo are both titans in the trucking industry. This might leave you torn about which one you should buy.
Don't worry, though, in this comparison. We're taking a deep dive into both brands to determine which one is best. Read on to find out!
Here's a quick answer to whether Kenworth or Volvo is better:
In general, Volvo trucks are favored over Kenworth trucks. Volvo semi-trucks are typically cheaper, more fuel-efficient, safer, and have more technology. However, Kenworth has a better build quality and is more reliable. Volvo and Kenworth are both excellent trucks and it depends on user preference.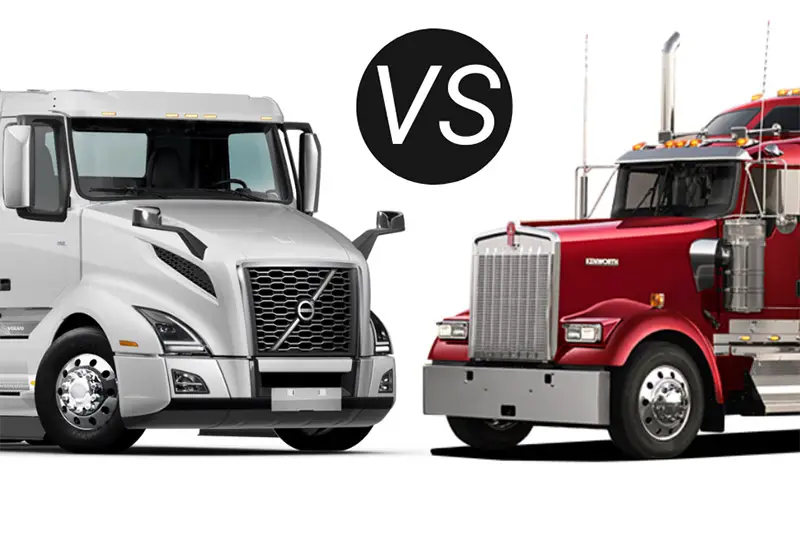 11 Important Factors when Choosing Kenworth VS Volvo
Kenworth and Volvo semi-trucks are essentially opposites. However, both are extremely popular in the semi-truck market.
These are known as the two titans of the trucking world. It's easy to see why too, as both of these manufacturers have the best selling semi-trucks in multiple countries around the globe.
We're taking a look at 11 factors you need to consider when choosing between a Kenworth and a Volvo semi-truck.
Type of truck for a specific application
Both Kenworth and Volvo build their semi-trucks for different applications. You can find any of these, from all new electric semi-trucks to heavy-duty and freeway kings from both manufacturers.
Both of these manufacturers have a huge variety of semi-trucks available. No matter what job you need to be done, you have tons of options to choose from.
Each model has its benefits and drawbacks. However, you need to look at each one individually based on what job it has been designed to do.
These two giants of the trucking world are so even that they both feature a total of 12 different models. They range from highway, vocational, off-highway, medium-duty, and electric.
The Build Quality of Kenworth VS Volvo
Build quality is essential in semi-trucks. The last thing you want is for your semi-truck to be breaking down or having pieces falling off.
Quality is very important to both these manufacturers, and as such, they both take it very seriously when it comes to their semi-trucks.
Volvo is a well-known international brand, originally from Sweden. Aside from semi-trucks, they also produce luxury cars, so they understand the importance of build quality.
It's safe to say that Volvo has some great semi-trucks. However, Kenworth also takes pride in building its semi-trucks with high-quality parts.
Kenworth is known for having some of the best quality semi-trucks on the market, and they've been building them right for years. This section goes to Kenworth.
Comfort of Kenworth vs Volvo
Comfort is crucial for any semi-truck driver, especially those who go on long-haul journeys. Comfortable semi-trucks will prevent drivers from becoming tired behind the wheel.
Volvo has a reputation for being a little bit uncomfortable for most drivers. The majority of drivers have reported that Volvo semi-trucks have a bouncy suspension.
Moreover, these semi-trucks also have a lot of sway in windy conditions. While it is normal for a semi-truck to sway in the wind, the Volvo is apparently one of the worst in this regard.
Kenworth, on the other hand, has made comfort a priority in their semi-trucks. While they might not be 5-star hotels on the inside, they have been reported as being better than the Volvo semi-trucks.
Safety Features of Kenworth vs Volvo
Safety is of utmost importance when it comes to semi-trucks. Not only is the safety of the semi-truck driver important, but also those around the semi-truck.
Kenworth makes excellent semi-trucks, and they certainly do not slack on safety features. They always keep their semi-trucks up to the required safety standards.
However, Volvo is famous for being one of the safest automotive manufacturers globally, and it is no different when it comes to its semi-trucks.
They are constantly pushing the boundaries and developing new technology to improve the safety of their semi-trucks.
Additional or Unique Features of Kenworth vs Volvo
Kenworth semi-trucks use PACCAR engines which are some of the best engines in the semi-truck market. They are fined tuned to deliver the best performance while maintaining fuel efficiency.
You can also choose which engine you would like to have in your Kenworth semi-truck when you order it from the manufacturer.
Moreover, Kenworth semi-trucks have an extremely aerodynamic design which helps to improve their top speed and fuel efficiency on the highway.
Volvo, on the other hand, is very much focused on incorporating technology into their semi-trucks. They're constantly installing the latest tech.
Replacing old school gauges with touchscreens and digital gauges to bring in driver assists is the way to go if you're looking for the semi-truck of the future Volvo.
Fuel Economy of Kenworth vs Volvo
The semi-truck industry values fuel efficiency very highly. It's a crucial factor as a semi-truck with good fuel economy can save you a lot of time and money.
Kenworth semi-trucks have a decent fuel economy. With an average MPG of 8, they are above average when it comes to the average semi-truck.
However, Volvo semi-trucks can do 9.49 MPG, which is slightly better than the Kenworth. This makes the Volvo the semi-truck with the best fuel economy between the two.
Cost and Ease of Maintenance of Kenworth vs Volvo
Volvo semi-trucks are known to be one of the most reliable on the market. This naturally means that they need maintenance less frequently than other brands.
Volvo semi-trucks are also cheaper to maintain than most other brands. Volvo has an extensive global network, and you don't have to buy expensive imported parts.
The only worry about Volvo's maintenance costs is the amount of technology it has. All that tech could be expensive to replace or repair.
Kenworth semi-trucks are very much the same in that they are built in the United States, which means their maintenance costs are also relatively low and very similar to that of Volvo semi-trucks.
The Capital cost of Kenworth vs Volvo
The overall cost of the semi-truck is important for many owners. It is something to consider before you buy a semi-truck.
Firstly, the Volvo is around $150,000 for one of the most popular models. It has a better MPG which means that you will spend less on fuel.
The Volvo also needs less frequent maintenance while having low maintenance costs. Overall this semi-truck is a good option.
The Kenworth, on the other hand, costs $160,000. It also has a slightly worse MPG, even though it is above average for semi-trucks.
It also has a low cost of maintenance and excellent build quality, which means that maintenance won't be needed too frequently.
All in all, there is little difference between the two manufacturers when it comes to the cost of their semi-trucks.
The Warranty Terms of Kenworth vs Volvo
A warranty can be something to consider as it can protect you against any manufacturing faults or mistakes. It can help to save you some money if something does go wrong.
Volvo offers two types of warrntees. There first is the basic vehicle warranty offered over a 12 month period and the second is the extended driveline warranty that covers you for a period of 24 months. The latter provides you with comprehensive protection against material or any production faults on the vehicle.
Kenworth offers a standard highway warranty for new Class 8 trucks if purchased with PACCAR Financial. This comes with a 3-year or 300,000-mile basic vehicle extended warranty.
The Kenworth warranty is the better option if you aren't going to drive your semi-truck 300,000 miles within three years.
However, if your semi-truck is going to be picking up a lot of miles, then the Volvo warranty may be better as it does not specify an expiry mileage.
A used Kenworth vs a used Volvo?
Due to the massive costs involved with semi-trucks, many people look to buy second-hand. You can find some fantastic deals on used semi-trucks.
We already know that these brands have excellent build quality and reliability, so any used Volvo or Kenworth will be in decent condition.
Used Volvo semi-trucks are very popular. You can find tons of them online. Their prices range wildly, with some 2019 models still priced at $130,000 and some 2018 models down to $80,000.
Kenworth semi-trucks are readily available as second-hand models. However, they hold their value quite well, with a 2018 model going for $120,000 (compared to $160,000 brand new).
Kenworth semi-trucks have one excellent advantage here. If you buy from a certified pre-owned dealer, you get a two-year, 250,000-mile factory-backed warranty for your Kenworth.
Typical problems with Kenworth vs Volvo?
Before you buy a semi-truck it's important to understand what common problems you might come across while owning it.
The Volvo semi-trucks seem to have a lot of engine troubles. You can find it on one of these semi-trucks, from losing power to failing to start.
This is, of course, a big problem that is difficult to overlook. Engine problems are serious, and an engine overhaul can cost upwards of $30,000 on a semi-truck
Kenworth semi-trucks have also had some engine problems in the past, however nothing as severe as the Volvo engines. They also had a big recall for their ABS and axles recently.
Which is More Popular and What do the Reviews say?
Since these are two of the most popular semi-truck brands globally, many reviews and forums put these two head to head.
However, each driver will have their own opinion, and they will always have their favorite based on their driving preferences.
There have been many that like the Volvo for its safety and lower costs. This is something that might be attractive to a lot of people.
On the other hand, some people complained about the comfort and the ride in the Volvo semi-truck, saying that it sways too much and has a bouncy suspension.
Interestingly, when it comes to turning circle, maneuverability, and general handling, the majority of the driver, also prefer the Volvo,
Many drivers prefer the old-school gauges found in the Kenworth's instead of the Volvo tech.
Moreover, the Kenworth is the go-to semi-truck for those who love excellent build quality and reliability in a semi-truck.