Kenworth and Western Star are not the same. They are entirely different in terms of history, technology, and specifications.
If there's one thing these brands have in common, it's the fact that they are both popular in the trucking industry. They both have enviable reputations of building high-quality, durable, and elegant trucks.
If you are interested to know some notable differences between these two brands, read our complete comparison below.
Here's the answer to whether Kenworth and Western Star are the same:
Kenworth and Western Star are different leading commercial truck brands in the market. They differ in terms of features, applications, and costs. Kenworth offers medium and heavy-duty trucks, while Western Star exclusively offers Class 8 trucks, usually for vocational applications.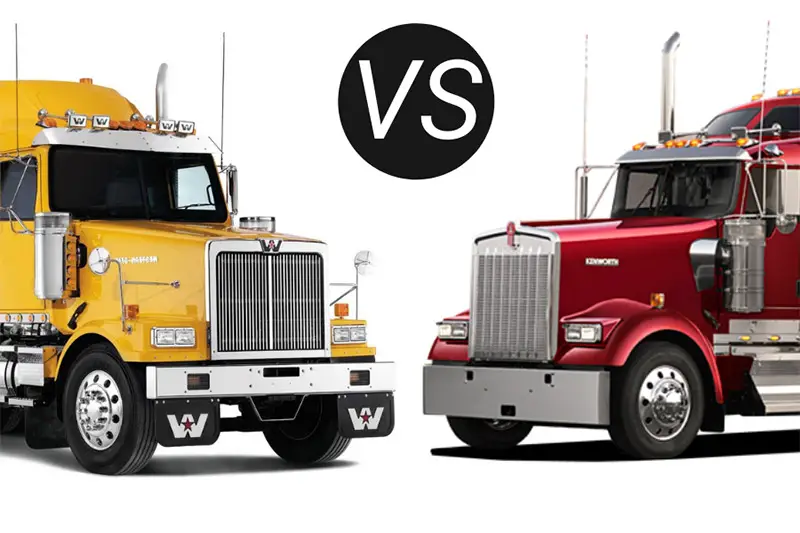 Who makes Kenworth and Western Star Trucks?
Kenworth Truck Company first manufactured Kenworth trucks in 1923. The company is based in America and headquartered in Seattle, Kirkland, Washington. 
In 1945, the company became a subsidiary owned by PACCAR and another rival turned sister company, Peterbilt.
Meanwhile, Western Star trucks are manufactured by Western Star Trucks Sales, Inc. It also has American heritage, with headquarter located in Portland, Oregon.
Western trucks were first launched in 1967. They are known as vocational trucks among logging camps and pet mines.
11 Factors to Compare Kenworth and Western Star Trucks
Kenworth and Western Star Trucks are two of the best trucks in the world. Despite its good reputation among truckers, there are many things to consider when buying any of these brands.
You need to consider the quality, fuel efficiency, warranty, safety features, and overall costs.
To help you in your decision-making, we've evaluated Kenworth and Western Star by segment below to know how these brands compare.
Type of truck for a specific application
Kenworth is focused on producing medium-duty (Class 5-7) to heavy-duty (Class 8). As such, they can provide any trucks for various purposes.
In general, their trucks are used for available freight, mining, logging, and other heavy-duty application you can think of.
Kenworth trucks can regularly operate in a smooth road environment, even with the largest payload.
However, Western Star Trucks only produce Class 8 vehicles for off-road and highway use. 
It is a top producer of Class 8 vehicles, mainly for vocational purposes. They are primarily famous among logging camps and pet mines.
The Build Quality of Kenworth vs. Western Star
Kenworth has an exceptional reputation for making high-quality trucks. Kenworth trucks are rigorously tested before being offered in the market and are also supported by PACCAR, famous for manufacturing sturdy equipment.
Safety is the primary consideration in building each truck. 
Every truck is built through Application Engineering, a design approach that delivers productivity, reliability, and optimal payloads.
You will never go wrong with Western Star in terms of quality heavy-duty trucks. After all, the brand is the premium manufacturer of heavy-duty trucks across North America.
Western trucks are built with performance, reliability, and driver in mind. The truck is truly a truck for serious drivers with its interior and exterior suitability. It is custom-built to fit the needs of every driver.
Comfort of Kenworth vs. Western Star
Kenworth is known for manufacturing comfortable trucks among drivers. It offers sleeping cabs where you can choose between splendor and diamond type of interior.
With splendor interiors, you can enjoy a 72″ sleeper. It can be your home away from home as everything you need, like a bathroom, kitchen, entertainment, is already installed.
Expect a luxurious or hotel vibe sleeping cab if you choose the diamond interior. It is very cozy, and drivers can fully relax after long hours of driving.
Comfort is also the number one priority of Western Star trucks. Trucks of this brand are veritable powerhouses and primarily built to transport the enormous payload. 
Western Star offers sleeping cabs, making them an excellent truck for long-distance drivers.
By looking at the exterior and interior design, you would know that their trucks are mixed with special equipment, high-quality components, and genuine craftsmanship.
Safety Features of Kenworth vs. Western Star
Kenworth is committed to improving the safety features and technology among its trucks.
All Kenworth trucks feature driver assistance technologies such as adaptive cruise control, lane departure warning, collision mitigation, side object detection, and many more.
Moreover, in 2019, Kenworth has introduced the New Bendix Wingman Fusion. It is a safety feature offering an advanced driver assistance system for its on-highway, conventional, and vocational trucks.
Western trucks, however, also provide driver assistance technologies like active brake assist, adaptive cruise control, site lane departure warning, and side guard assist.
In 2021, the Western Star has launched its most advanced safety technology known as the Detroit Assurance. 
It features an active safety system that provides comfort and safety to drivers and reduces general truck repair and operational costs.
Additional or Unique Features of Kenworth vs. Western Star
Advanced sleeper cabs, driver's safety features, and aerodynamics are among the most significant innovations in semi-trucks. 
These features are available in most trucks of today. However, unique truck features will separate one from the other.
Some of these commendable features are the following;
Kenworth:
1) Smart Driving Encouragement
Newer models of Kenworth are equipped with onboard navigation systems to ensure fuel efficiency. 
This feature is like a video game as you can earn points and monitor gas mileage through a high score table.
2) Predictive Cruise Control
Predict cruise control is convenient among truckers as it's used to predict brake and gas while the truck traverses in curves and hills.
This feature is not new in the trucking industry. However, many operators are not fond of it because it's very costly. The good thing is that Kenworth makes this feature more affordable.
3) TruckTech and Diagnostics
Mechanical problems are common in semi trucks. This feature, however, will mitigate the damage. It will track the truck's home base and help you find the nearest Kenworth services or dealership. 
You will see the benefits of this feature as soon as you drive the truck. It diagnoses potential truck problems before they could impact the truck.     
Western Star:
The latest additional feature of Western Star is the Detroit Assurance. It was launched on June 3, 2021, with three outstanding features, namely:
1) Brake Hold Mode
Gone are the days when a driver must continually press the pedal to attain a complete stop. The brake hold mode activates by merely pressing the brake pedal.
2) Active Lane Assist and Auto Stop
This feature will ensure safety for both the driver and vehicle on the road. It is activated when the truck is at a safe stop. It also keeps the vehicle in the right lane.
3) Active Speed Intervention
This feature will provide audio signals to alert a driver while driving at a speed limit. It is essential to avoid speed-related road accidents.
Fuel Economy of Kenworth vs. Western Star
In general, semi trucks are not fuel-efficient because of their size.
But with the advancement of technology, manufacturers introduce solutions to this common problem in the trucking industry.
In terms of fuel economy, Kenworth electric and newer models are fuel-efficient. 
In 2017, PACCAR launched its most fuel-efficient engines, the MX-13 and MX-11 engines. These engines are built for fuel-efficiency enhancements, part of PACCAR's 5-year fuel efficiency program.
Like Kenworth, not all Western trucks are good for fuel economy. Older trucks demand more fuel which is a bad thing for truck owner-operators.
In 2014, Western trucks manufactured more trucks with the aerodynamic feature. The aero package system improves fuel economy to provide fuel savings among truckers.
Cost and Ease of Maintenance of Kenworth vs. Western star
Kenworth is low-maintenance. The construction of each truck is durable and sturdy. Most of the time, the damage is caused by acts of man and not the regular wear and tear.
However, repair costs in Kenworth are expensive. This is because Kenworth has unique components and is mostly only available in PACCAR.
Hence, most repairs or component replacement would require the intervention of the PACCAR company. You may need to visit the nearest PACCAR shops in your area, for that matter.
Western trucks are reliable and rugged. Their trucks are excellent for the most challenging road conditions.
While Western trucks are not prone to damage, they need regular maintenance to prevent costly repairs. 
However, unlike Kenworth, it's easy to find repair shops and component replacements for Western trucks.
The Capital cost of Kenworth vs. Western Star
The Kenworth and Western Star trucks are high-end brands. As such, they are costly. You need to carefully choose the most suitable truck for you as these brands are enormous investments.
Kenworth trucks are more affordable, though. Brand new Kenworth trucks will cost around $100,000 to $200,000. At the same time, used trucks with recent manufacturing dates will cost more or less $100,000.
Western trucks only sell heavy-duty trucks. As you may have known, the price of these trucks is not a joke. It will cost you more or less $200,000. The good thing, however, is that they have high resale value.
The Warranty Terms of Kenworth vs. Western star
For brand new and second-hand buyers, you will never regret buying a Kenworth truck. 
Kenworth offers a 90-day assurance warranty to protect 195 components like HVAC, lighting, sleeper components, and many more.
The company also provides a 3-year and 300,000 miles basic warranty by purchasing a truck through PACCAR Financial Program. The warranty can be extended for another two years with 200 miles of coverage.
Second-hand buyers can also purchase with confidence as they can avail a generous warranty. Kenworth provides a 2-year and 250,000-mile warranty.
Moreover, Western Star trucks are backed with the most generous warranty. There are multiple plans available, including a 7-year and 200,000 miles base warranty on vocational trucks and up to 6 years for on-highway trucks.
It also provides aftermarket limited and protection warranty for trucks directly purchased at Western Star dealerships. Your vehicle is covered with extended extra protection against repairs with this warranty.
Overall, while both trucks have great warranty offers, Western Star has the most stellar offers.
A Used Kenworth vs. a Used Western Star?
Whether you buy a used Kenworth or Western Star, you truly get what you pay for. These brands have a strong reputation among truckers and are known for their durability and performance.
A used Kenworth or Western Start is still new, costing thousands of dollars less.
However, the best truck depends on how you would like to use the truck. If you want to buy a used medium truck, you can have one with Kenworth. After all, Western Star only manufactures heavy-duty trucks. 
If you're looking for heavy-duty trucks, you go for Western Star. While Kenworth offers heavy-duty trucks, it's undoubtful that Western Star is way better for extended usage.
Typical problems with Kenworth vs. Western Star?   
With the need to cope with delivery schedules, changing logistics, weather, or road conditions, any truck may be prone to repairs for damages.
No trucks are exempted from necessary repair and preventive maintenance.
As an operator, knowing the typical problems your truck may encounter will prevent any of these concerns later.
Here are the most common problems that fleet operators might deal with their Kenworth or Western Star truck:
Kenworth:
1) Engine Problems
Most truckers who have bought the 2016 and newer models of Kenworth have experienced engine troubles. Some issues have something to do with the engine light and coolant failure.
However, you can freely fix this problem through the warranty. But regardless of whether you have a warranty, it is vital to consider this issue when buying a Kenworth truck.
2) Fuel Economy
Older Kenworth models are not fuel-efficient. This is one of the biggest concerns of commercial operators. Fortunately, the company launched a 5-year fuel efficiency program in 2017.
3) Repair and Maintenance Cost
If your truck has no warranty, Kenworth trucks' overall repair and maintenance costs are pretty expensive.
Some parts must be directly purchased at Kenworth or a subsidiary company, PACCAR. Hence, it isn't easy to find aftermarket components of Kenworth. So, you will have no choice but to go directly to the company.
Western Star:
1) Electrical System Issue
Western Star has been called out several times for its electrical system issue. Nearly 3,000 Western Truck 5700 and 4700 models have been affected by the electrical problem.
Some wires are undersized that causes melted connectors. If these connectors become damaged, the truck engine will no longer start.
Fortunately, Western Trucks offer free replacement for those trucks with electrical defects.
2) Faulty Aluminum Battery Cable
Western Star has also received complaints concerning its aluminum battery cable terminal. Many truckers find them unreliable.
The aluminum battery cable tends to break, resulting in a loss of electrical power. When this happens, the engine will shut down, the truck will stop, and it may cause an accident.
3) Brake Maintenance
Western Star only offers Class 8 trucks. As we know, this type of truck is heavy and used to transport large payloads. Due to heavy load, a truck may experience brake system or pedals issues. 
Sometimes there is a delay when using brakes. So truckers have to press the brake system in advance when they stop.
The good news is that Western Star has added the Brake Hold Mode feature. It allows the truck to attain a full stop instantly.
Which is more Popular, and What do the Reviews Say?
Both Kenworth and Western Star are popular brands. However, these brands' target markets are somewhat different. As such, their target market and popularity among truckers may also vary.
Kenworth both offers medium and heavy-duty trucks. They also have trucks for both vocational and on-highway use. 
Kenworth trucks are bestsellers, but their vocational trucks are not as popular as their on-highway trucks.
Meanwhile, Western Star is famous among commercial enterprise that uses vocational trucks for construction applications. They are great in accomodating heavy payloads for long-distance deliveries.
So for on-highway and medium-duty applications, Kenworth is more in demand. In comparison, Western Star's Heavy-duty trucks perform better than Kenworth in sales.
Final Thoughts
Kenworth and Western Trucks are leading brands known for reliability, performance, and quality. Despite their similarities, some instances make one better than the other. 
If you are going to ask our stand, our choice goes to Kenworth. Kenworth offers more models to choose from at a more affordable price.
Kenworth has got it all for you – whether you're looking for medium or heavy-duty trucks. While Western Star is a versatile truck, their truck varieties are limited, especially for vocational applications.