There are lesser cab-over trucks on the road you will see these days. This type of truck has a box-like cab, unlike the more popular longnose cab.
But why do you not often see a cab-over truck nowadays? Are they already phased out? Are there still truck manufacturers who produce this kind of truck?
This article will focus on Freightliner's current status in cab-over truck production.
A Short Answer to Does Freightliner Still Make Cab Overs:
Freightliner makes cab-over trucks or COE. One is the Argosy model, which lasted from 1998 to 2020. The Argosy model was the last cab-over in the U.S. However, even after they discontinued the Argosy production, they still produce cab-overs at their plant at Mount Holly, North Carolina.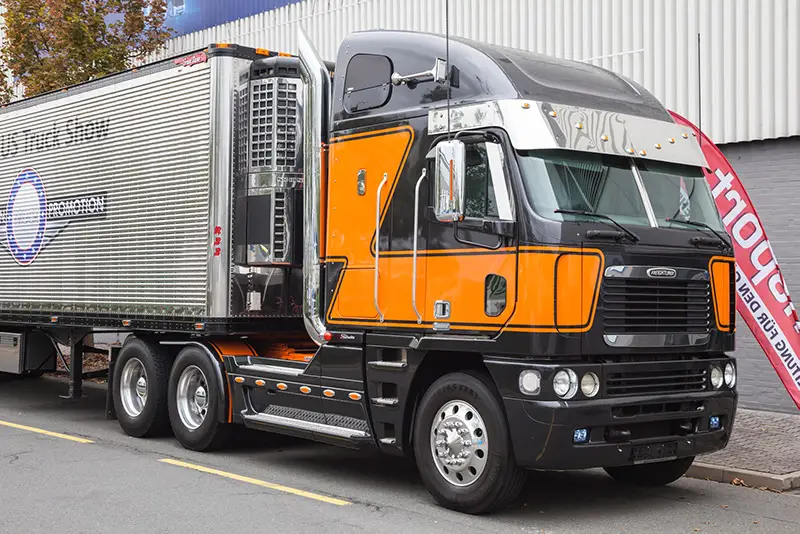 What are Cab-Overs or COE in a Truck?
As their name implies, cab-overs or cab-over-engine (COE) trucks mount the cab on top of the engine and steering axle, making it appear flat-faced.
It contrasts with the longnose hooded trucks, where the cab's location is behind the engine. Thus, it seems shorter, which makes it popular among truckers during the 50s to 70s because of the overall length regulation.
There are also other names used to describe the cab-overs. In the U.S., many people also referred to it as cab forward. It is a flat nose in Canada, and in the U.K., they call it forward control.
What are the Features of a Freightliner Cab-Over Interior?
The interior of a Freightliner cab-over is similar to any typical cab-over.
It features a flat-floor cab-over design, equipped with electronic-powered entrance doorsteps, which is also present in other sleeper cabs.
Some Freightliner cab-overs also have extended van-like sleeper cabs, which provide more space inside. It also comes with a 54-inch double mattress, ideal for long hauls.
This feature is not something you can always expect in a conventional truck.
What are the Freightliner Cab-Over Models by Year?
| | | |
| --- | --- | --- |
| Model | Production Years | Cab Configuration |
| WFT (White-Freightliner) | 1958–1976 | Cab-over/COE (Class 8) |
| FLT-Series | 1976–1986 | Cab-over/COE (Class 8) |
| FLL-Series | 1976–2000 | Low-entry COE (Class 8) |
| FLA-Series | 1987–1997 | Cab-over/COE (Class 8) |
| FLB-Series | 1987–1997 | Cab-over/COE (Class 8) |
| Argosy | 1998–2006 (USA), 1998–2020 (Global) | Cab-over/COE (Class 8) |
| Cargo | 1999-2007 | Low-cab COE (Class 5-7) |
| Condor | 2001–2013 | Low-cab COE (Class 5-7) |
Where Can You Buy Old Freightliner Cab-Overs?
Nowadays, cab-over restoration is getting trendier. Thus, it is easier for you to obtain an old Freightliner cab-over. 
Whether you are sentimental, nostalgic, want to collect an old truck model, or still prefer to use a cab-over than the latest cab designs, many reputable shops and dealers sell used cab-over trucks, parts, and accessories from different brands, including Freightliner.
For some truck models, you can get it through bidding, while others may offer a sale. 
Where Can You Buy New Freightliner Cab-Overs?
If there are still many vehicle shops and dealers that sell used Freightliner cab-overs, some may also offer brand new ones.
However, since Freightliner continues to produce cab-over trucks, you may want to inquire about their authorized dealers or directly contact their North Carolina plant, which only manufactures cab-overs.
Are Freightliner Cab-Overs Popular in the U.S.?
Freightliner cab-overs were popular in the U.S. However, things started to change due to the implementation of the total length limit by the Intermodal Surface Transportation Efficiency Act of 1991 or the ISTEA.
Truck manufacturers would balance out the size of the cabs and the trailers to comply with the rules. For example, a longer cab should only have a shorter trailer, and vice versa, to avoid exceeding the required size.
At first, shorter cabs such as those from a cab-over can be profitable since they can equip longer trailers. However, limited space inside the cab becomes an issue for some truck drivers.
They said it is noisier, hotter, and less comfortable inside, which is quite understandable because of the engine location.
Even though there was a decline in cab-over usage in the U.S., especially in North America, cab-over trucks are still a trend in Europe, Australia, and Japan.
But since maneuverability is not entirely a problem among U.S. truck drivers, many drivers still prefer using a COE more than conventional trucks.
Why did the U.S. Market Reduce Freightliner Cab-Over Production?
The ISTEA in the U.S., which dictates the total length limit of larger vehicles such as trucks, semi-trucks, and trailers, affected the sales and production of the Freightliner cab-overs to comply with the regulation.
With these overall length restrictions, you wanted to use the longest trailer allowed by law.
That way, you could carry more stuff but still stay under the required length restrictions. But to take the longest trailer, you need a shorter cab.
The shorter cab-over is more maneuverable in tight places because it has limited space and is more concise. However, conventional trucks are a more practical choice now, even with the removal of the length restrictions.
Cab-overs' sales began to decrease and favor the production of longnose trucks. As a result, the U.S. truck manufacturers decided there was no point in continuing to build cab-overs.
There are still length restrictions on some highways and roads in the U.S, but for the most part, this regulation was already lifted.
When did Freightliner Stop Making Cab-Overs?
Freightliner stopped making cab-overs around 2006. The last cab-over model they produced was the Argosy.
But even before they stopped producing the Argosy model, they continued to make cab-overs. They created it around 1999, which lasted up to 2020.
The models they built during that time were to replace their FLB cab-over. It was a Class 8 truck that competed well with another famous truck model from another brand, the International 9800.
Currently, the Freightliner North Carolina plant is the only one producing cab-overs in the United States.
Are there Benefits of a Freightliner Cab-Over vs. a Longnose?
Even with the lesser usage of Freightliner cab-over trucks than the conventional or longnose ones, there are still benefits it can offer that the other cannot provide.
For instance, cab-overs are more maneuverable than conventional trucks, which is why they dominate in some cities and medium-sized trucks.
The main reason is that the driver can easily see the front of the cab. It is easy to recognize since no hood covers the engine, which makes it look flat-faced.
To give you more detailed information, here are the benefits you can experience when driving a Freightliner cab-over:
Efficiency – Many truckers may not find cab-overs as an efficient vehicle, but it is efficient enough to help you save fuel. In the U.S., the average fuel consumption rate for cab-overs is only 33 liters per 100 kilometers.
Maneuverability – Cab-overs are easy to maneuver. Compared to conventional trucks, cab-overs have a smaller axis that makes them easier to drive and provides a safer way to navigate in changing road conditions.
Visibility – Since the cab is just above the engine, hence the name, it provides better visibility compared to conventional trucks and semi-trucks. Since the driver seat is on top of the truck engine, as opposed to behind it, there are only fewer blind spots. The location of the driver's seat also granted a better 180-degree view of the surroundings, which may contribute to a safer driving experience.
Since cab-overs are outdated trucks, you may experience some difficulties using them. To balance things out, you also need to know some disadvantages you may encounter when driving in a cab-over:
Discomfort – Many drivers of cab-overs complained that the ride was rough because of the shortened wheelbase. If you often drive on long-hauls, the cab-over may not be a good option for you to use since comfortability is a big issue for longer drives.
Inconvenience – Again, if you often use trucks for long-hauls and you might need to spend the night there, it is inconvenient to use a cab-over.
If you want to go to the sleeper bunk of a cab-over, you may need to crawl through a hole. You need to stand up on the truck seat, then crawl over the engine between the seats. That way, you can reach the sleeper.
The process is similar if you want to go out from the bunk since it is the only way to access the sleeper.
Getting in the sleeper is inconvenient for those with a more extensive body build. Not to mention that you might also be unable to rest inside it because of the limited space.
Safety – Yes, cab-overs are still safe to use. However, when compared to long-hood rigs, it is less secure. Modern cab-overs may have more structural features to keep you safe on the road, but they still do not match well with the level of safety that conventional trucks offer to keep you from accidents.
What are the Most Popular Freightliner Cab-Over Parts, and Where can you get Them?
As mentioned, there are still many who use Freightliner cab-overs nowadays. It even continues manufacturing this truck, though only at one of its plants.
But for those who still own one and may need to upgrade and change some parts, some of the most common cab-over parts and accessories you can find from any dealers are the following:
Bumpers
Cargo equipment
Drivetrain
Electronics components
Engine cooler
Engine parts
Exhaust
Exterior parts
Fenders
Frame and chassis
Fuel tanks
Headlights
Heat and AC parts
Hoods and other related accessories
Horns, covers, and related accessories
Interior Accessories
Lights
Mud flaps
Polishing and related accessories
Ridewell suspension
Seating
Steering wheels
Toolboxes
Cab-over tools
Visors
Wheels, hubcaps, nuts, and nut covers
You can get any of these from more than 800 locations of Freightliner dealers and partners from all over North America.