Many truck drivers enjoy the complete control brought by a manual transmission. However, the trucking industry finds automatic transmissions more reliable and more convenient to use. 
For this reason, trucks are now shifting from manual transmission to automatic. Interestingly, Peterbilt is among the first trucks to offer an automatic transmission in the trucking industry.
The era of manual transmission of the brand is coming to a close. If you are interested to know everything about Pete's automatic transmission, read on to learn more.
Here's a Quick Answer to Whether Peterbilt makes Automatics:
Peterbilt makes automatic vehicles with Allison and Paccar transmissions. Typically, all new Peterbilt truck models come with automatic transmission. However, this is not a standard feature as Peterbilt allows buyers to choose between automatic to manual transmissions.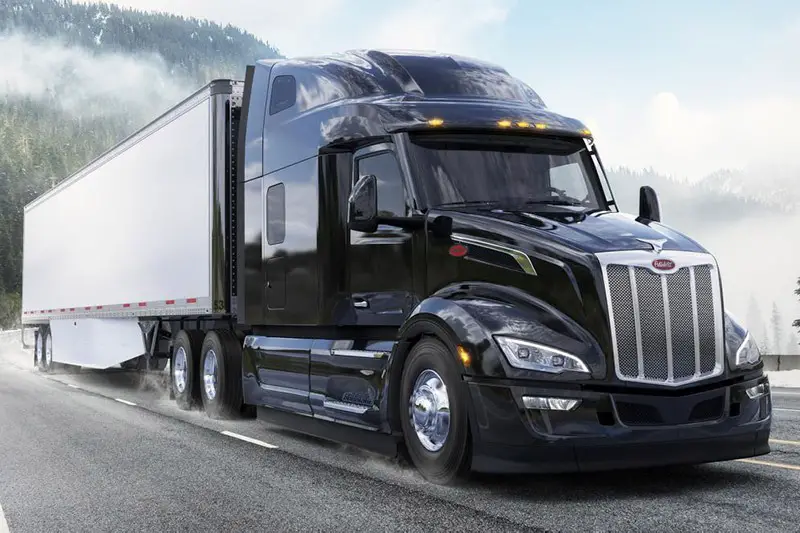 Does Peterbilt Make Automatics?
Peterbilt has made automatics for both their medium and heavy-duty trucks since the early 2000s.
Nowadays, the majority of Peterbilt trucks are spec'd with automatic transmissions. While this is the case, Peterbilt does not entirely disregard the preferences of the buyers.
Hence, upon buying at Peterbilt, you will often be asked about the type of transmission you want to have with your truck. You can choose between manual and automatic. So, in general, automatic transmission doesn't come as a default feature.
The automatic feature is popular in on-highway models, while a manual transmission is still the best seller in vocational models. 
What Automatic Transmission does Peterbilt have?
Peterbilt uses several automatic transmissions—older vehicles are equipped with Allison 2000, 3000, 4000, and TC10 automatic transmissions. 
In contrast, new and electric trucks are using Paccar automatic transmission and Paccar TX-8 automatic transmission.
The following are Peterbilt automatic transmissions and the semi-truck models in which they are available:
Allison 2000 and 3000 Automatic Transmissions
Peterbilt 379
Peterbilt 385
Peterbilt 378 
Peterbilt 357
Allison 4000 Automatic Transmission
Peterbilt 365
Peterbilt 367
Peterbilt 388
Allison TC10 Automatic Transmission
Peterbilt 567
Peterbilt 579
Paccar Automatic Transmission
Some Peterbilt electric models
Peterbilt 579-day cab.
Paccar TX-8 Automatic Transmission
Some Peterbilt electric models
Peter bolt 538
Peterbilt 536
Peterbilt 537
Peterbilt 548
Are Peterbilt Automatic Transmission Good?
Peterbilt automatic transmissions are world-class. They all have an outstanding global reputation; hence many vehicle brands are using the same.
With Allison transmissions, expect a mighty horsepower and torque performance leading to a smooth driving experience and better fuel economy.
They are high quality, durable, and reliable, and with Paccar automatic transmissions, they expect to have the latest technology.
They are among the best transmissions existing today and are currently used by several popular brands like Kenworth.
While they are known for their smooth performance, it's the ability to perform seamlessly and quietly that steals the show.
It has many features like the ability to monitor torque demand, horsepower, vehicle acceleration, road changes, engine load, and a lot more.
Are Peterbilt Automatics Transmissions Reliable?
In general, all automatic transmissions are reliable. This is one of the reasons why the truck industry is shifting from manual to automatic transmissions. 
Automatic transmission is lightweight, simple, technologically advanced, and makes driving easy.
Peterbilt automatic transmissions are made to last long. They are engineered to work efficiently with the gear system, horsepower, and torque. 
As a result, better fuel economy and a safe driving experience are achieved. Truckers can also drive drivers faster with ease, leading to a more productive day at work.
How does it Compare to other Transmission Brands?
As already mentioned, Peterbilt uses Allison and Paccar automatic transmission.
In terms of performance, Allison automatic transmissions work similarly to other top-notch brands. It is durable, reliable, and of high quality. 
However, unlike them, Allison is famous around the world. It is reputable and known as the most reliable automatic transmission. It is used by medium to heavy-duty trucks, buses, trailers, and cars.
On the other hand, Paccar automatic transmission is one of the best and most advanced automated transmissions in this generation of semi trucks. Overall, their advancement is incomparable. 
However, the only disadvantage is that repairs can only be done exclusively in Paccar shops.
Unlike other brands where you can have it fixed in other maintenance shops. The advantage is that you can use your Paccar warranty for free repair costs.
Is it Better than Peterbilt Manual Transmission?
The fact that Peterbilt trucks have slowly evolved to automatic transmissions only means better than manual transmission.
Many road accidents happen with semi trucks. The reason behind this is either vehicle performance or driver's fault.
These accidents are mitigated with automatic transmission. As we know, manual transmissions require attentive driving.
On the contrary, automatic transmissions have safety features that will activate when impending hurdles on the road are about to happen. 
Overall, automatic transmissions ensure road safety. It is best for long journeys, off-road, and heavy traffic. However, these road conditions are quite a challenge for manual transmission because it is difficult to maneuver and requires complete driver control. 
What Maintenance is Done in Automatic Transmission?
Peterbilt automatic transmissions are a crucial component that needs regular maintenance to ensure that the truck is working correctly. 
With proper maintenance, you can prevent costly repairs later on and extend the life of your truck.
Check out these essential tips to keep your Peterbilt automatic transmission in good condition:
Maintain a regular maintenance schedule
All vehicles need to undergo a routine maintenance schedule. Keep your vehicle on a regular check-up by a professional mechanic because this is the only way you can ensure that all fluids are enough for your truck
With regular maintenance, you can identify problems with your vehicle early on, allowing you to save hefty repair costs.
Inspect the transmission fluid
Like what you would do to the vehicle's oil, you need to check the transmission fluid regularly.
To do this, remove the dipstick, wipe it with a clean cloth, place it back for a while, and pull it out again to inspect the fluid level.
Check the transmission's cooling system.
Overheating is one common issue of automatic transmission. To prevent this, make sure that the cooling system is in good condition.
As such, it is recommended to check the truck's cooling system regularly or have it serviced when necessary.
Make sure that the vehicle is not working when changing gears
Changing gears while the vehicle is moving will put a strain on your automatic transmission. When changing gears, your vehicle must be at a complete stop to avoid breaking the automatic transmission.
Follow some preventive maintenance.
There is a lot of preventive maintenance that will extend the life of your Peterbilt automatic transmission. The most important is consulting a professional mechanic at least once a year. 
Professional mechanics will check the fluid's level, smell, and color. They will also ensure that you will not experience any leak problems along the way.
Secondly, it's also crucial to warm up the automatic transmission before you drive the truck. This practice is not only good for the transmission but also the battery and engine.
Peterbilt Automatic Transmission Problems
Automatic transmission problems are inevitable, especially if the truck has already worn out. However, these problems can be prevented through early detection. 
For the first time that you'll be experiencing troubles with the transmission, it is advised that you consult a professional mechanic. This will save you from further problems and repair costs.
Meanwhile, here are common Peterbilt transmission problems that you may encounter along the way:
Insufficient Transmission Fluid
The transmission fluid is vital to the whole transmission. Its transmission will not work efficiently without sufficient fluid.
However, even when you have enough fluid, the automatic transmission will still not work correctly if the liquid is degraded. A fluid is degraded when it starts oozing a foul smell or is yellowish or brownish. 
A suitable fluid is reddish and translucent in color. If you have enough fluid but the transmission is not working correctly, replace the liquid with a new one.
Slipping Gears
This situation happens when the transmission "slips" from one gear to the other. Drivers find this annoying, hassle, and maybe a dangerous problem. 
Drivers will find it hard to accelerate or stop the vehicle. This is easy to fix, but this situation can also be a symptom of failing gears, clutches, or broken transmission bands. 
Shaking
Shaking or grinding is the opposite of slipping gears. A Peterbilt automatic transmission may grind as you try to shift gears. As a result. You will have a hard time doing so.
The same problems in slipping gears also cause this situation. 
Loud Noises
If you hear loud noises, your Pete's automatic transmission is having trouble. Observe some humming, clunking, and whining, as this can be your indicator that your automatic transmission is failing. 
It can be solved most of the time by shifting the gear system to a neutral setting. Once you do so and still you hear loud noises, it's best to hire a mechanic.
The engine light keeps flashing.
Flashing engine light is an indicator that there is a problem with your automatic transmission. Should you experience this problem, don't ignore it and have it fixed by a professional mechanic.
Which Peterbilt Models have Automatic Transmissions?
All models that Peterbilt is currently selling have automatic transmissions. Even those models having a manufacturing date of the 1980s to 1980s may have automatic transmission options, 
This is because Peterbilt has started making automatic vehicles in the early 2000s.
So if the manufacturing date of an old model is around these years, it's most likely that older models come with automatic transmissions, too.
Peterbilt Automatic Transmission Price
Peterbilt automatic transmission price can be as high as $200,000 and as low as $40,000. Brandnew automatic transmissions are around $200,000 to $100,000.
On the other hand, used Peterbilt automatics are approximately $100,000 to $40,000.
High prices represent newer models with the latest manufacturing date, while low prices are older models and older manufacturing dates.
Automatic transmissions are more costly than manual transmission – whether new or used ones.
However, rest assured that you won't regret buying it as it's more reliable than a manual transmission. 
After all, that is why vehicles are shifting to automatic transmissions.
Truckers, nowadays, only buy manual transmission out of necessity. The time will come that manual transmission will be phased out in the market.