Every trucker should record their operations and activities on the road.
That way, they can comply with their organization's regulations and the government's mandated laws.
Back then, truckers should always keep with them paper logs to keep track of their data.
But now, with the help of electronic logging devices or ELDs, there is already an automated and convenient system that stores all this vital information.
If you need a new one you can use for your truck, this article will help you know more about e-logs or ELDs to choose the best one.
A Quick Answer to What are E-logs for Truckers:
E-logs or electronic logbooks serve as a tool that records your driving operation and monitors your engine's metrics. Using it will ensure you are always in compliance with your organization's regulations and that your truck's engine does not exceed road restrictions mandated by the law.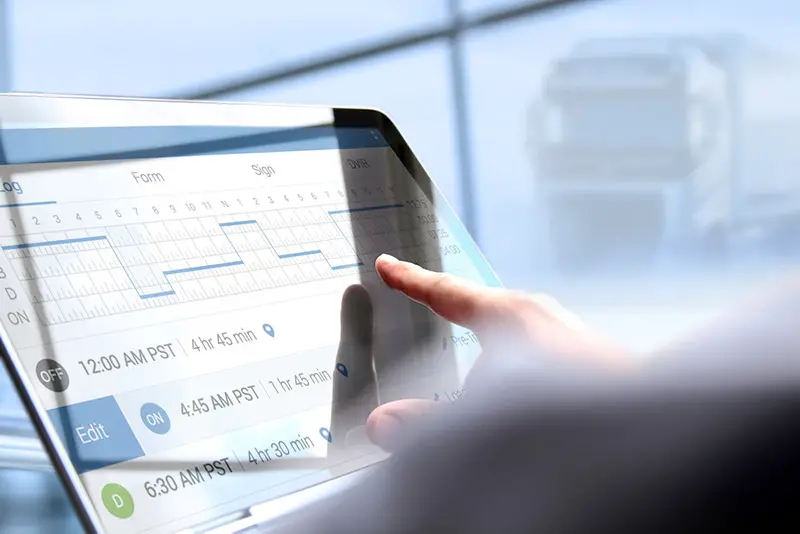 How Do Electronic Logbooks Work?
An electronic logbook serves many functions. The main one is data collection. Because of all the data it collects, it provides many usages for truckers as they hit the road.
E-logs can collect the current date and time, location, mileage, engine hours, driver identification, user authentication, motor carrier, and other essential data about your vehicle.
Thus, it can serve as a multi-purpose device that you can use as a GPS tracker or navigating tool, logbook, engine sensor for compliance, and monitor the truck's data to know when you can conduct maintenance.
What is the Electronic Logbook Law?
The electronic logbook law or the ELD Mandate is a federal law that requires any commercial vehicle, such as trucks, to use e-logs.
With the usage of e-logs, it is easier for truckers and fleet managers to monitor driving hours.
Also helps the government monitor vehicle activity on the road, such as the Department of Transportation (DOT) and the Federal Motor Carrier Safety Administration (FMCSA).
When are Electronic Logs Mandatory?
Since 1937, truckers on the road have documented their record of duty status (RODS) and hours of service (HOS) to avoid overworking.
Driver fatigue is one of the leading causes of accidents on the road back then. By logging their driving time, drivers can take ample rest periods before hitting the road again.
To improve the system, the US Federal Motor Carrier Safety Administration mandates replacing paper logs with e-logs last 2015. That way, the records are more reliable, accurate, and seamless.
What Year Do Trucks Require Electronic Logs?
The FMCSA started to require all commercial vehicles to use ELD last December 18, 2017.
All vehicles using the earlier version of ELDs last 2015 can continue using their old automatic onboard recording device (AOBRD) until that date.
And by December 16, 2019, all commercial vehicles like trucks should already equip a fully-certified ELD.
Are Electronic Logbooks for Truckers Mandatory?
Every driver using commercial trucks must have an e-log. That way, there is compliance with HOS to avoid driver fatigue and improve road safety.
What are E-log Exemptions?
Though it is a requirement to use e-logs on your commercial vehicle, there are certain exemptions.
The following are the exemptions for using e-logs or ELDs:
Drivers who only have eight days of Record of Duty Status (RODS)
Driveaway-towaway drivers delivering commercial vehicles they do not own for shipment
Farm vehicles use for private transport
Non-CDL drivers who only operate within a 150-air-mile radius
Short-haul exceptions for some drivers who own commercial drivers license (CDL)
Vehicle engines manufactured before 2000
What are ELD Exempt Trucks?
The above exemptions also apply to commercial trucks.
If the manufacturing year of your truck's engine is before 2000, an exemption applies.
ELDs require an engine control module (ECM) to function. Since trucks manufactured before that year do not have ECMs, they cannot handle using ELDs.
Can I Still Use Paper Logs?
The primary purposes of using e-logs instead of the manual method of recording on paper are accuracy and convenience.
Based on the exceptions mentioned above, these are the scenarios when you may still need only to use paper logs.
Your ELD malfunctions and needs to diagnose.
Your truck's engine year model is before 2000.
You will only need to log eight driving activities within 30 days.
You will only operate on driveaway or towaway.
What are the Electronic Logbook Rules?
The primary usage of e-logs is to record HOS to prevent drivers from driver fatigue. Thus, a certain number of hours will help every commercial motor vehicle (CMV) driver monitor their hours on the road.
Every motor carrier should only employ DOT-approved ELDs for their drivers. That way, there is an alignment of the updates, the notifications the drivers will receive on the device, and the authority's mandates.
For your reference, the HOS rules apply to all CM drivers transporting goods or property, not passengers.
11-hour driving limit: You can drive up to 11 hours after being off-duty for ten consecutive hours.
14-hour limit: You should not exceed 14 straight hours of driving after having 10 hours off duty.
60/70-hour limit: You cannot drive after 60/70 hours of duty within 7 or 8 consecutive days. After 34 hours or more consecutive off-duty, you can only restart your 7 or 8 hours shift of successive on-duty duration.
Rest breaks: You can drive under the condition that 8 hours have elapsed since your last off-duty or sleeper berth duration of not less than half an hour.
The sleeper berth provision ensures drivers should have at least eight straight hours in the sleeper berth. Drivers can take two consecutive hours off-duty, stay in the sleeper berth, or do both.
How to Use an Electronic Logbook
Using an electronic logbook is already mandatory for every commercial trucker. But if it is your first time working and you haven't tried either the manual logging, here's a guide on how you can use it:
Log in to your driver account: To access your logs, you need to log in to your driver account, where you can also select the vehicle and trailer you will drive.
Select your duty status: Once you access your account, you can choose your duty statuses, such as on-duty and driving, on-duty but not driving, off-duty, and sleeper berth.
HOS logs verification: You can monitor your HOS logs there. Ensure you can verify any outstanding ones to keep an accurate record and avoid exceeding your supposed hours of duty and rest breaks.
Transfer RODS: You can send your RODS seamlessly anytime on the roadside.
Who Has to Use Electronic Logs?
The usage of electronic logs applies to all motor carriers and drivers, especially those who will maneuver commercial buses, trucks, and those assigned to Canada and Mexico.
Do All Truckers Need to Keep E-logs?
Every driver must keep RODS every day. Logging your HOS is not just a mandate of Federal Law but also a company policy among truck drivers.
You may not do this or keep a paper log if you only stay within a 100-mile radius away, or you will be out of the office within 12 hours.
What About Electronic Logs For Owner-Operators?
Truck owners-operators should also use e-logs to comply with the FMSCA ELD mandate.
Using e-logs can help owners-operators reduce paperwork, conduct faster roadside checks, and lower the cost of fuel and maintenance with the monitoring feature of this device.
What to Consider When Choosing an ELD?
When choosing an ELD, it is essential to familiarize yourself with its configurations and features that comply with the operating requirements of trucks and other heavy vehicles.
Here are the factors you should consider:
Affordability
Ease of installation
Ease of use
Extras like fuel monitoring
FMCSA certification
GPS functionality
Monthly fee
Portability
Technical Support
It would help if you also took note of the following features to ensure you can get the best ELD available.
Back-office compatibility: Check if the ELD has available features that can integrate with daily operations such as support functions, payroll schedules, etc.
Portability: It is best to have an ELD that can offer a seamless way of transferring data for convenient use, mainly if you use a leased or rented vehicle.
Scalability: Before buying, ensure that the ELD has compatible programs with the truck you use or if it can adjust to future updates and changing requirements.
Support: It is better to own an ELD owned and operated by a reputable organization to ensure they can provide technical assistance.
How Much is an ELD for Truckers?
Based on FMCSA, the average price of an ELD for a single truck is about $495, depending on the subscription and other fees. Annually, it can range from $165 to $832 or as low as $15 monthly.
Best ELDs For Truckers
To help you out, here are the best ELDs for truckers you can find in the market, ranging from the most budget-friendly to the more expensive.