Ford has been a titan in the automotive industry.
They have also produced semi trucks at some point, but have you ever wondered why they stopped making semi trucks?
Read on to find out more…
Here's a short summary to Why Ford Stopped Making Semi Trucks:
Ford stopped making semi trucks because the competition was too fierce for them at the time. In 1997 Ford sold its heavy-duty truck business to Freightliner and decided to focus on passenger vehicles, pickup trucks, and muscle cars. However, Ford still makes semi trucks with other partners.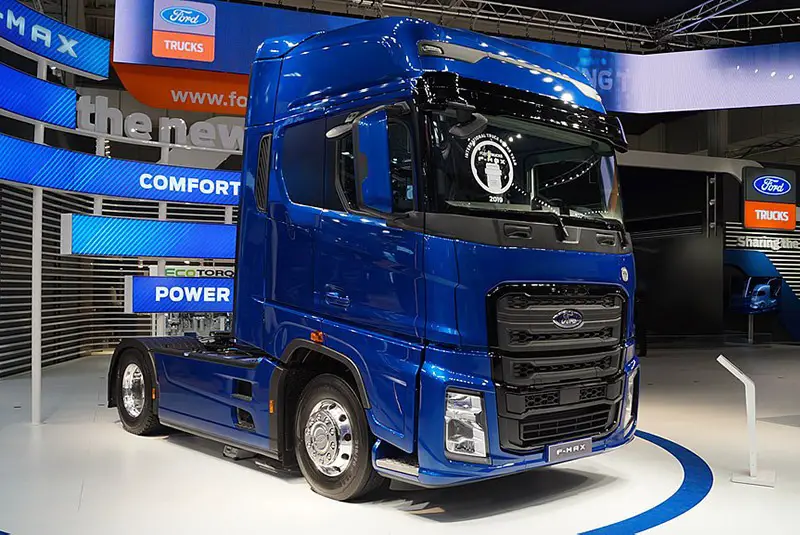 Did Ford make Semi Trucks?
Ford made quite a few semi trucks with a wide range of uses, from dump trucks to sleeper tractors. They have been producing medium and heavy-duty trucks since 1948.
The Ford F-series was one of their first models in production, derived from their F-series pickup trucks. From there, they moved onto heavier vehicles like the L-series, also known as the Louisville truck.
The Ford semi trucks were never out of production. They changed hands but remained as Ford trucks. They also have a partnership with Ford Otosan based in Turkey, which caters to the European market.
China also has the Ford F-Max truck in production, except it is called a JMC Weilong Hv5 and has the Ford engine.
What are the Ford Semi Trucks?
Ford has made many great trucks in a variety of styles and covers various sectors in the marketplace. Here is a list of Ford semi trucks.
Sterling Aeromax
Aeromax L9000
Aeromax Tamiya
Aeromax LTL9000
Aeromax WT9000
Ford L series
Ford Cargo 1848T
Ford F-Max
Ford HN80
Ford Bid Red
Does Ford still make Semi Trucks?
Ford works in partnership with companies across the globe to produce their medium and heavy-duty trucks for the commercial market. They prefer to share production responsibilities.
Each site that builds Ford trucks, is well equipped with the necessary tools and machines to build a Ford truck.
The companies they work with were carefully selected for their shared vision of Ford's future.
When did Ford stop making Semi Tractors?
In 1997 Ford sold the rights on a couple of their models to Freightliner.
The deal was made to keep the trucks in production if you take a closer look at the business end.
You can see that Ford although losing hundreds of millions of dollars at the time, was securing their future in the marketplace for many years to come and even today have managed to see a profit over a loss.
Why did Ford stop making Semi Trucks?
Ford sold their heavy-duty truck business because it was losing money and it wanted to concentrate more on its family-style cars, pickup trucks, and muscle cars.
The trucks weren't missed by anyone as they were sold to Freightliner Corporation who carried on the production line and quickly saw an increase in sales over the next few years.
Were the Ford Semi Trucks any Good?
Ford semi trucks have never been as good as their cars and pickup trucks.
They were still good trucks and did and still do what they were made to do. If you are looking for a good reliable truck at a great price, Ford is the one.
They may not look the greatest, but it is not a fashion show, and a Ford truck was and still is good.
Were the Ford Semi Trucks Expensive?
They were not as expensive as their competitors were. They came in at around 10% to 20% cheaper. And may have been one of the reasons they were losing money.
They kept the same quality build that Ford is known for but sold their trucks for a small marginal profit.
And they finally paid the ultimate price when they decided to sell their truck division.
Maybe they would have stayed in business if they upped their prices a little to get what their trucks were worth.
Were the Ford Semi Trucks Reliable?
The Ford name has always been known for building solid and reliable vehicles. Their trucks were no different. The trucks Ford built were very reliable and well sort after.
People today are still wanting to drive these trucks. And you can find a few still in service. One favorite is the LTL9000.
Were the Ford Semi Trucks Fuel Efficient?
Fuel consumption, as we all know, has a lot to do with the driver. The Ford Aeromax is the most aerodynamic truck of its time. You can get between 7 – 7.7 miles per gallon, even today.
Now that's impressive for a truck that is more than 25 years old. The truck was specifically built with fuel economy in mind and has served its purpose very well.
Considering the average mpg 25 years ago was around 5.5 to 7.2, it comes as no surprise the Ford trucks have a good track record for efficiency.
What Loads could the Ford Semi Trucks Haul?
A Ford Class 7 truck had a gross vehicle weight of more than 26,000 pounds, and the Class 8 trucks had a gross vehicle weight ratings of more than 33,000 pounds.
The gross combined weight refers to the tractor and trailer maximum weight.
Ford has always been ahead in the manufacturing process, building trucks in line with the maximum weight regulations each time.
Every truck manufacturer has to bear the weight capacity in mind or face building a truck that will be useless for transporting goods.
How Long did Ford Semi Trucks Last?
When we talk about how long a semi truck or any vehicle will last, we have to consider the care it has received. A well-looked after Ford semi truck will last over a million miles.
On average, semi trucks tend to last 750k miles, but it is common to see trucks go over a million. Ford has had years of practice ahead of its competitors in building good engines.
A ford engine is very durable and can keep going and going.
How was the Build Quality of the Ford Semi Trucks?
The build quality of the Ford semi trucks was and still is second to none.
Ford did not hold back on quality in terms of mechanics but unfortunately lacked on quality for driver comfort.
There are stories of shaking and even clutches breaking off bolts on motor mounts.
The stories all seem to have happened since the changing of hands from Ford to Daimler.
Having a third party build your trucks is always going to be risky, as, like most things, they will not take the care and consideration you would put into the same product.
What do Truckers Say about Ford Semi Trucks?
As with anything, there are mixed feelings about the Ford trucks. Mostly good. A lot of truckers liked the LTL models for their durability, reliability, and style.
The new F-Max has had great reviews for its safety, comfort, and style, as well as its practicality.
Truckers love how many positions the seat can move to and admire the steps for climbing up the cab's front.
They find it so much easier to tilt the cab and raise the trailer.
The sun lounger type bed is a bonus, they say, easy to operate and very comfortable. The cab space has also impressed many with much more room.
No surprise the F-Max won the international truck of the year award 2019.
The 1848T model, on the other hand, is not as popular with truckers. They like that it does what it needs to do.
But are not happy with how basic the interior is. It seems to have a great exterior that does not match on the inside, one trucker said.
All this being said, you can only really decide for yourself by taking a test drive.
Can you Find a Ford Semi Truck to Buy these days?
Ford semi trucks will always be available in the marketplace. You can find the 1848 model in 31 different countries.
Ford F-Max, which is produced in Turkey, currently sells in over 40 countries.
By the end of 2023, they plan to have a presence in at least another 40 countries.
You can find most of the other models for sale all over the world. Amerca being the birthplace of Ford motors, has a wide range of dealers that sell Ford trucks.
Along with independent sellers, you won't find it hard to grab one of these magnificent beasts.
Is it Worthwhile getting a Ford Semi Truck now?
Ford semi trucks, are without a doubt, reliable and durable. If you are starting in this business or a veteran trucker, why wouldn't you choose a Ford truck?
They will do the job as well as any other truck and cost a little less to buy. In our opinion, the right Ford semi truck is well worth buying.
Happy Trucking!