Peterbilt is a name truckers love.
Since 1939 they have dominated the American commercial truckers market. They can be recognized by their unique red oval emblem on the front of each truck.
The quality and care that goes into each vehicle put them in the top 5 best trucks list, making them one of the best trucks of all time.
We take a look at different models and their price range and efficiency and guide you on where you can pick up this awesome machine.
Here are the average new and used prices of the most popular Peterbilt Semi Truck models:
| | | |
| --- | --- | --- |
| MODEL | NEW | USED |
| Peterbilt 579 | $160k | $105k |
| Peterbilt 389 | $250k | $98k |
| Peterbilt 567 (Industrail tankers) | $400k + | $368k |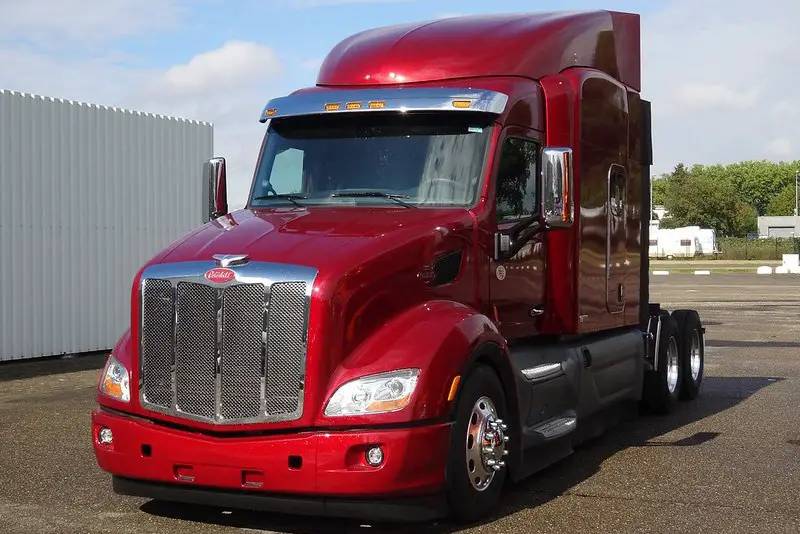 How Much is a Peterbilt Semi Truck?
The price of a new Peterbilt semi truck is approximately $250,000 whilst the price of a used Peterbilt semi truck is around $105,000. The price largely depends on the type of the truck, condition, mileage, model year, and to an extent who is selling it.
A gorgeous well-built machine like the Peterbilt will be a little pricey but well worth looking into. They range in price depending on model, year, and condition.
They generally fetch a price of between $160k to $330k. These are not fixed prices and can go up or down based on what you are after and how good you are at haggling on a used truck deal.
How Much is a Brand New Peterbilt Semi Truck?
Brand new trucks are not cheap, especially when you are paying for excellence.
A brand new Peterbilt truck costs between $160k to $330k prices go higher for custom designs and industrial trucks. A new 337 model can cost you over $550k.
A brand new Peterbilt 520 model starts at around $400k.
How Much is a Used Peterbilt Semi Truck?
Used trucks are sold up and down the country, probably more than new ones. They vary in price, with some going for as little as $20k going right up to $200k and more in some cases.
A Peterbilt 579 with 200k miles on the clock will go for around $170k, a 337 model with 440k miles will go for $160k, and if you're looking for a truck to fix up and enjoy, you could get a 1977 359 model for $4000.
How Much is a Peterbilt 379?
The 379 model comes in a variety of shapes. You could pick up a 2007 379 fuel tanker for $130k, a 2005 model for $58k, a 2007 sleeper 379 model for $117k.
The 379 was replaced by the 389 back in 2007, which is why you can not find later models than this year. It was a popular truck in its time and was used mainly for highways.
How Much is a Peterbilt 389?
The 389 that replaced the 379 is an all-around great truck. A used 2019 model with 560k miles on the clock will go for $150k. A 2017 model can go for $98k.
A brand new one will set you back a little over $200k. These trucks are great-looking and very reliable. 
How Much is a Peterbilt 579?
A brand new 579 start price is $160k and can go well over $200k depending on the customization you choose. A used one can go for as little as $100k for a 2019 model with 470k miles.
A 2015 model will go for around $50k. There are some great deals out there for great trucks, it is best to shop around and be sure to pay a company to check the vehicle over for any underline issues it may have.
What is the Top of the Line Peterbilt Truck?
The all-new 579 is the most advanced and fuel-efficient Peterbilt has produced to date. The stronger front maximizes the aerodynamics while still maintaining that gorgeous Peterbilt look.
The improved lower front gives the driver 12% more visibility. Every LED headlamp has a heater to keep the lens clear in bad weather, the door mirrors have mounted cameras for better vision.
A high-tech 15-inch digital dashboard is the largest in the industry and can be customized to suit the driver.
What is the Best Peterbilt Truck to Buy?
All Peterbilt trucks are built for durability and reliability. Choosing one to suit your needs is easy as they all have great looks. It does depend on what you need the truck to do.
The 330 model is for flatbeds, dump trucks, box trucks, and refrigerators. The 567 is for logging, transfer trucking, heavy hauls, and cement, the 337 can take on most jobs, and the 579 is for highways.
What's the best truck for you?
What is the Cheapest Peterbilt Semi Truck you can Buy?
The cheapest we have found but may not be roadworthy is a 1983 359 model for $1k. The cheapest Peterbilt still in service is around $15k – $20k, but if you are spending little money, you can generally expect big problems.
We suggest you buy a truck no cheaper than $50k and have it checked out by a professional. Although they are strong trucks, every truck is designed to be maintained during its lifespan.
How Much does Maintenance Cost on a Peterbilt Semi Truck?
It is good advice to put away $20k for annual maintenance. On average, you may probably only use around $10k to $12k, plus tires at $3k to $4K in total $20k will more than cover it.
Taking care of your truck by means of regular daily checks of tires and leaks will reduce some downtime, in turn saving you money.
How Much does Insurance Cost on a Peterbilt Semi Truck?
Insurance is a funny thing that goes up and down depending on a few things. Semi truck insurance can cost you anywhere from $600 to $1000 a month.
Insurance companies consider what you haul, your driving experience, and your age. Our advice is to ask other truckers who they have used and shop around.
Changing insurance companies every year or two has been proven to save money.
Are Peterbilt Trucks Worth it?
If you're considering a long career in the trucking industry, then a Peterbilt is well worth it. It will see you through and then some. Buying a semi truck is going to hurt most people's pockets.
I can't think of a better truck to make me part with my money. Remember that you will be in your truck probably more than you will be at home if you are long hauling.
It is a home from home with your work attached to it, well worth it.
Are Peterbilt Trucks Safe?
Sensors and cameras are the new things in all semi trucks. Peterbilt has also taken on this advanced technology with the Collision Mitigation System that collaborates with adaptive curse control.
Advanced LED headlamps for improved visibility and helps to reduce driver fatigue. Safety is at the Top of Peterbilt's list.
Are Peterbilt Trucks Fuel Efficient?
The Peterbilt 579 model has a record for reaching 10.7 mpg, a great improvement on the previous 6.5 mpg. The truck had a full load and traveled from Denton TX, to Vernon TX.
On average and under normal driving conditions, a Peterbilt truck can reach around 7 – 8 mpg with a full load. Fuel efficiency can be affected by the driver and the weather.
The new aerodynamic shapes and lightweight cab and chassis give these trucks a massive advantage in reducing fuel consumption.
Do Peterbilt Trucks Last Long?
Every truck with good service history and driven well can last over a million miles Peterbilt is no different. These trucks are tough and built to last in the most extreme conditions.
Provided they have been well maintained, like anything, a truck needs care and attention to keep it running to its optimal level of operation.
How well do Peterbilt Trucks hold their Value?
Peterbilt is at the top of the list when it comes to holding its value in the resale market.
Peterbilt trucks retain between 39% and 47% of its retail price over a 5 year period.
In 2018 they won the Highest Retained Value Award on their Peterbilt 389 Heavy Conventional Sleeper Tractor model that retained 39.85%.
The Peterbilt 325 models retained 47.58% of its value over a 5 year period.
In general, Peterbilt trucks hold their value well.
Where in the U.S. Can you Buy Peterbilt Semi Trucks?
There are hundreds of Peterbilt dealerships to choose from across America and Canada, hundreds of independent dealers, and a few hundred private sellers.
Below is a list of a few of the major dealerships in the U.S.
TLG Peterbilt – Missouri – +1 636 240 0470
Peterbilt Store – Maryland – +1 410 342 3400
Performance Peterbilt – Hattiesburg – Mississippi +1 601 544 3499
Kansas City Peterbilt – St Joseph – +1 816 233 9131
Allstate Peterbilt of Clear Lake – Clear Lake, IA – +1 641 357 8240
Jackson Group Peterbilt – Grand Junction, CO – +1 970 858 3524
TLG Peterbilt – Great Lakes, IN, + 1 800 686 7383
Rush Truck Center – Abilene, TX, – +1 325 795 4600
Happy Trucking!