Western Star is another well-known name in the trucking world. A new Western Star truck can set you back around $240,000. We're going to take a look at why Western Star is worth every dime.
We'll check out different models and give you a breakdown from which is the cheapest to the top of the line. We'll even give you tips on where to buy, which model to buy, and why.
Here are the average new and used prices of the most popular Western Star Semi Truck models:
| | | |
| --- | --- | --- |
| MODEL | NEW | USED |
| Western Star 5700XE | $160k | $136k |
| Western Star 49X | $240k | $90k |
| Western Star 4700 | $240k | $80k |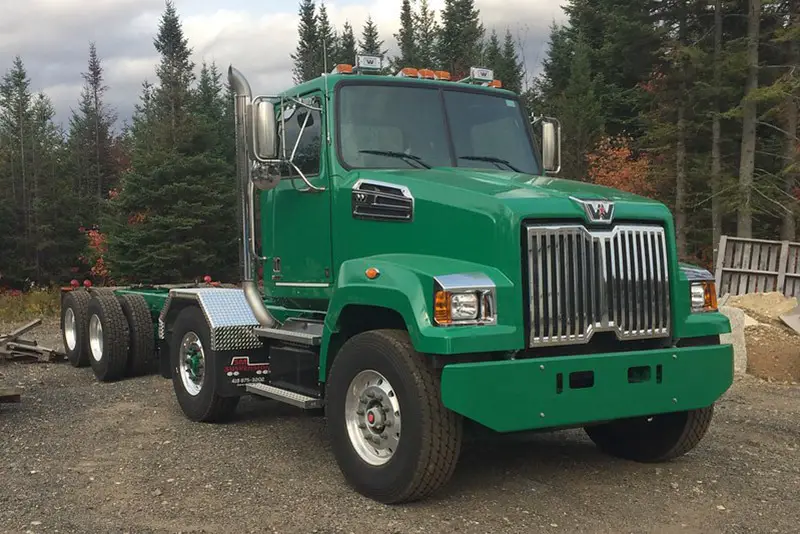 How much is a Western Star Semi Truck?
The price of a new Western Star truck is approximately $240,000 whilst the price of a used Western Star truck is around $90,000. The price largely depends on the type of the truck, condition, mileage, model year, and to an extent who is selling it.
Western Star is a gorgeous brand and can have a reputation for being pricey.
The Rolls Royce of trucks is punching heavyweight prices, and you can see why they put a lot of effort into making them the best they can be, not just for their customers but for themselves too.
How much is a Brand New Western Star Semi Truck?
A brand new Western Star semi truck price range is between $160k to $240k each model having its different place in the market, the company has been producing excellence since 1967. 
You can customize a truck and pay up to $300k, and some trucks go for over $500k. They have gone on to produce a truck for every commercial truck business today. 
How Much is a Western Star 5700XE?
The Western Star 5700XE is one of the most popular models in their range. Depending on its overall condition, you can find a used one for as low as $50k or even cheaper.
Buying a new truck is expensive no matter what the brand is like getting into a mortgage, so naturally, you want to make the right choice. A new 5700XE will cost you around $160k.
When considering buying a truck, you should take into account the financial side of it. It can set you back another 30% or more when taking out a loan with interest.
How Much does a Western Star 49X Cost?
Famous for its power, the 49X is as tough as it looks, and a tough price comes with that rugged look. A new one will set you back around $240k, depending on specs.
Obviously, a used one is considerably cheaper and will only set you back around $90k, that's huge savings, but these style trucks take a lot of abuse with the line of work they're in.
So be sure to double-check this one over, and as long as it has a good service history, you should be fine.
How Much does a Western Star 4900 Cost?
The engines that come in a Western Star are second to none. This shines through with the 4900 that uses Detroit Diesel DD13, DD15, DD16, and the Cummins X15.
This delivery of excellence comes at a price, the new 4900 will set you back around $160k, and the used one in reasonably good condition is around $100k.
What is the Top of the Line Western Star Truck?
Wow, now that's a tough one. I would have to say the 5700XE Extended sleeper with microwave, sink, fridge, spotlights, hob, plug sockets, and TV even has a shower and toilet.
A custom option will cost you around $300k, where you can create your own dashboard gauge setup, dash and seat materials, a full front curtain to block out every inch of light.
A double bed covers a dining table, and it has plenty of storage space with spotlights in every cupboard.
What is the Best Western Star Truck to Buy?
The best truck to buy will depend on the work environment you need it for. The 49x is a good truck for logging, the 5700xe is probably the best for long hauling, and the 4900 is a great dump truck.
The 6900 is the best truck for any off-road action, including coal mining. With the power to haul loads up to 500,000 pounds, this truck can move a mountain and cost you half a million dollars to buy.
They're all great models in their respective fields.
What is the Cheapest Western Star Semi Truck you can Buy?
The cheapest 5700xe is a $90k 2019 model with a little over 400k miles. A 2016 5700 model for $56k with 746k miles, the most affordable 6900 we found is a 1995 model at $20k.
The cheapest 4900 we found is a 2016 model for $39k.
With used trucks on the market every day, it is a good idea to check various sites regularly and remember to take someone with you who knows what to look for if you don't.
How Much does Maintenance Cost on a Western Star Semi Truck?
A Western Star semi truck's annual overall maintenance cost is around $15k to $18k, give or take a grand. To reduce the price, you could do regular fluid and tire checks.
It may not save you on cost, but it will save you on time, and time is money in this business.
Another way to avoid unnecessary downtime is to book a service in advance by calculating your mileage.
How Much does Insurance Cost on a Western Star Semi Truck?
Insurance on any semi truck is a feared thing for newbies as they have no real experience, and that is one thing that lowers your fees along with age, what your hauling, and miles cover per year.
On average, you are probably looking at around $600 to $1000 a month, be sure to shop around and ask your fellow trucker for advice.
Insurance is forever changing with fake claims increasing premiums.
Our best advice is to change companies every year or so to increase your chances of finding lower rates.
Are Western Star Trucks Worth it?
For their looks alone, it's a yes from us but much more so for the way they get built. From the great engines to the amazing classic yet aerodynamic bodies, they are all worth it.
Imagine customizing your truck to suit your comfort and style, then choose your engine, and then collecting that truck after you receive the call from your local Western Star dealership saying it's ready.
How did that feel? Worth it, right!
Are Western Star Trucks Safe?
The safest Western Star is the 49x, an advanced Detroit assurance suite of safety systems.
It has automatic wipers for any unforeseen events that may prevent the driver's view of the road.
Active Brake Assist reacts even when you don't. If you stray from your lane, a Lane departure warning will alert you with a rumble and dash warning.
Adaptive curse control will help you keep a safe distance from any vehicle in front and adjust to anything that may pop up.
A side guard assist will alert you if there is anything in your blind spot.
Most of these features are found across the Western Star range, making them very safe trucks.
Are Western Star Trucks Fuel Efficient?
The average mpg on a 5700xe is 7. This can change to higher or lower depending on the driver, road conditions, and wind. Changing gear at the right time is crucial for saving on fuel.
Under or over-inflated tires can increase fuel consumption.
Luckily Western Stars sleek new aerodynamic lighter body helps it glide through the road and cut through the wind.
Do Western Star Trucks Last Long?
It is incredible to see that a semi truck can last over a million miles or more with proper care and attention. A Western Star truck is no different and will last the distance if well maintained.
To extend the life of any truck requires daily checks of hose lines and tires as you use the truck daily, you will get the feel of it when it runs well and then when it doesn't.
Do not ignore any weird sounds and vibrations the truck makes, and to do so may result in a reduced lifespan and loss of earnings.
How Well do Western Star Trucks hold their Value?
Western Star Trucks retain their value at a rate of approximately 37% to 43% of the retail price over a 5 year period.
The mileage, age, condition, and popularity affect the value, we have control over most of these areas of depreciation, but when it comes to everyone choosing the same model, it may be a little more complicated.
That being said, there is no reason to worry as you will get what the truck is worth at the time, provided you look after it.
Where in the U.S. Can you Buy Western Star Semi Trucks?
Western Star has more than 500 dealerships across America and Canada with over 1000 more independent dealers and a few hundred private sellers, making it very easy to find a truck.
When buying privately, it is our advice to pay a company to go over the truck for your added peace of mind, be sure to test drive all vehicles and take someone with you.
Below is a list of some major dealerships in the U.S.:
Tom Nehl South (North Florida Western Star) – Jacksonville +1 904 861 0779
Midway Western Star – Kansas City – +1 816 455 3000
Sherwood Freightliner and Western Star Inc – Pennsylvania – +1 570 836 5027
Buckeye Western Star – Plain City – Ohio – +1 888 210 5344
Houston Freightliner & Western Star – Houston – Texas – +1 713 672 4115
Kinstle Western Star Truck Center, Wapakoneta – Ohio – +419 738 7493
Happy Trucking!