Born in 1967 the White Motor Company produced its first truck the White Western Star and over the years has had mixed reviews on how good a truck this company can produce.
Since then the company has changed hands a few times and manufactured many models.
We have done the research to show you how far they have come along in comfort, style, efficiency, and much more.
Here's a quick answer to Whether Western Star is a Good Truck:
Western star is a good truck, long-lasting, and has a great resale value. They produce a variety of trucks for a wide range of duties. Their trucks are very durable, and reliable, not to mention efficient and comfortable. They use the best engines and are top of their class when it comes to safety.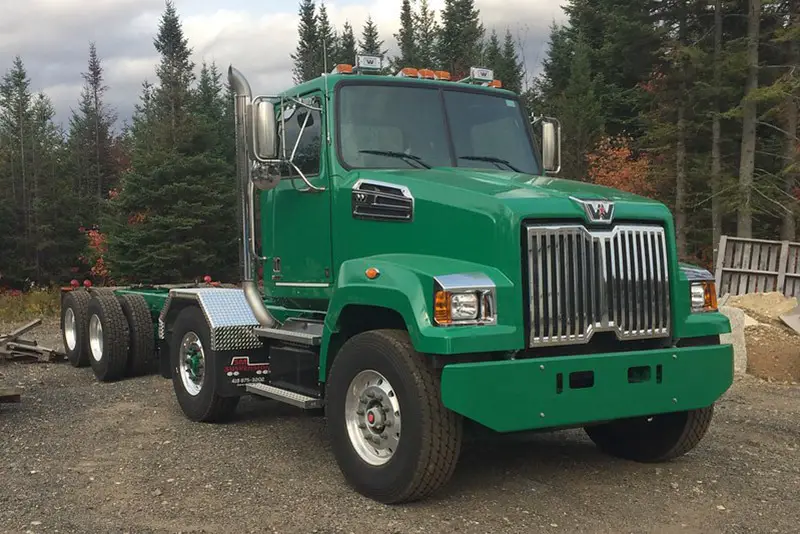 Are Western Star Semi Trucks Reliable and Dependable?
Western Star hasn't had the best reputation for being of the best quality, but reliability has never been an issue.
This seems to improve year on year. With the help of Detroit and Cummins, the Western Star has become a very dependable engine.
It says it all when truckers are deciding whether to get a Volvo, Mack, or a Western Star and if anyone knows how reliable a truck is it's these guys, as they use them on a daily basis and know their stuff.
How Long do Western Star Semi Trucks Last?
Given the fact that they have one of the best engines in any truck the Western Star if maintained well can last well over the million-mile mark or more.
They have been built for different sectors of the trucking world.
Western Star doesn't disappoint as it will outlast almost any truck, whether in the oil field and logging sectors, or whether hauling grain trains or cattle.
They're built strong and to last the toughest tasks.
How much Horsepower does a Western Star Semi Truck have?
Being built for different sectors in the industry means Western Star has to think about the engine size and one of the areas they consider is the horsepower the selected truck needs for its workload.
Here is a list of models and their horsepower:
4700SB 350 – 505 hp.
6900XD 425 – 500 hp.
5700XE 400 – 505 hp.
4900 350 – 470 hp.
4800 350 – 505 hp.
As you can see there isn't much difference in the numbers.
But in the right areas carrying the right loads, these numbers will make all the difference to the driver and how easy or hard it makes their lives.
How much Torque does a Western Star Semi Truck have?
Torque and horsepower work together in helping trucks like the western star carry out their jobs.
The torque pulls the loaded truck from a stopped position and uphills and the horsepower keeps the engine working to finish the job the torque started.
Here are the same model's torques.
4700SB 1250 – 1850.
6900XD 1475 – 1550.
5700XE 1550 – 1750.
4900 1250 – 1650.
4800 1250 – 1850.
We recommend inquiring into which truck is better suited for your needs.
What Engines do Western Star Semi Trucks Use?
The Detroit DD13 Diesel Engine is designed for regional distribution.
The Detroit DD15 is lighter more efficient and used for similar tasks whereas the Detroit DD16 is made for more extreme loads like hauling coal or logs.
For more off-road driving Detroit created the Series 60 tier III which runs quite efficiently considering it has the toughest of jobs like hauling rocks.
All these beautiful engines can be found in the Western Stars.
The Cummins ISL9 with its high power-to-weight ratio and the Cummins ISX Western Star has been known to use the Mercedes-Benz MBE4000 engines for their 4900FA and 4900SA truck models.
It seems they only use the best and most reliable engines in the industry.
How Long do Western Star Semi Truck Engines Last?
The average lifespan of any semi-truck engine is determined by how well it is driven to how well it is looked after and what sector it is used in.
A Western Star Detroit DD15 engine can outlast a Detroit series 60.
They're built for different environments.
The Detroit series 60 could burn out at just 150,000 to 200,000 miles due to its harsh workload and rugged roads, whereas a Detroit DD15 could last well over a million miles as it would probably spend its life on highways.
If a driver is not driving any of these trucks to a high standard or neglects to maintain them it will have a huge impact on the engine's lifespan.
In truth, a well-looked after and well-driven truck can last you as long as you want it to last.
Are Western Star Semi Trucks Fuel Efficient?
Western Star's new aerodynamic body design makes this truck very fuel-efficient and if you run the engine at the right speeds you can get 7 – 8 miles to the gallon.
The older models are not far behind with an mpg of around 6 – 7.
However, there are some factors to consider like is the truck in need of a service, are the tires at the correct pressure, how much load it has got, and is the driver gear shifting correctly.
Overall the answer is yes they are fuel-efficient and getting better with every factory engine modification thanks to the design teams at Detroit and Cummins.
Are Western Star Semi Trucks Comfortable?
An automatic transmission is a smoother ride as we all know, but with good tires and good gear shifting a manual can be equally as smooth and at Western Star they say comfort is king.
They use a trident true Western Star steel cab for more space and comfort.
It has a padded floor mat for more insulation making the cab quiet. The steering wheel has a tilt and telescope function to improve vision to the dash and your feel and fit.
The seats come in three types of material and have the right amount of feel as a lazy boy does, mixed with a luxury office chair to prevent you from feeling sleepy.
They also have wide cab mounts to the front for great stability and comfort, at the rear of the cab is an airbag suspension system that reduces shock to the driver over rough conditions.
You even have an option to have multiple rear and front suspensions. Now if that isn't comfortable I really don't know what is!
All the above information is based on the Western Star 4700.
Are Western Star Semi Trucks Safe?
When it comes to safety, Western Star has one of the leading advanced systems with their 49X safeguard assist.
This system alerts the driver to objects on the passenger side (Blind Spot) which is perfect for those worksite jobs.
Active Brake Assist 5 will detect moving or stationary objects in its path with the aid of a sensor mounted at the top of the front window.
It is the only system on the market that works as low as 5mph, perfect for those busy urban roads.
It even reacts to what's happening just in front of you by partially braking then fully braking if you do not react.
And if that's not enough, they have increased the size of the windscreen by 28% compared to some other trucks, now that's safe!
Western Star Semi Truck Maintenance Schedule
The service manual has many types of maintenance schedules that cover everything from tires to an oil change.
It should be read carefully and taken seriously to ensure a safe and reliable performance, for each and every trip is important.
The intervals are slightly different for below and above the 60,000-mile mark, depending on the environment you work in.
A truck working on the highway will have longer gaps in service intervals than one that works in the mountains or mines, hauling coal or lumber.
A basic service should be done every 15,000 miles at a trusted workshop, this will include a quick inspection of the lights and brakes as well as all the fluids.
A thorough service inspection at ever 30,000 miles is when you would typically have the oil and lubes changed along with your oil filter, air, and fuel filter and usually takes around two hours.
Once a year you should take your truck for a full inspection.
This can take them a whole day to complete but is well worth it as they will monitor the performance of your truck's engine.
Semi-truck repairs can be costly and regular maintenance will help prevent or spot any further issues that may occur.
It is our advice to do a walk around before every journey.
What kind of Oil does a Western Star Use?
As standard, a Western Star leaves the production line with Chevron Delo 400 ZFA SAE 10W-30 (API FA-4) engine oil.
The viscosity is rated at 10w when cold and 30w when the engine is hot.
If it's good enough for Western Star to use, then it must be a good oil but if you'd prefer to use another there are many on the market,.
Every engine oil producer will claim they have the best product so probably a good idea to ask around.
Truckers with the highest mileage and who have had their trucks for a long time are a great place to start.
Are Western Star Semi Trucks Expensive to Fix?
The repairs on a western star are no more expensive than on any other truck.
Costs of course vary and can spread from $10k to $20k depending on what has gone wrong.
It also depends where you take it to get the repair done as every shop has its own hourly rates of labor.
The common issues are air/line hoses, alternators, wiring, and brakes.
Tires are another cost to drivers. If a blowout occurs, just one tire can set you back $500.
However, there is good news with commercial vehicle title loans which have been designed with truck repairs in mind.
The lender will hold your truck title until the loan has been paid back.
That may not sound great but when your truck needs repairs and you can not cover the costs, it may be an option to keep you in business.
How Long is a Western Star Semi Truck Warranty and What does it Cover?
There are many types of warranty packages and add ons that Western Star provide.
As a standard purchase they cover the following:
Engine base – 24 months – unlimited mileage.
Injectors – 24 months – 185,000 miles.
Transmission – 24 months.
Rear axle – 24 months.
Clutch – 24 months.
Defective material and/or workmanship – 12 months.
Apart from the last one, the rest can alter slightly in terms of extending their lengths and is covered up to whichever you reach first, the mileage or the time frame.
Cummins offers a variety of extended coverage plans for extra protection against major repair expenses.
Do Western Star Semi Trucks Hold their Value?
A Western Star semi truck in good condition will hold its value as would any other well-looked after truck.
Here are a couple of examples:
A 2006 Western Star 4900FA with 488,658 miles is around $39,000.
A 4900SB 2016 model with over 250,000 miles can go for a little over $130,000. They're generally a cheaper truck when bought used and a reliable one… they hold great value!
What are the Best Western Star Semi Truck Models?
It falls down to what the truck will be used for and what the driver prefers.
The 49X is a great looking truck and has top-of-the-line technology, but is limited to what it can do.
The 5700XE has an aerodynamic cab and is very easy on the eyes. It's tough and efficient with a stylish interior and a comfortable ride, now that's hard to beat.
The 4700 series gives us that old classic look but still maintains its tough character as does the 6900XD – true heavyweights in their fields.
The 4800 seems to mix the dynamics of the 5700 with the tough rugged look of the 4700.
In my opinion, they're all great trucks and if I had to choose it would be hard.
Which one would you say is the best?
Happy Trucking!