In this day and age, truck drivers spend almost all their life on the wheel. 
Since there are a lot of bumps and vibrations along the road, the sitting pattern of drivers is crucial to their overall wellness and physical health. 
It can either make or break them. Most often than not, truck drivers end up with back and spinal pain. 
However, the great news is that semi-truck seats are now comfortable and cozy with the advent of modern technology. 
To learn more about semi-truck seats and the best available options you can find in the market, then better stick ahead to this definitive guide and read more. 
Here's a Quick Answer to Whether Semi Truck Seats are Comfortable:
Semi truck seats come with technologically-advanced features making them comfortable for drivers. They have ergonomic qualities, adjustable positions, expanded size, and spinal and lumbar support. Additionally, trucks have recline, comfort, and support features to fit for driver's overall comfort.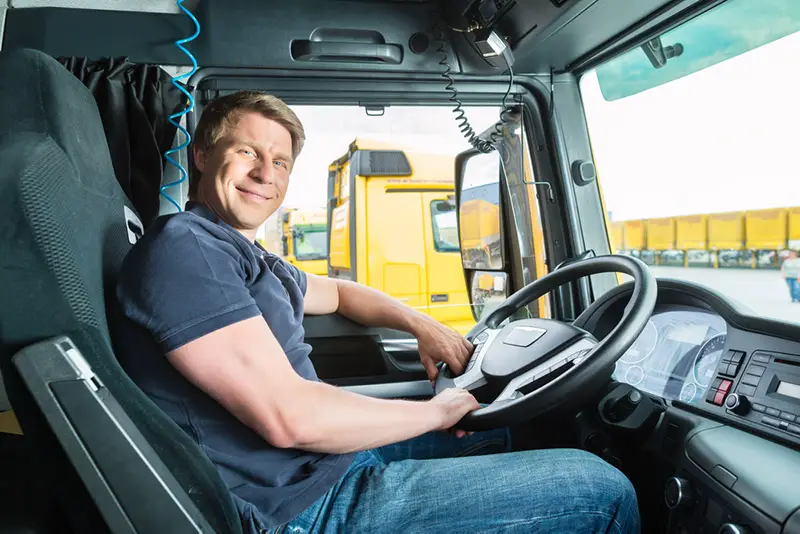 Are Semi Truck Seats Comfortable for a Long Ride?
Semi-truck seats are now perfect for long-haul trips. They have the potential and capability to absorb all shocks of ruts and bumps that truck drivers may encounter along the road. 
With modern technology, semi-truck seats have become highly comfortable for a long ride. 
Plus, truck manufacturers designed the contemporary layout of the semi-truck to promote the well-being of the drivers. Modern truck manufacturers design expanded semi-truck seats to improve space. 
Furthermore, they also enhance the mattress and the bed to the finest quality. On top of that, steering controls are made closer to the driver for easy accessibility and convenience.
Are Semi Trucks more Comfortable than Cars?
Semi-trucks are relatively more comfortable than cars when traveling for days and longer distances. 
People often call semi-truck "houses on wheels." Nowadays, most semi-trucks have sleeping amenities such as modern sleeper cabs to allow the drivers to rest comfortably. 
In addition, most truck operators invest in other things such as refrigerators, microwaves, and even televisions to personalize their semi-trucks. 
Further, semi-trucks can also have bathrooms or showers to make the life of the drivers much more convenient and relaxed.
What Materials are used to make a Semi Truck Seat Comfortable?
There is nothing better than having a relaxing and comfortable seat for a truck driver. 
Driving daily without sufficient support can take an enormous toll on the overall physical health of the driver. 
So, here are the best-quality materials often used to enhance the coziness and comfort level of semi-truck seats: 
Do Semi Truck Seats come with Lumbar Support?
Nowadays, semi-truck seats possess modern seat technology intended for lumbar support. 
The semi-truck seats are equivalent to the high quality found in office chairs. There is the presence of high-backed chairs to support the back of drivers. 
Further, to avoid soreness and stiffness, it also has arms and headrests that are adjustable for optimal lumbar comfort and support. 
These adjustable seats are perfect for drivers' bodies and sanity, making their lives much easier for more extended travel periods. 
Are Semi Truck Seats Characterized by Comfort or Hardness Levels?
At the moment, semi-truck seats are characterized by comfort levels. 
Truck manufacturers now design comfortable seat cushions depending on your liking and preferences. 
Although found in different functions, modern semi-truck seats still serve the same purpose to provide comfort to truck drivers.  
Are some Semi Truck Seats Cooler than Others?
Some semi-truck seats are somewhat cooler than others. 
Depending on your choices and preferences, plus the level of comfort and support you want to achieve, you can find semi-truck seats suitable to your liking. 
Leather seats get hotter quickly compared to cloth seats.  On top of that, other semi-truck seats have cooling options and features. 
The ISRI Deluxe and Premium series have features perfect for either heating or cooling. The Sears Atlas II Series, available in cloth and leather, also has cooling and heating features. 
Do you Get Semi Truck Seats that Recline with Leg Rest?
There are semi-truck seats that have back seat recliners. 
However, these seats are not easy to find. But now, thanks to globalization and technology, there are semi-truck seats that offer reclining rear seats. 
There are a lot of available options. Even though they have the same design utilized for driver's comfort, they have different functions. These include the following: 
Lift Back Chairs: This type of recliner seat possesses a motorized feature recommended for trucks with limited space as it provides sufficient legroom to both drivers and passengers. 
Wall-Hugger Seats: This seat only consumes less space in the truck. They can be seen either in portable or compact cab trucks. On top of that, these comfortable and cozy recliners are perfect for drivers who have weak knees. 
Massage Chairs: This seat permits both the back and legs to relax. It often comes with a heating pad that massages the body, leaving you comfy. 
What are the Most Comfortable Semi Truck Seats?
If you start to notice backaches and pains and even find your legs feel numb and stiff, it is a sign to upgrade your truck seat. 
To prevent further issues coming from uncomfortable semi-truck seats, such as bone and joint pain and muscle spasms, you may want to upgrade your truck's seats. 
Here are brands that offer adjustable choices and ergonomic features: 
Which is the best semi-truck seat for a bad back?
The Bostrom Pro Ride Truck Seat is the perfect semi-truck seat for a bad back. 
This semi-truck seat helps prevent muscle stiffness and soreness. 
Besides, it minimizes back compression. It has superior and high-quality cushions that boost lumbar support that is part of the Flex Support Cushion System. 
This Bostrom Talladega T-Series is the best fit for changes in seat position. 
These Talladega seats can also be customized and personalized according to your comfort level. You can also find them with or without armrests. 
How can I make my Semi Truck Seat More Comfortable?  
Truck drivers always have severe back pain caused by a notorious and long time of travel. 
Depending on your preference, such as the level of comfort and stylish design you want to achieve, here are the materials you can use to improve the level of comfort of your semi-truck seats: