Luxury semi-truck seats are worth your money since they will help improve the driver's performance and personal well-being.
They typically offer the driver more comfort and prevent them from developing debilitating back conditions, neck pain, arthritis, and many health issues.
On top of that, luxury semi-truck seats are worth it because they have excellent features. They have comprehensive seat arrangements, terrific chairs, memory settings, isolators, and memory foam cushions.
Plus, it can address an enormous deal of displeasure and discomfort by providing drivers with good lumbar support and adjustable armrests from excellent quality materials.
Luxury semi-truck seats are indeed a massive investment for sole truck drivers and trucking companies. You might spend more money purchasing luxury semi-truck seats, but they are worth it.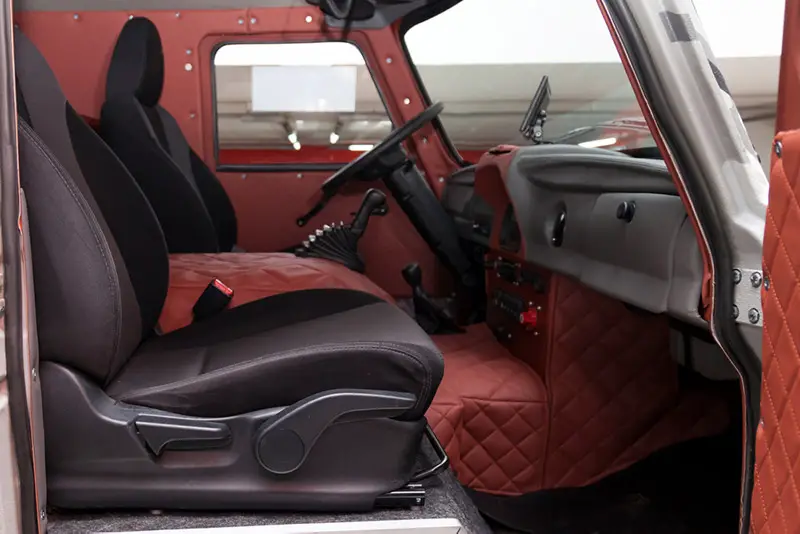 Here are the Best Luxury Semi Truck Seats in the Market:
| | | |
| --- | --- | --- |
| Brand  | Seat Model  | Approximate Price |
| National Commodore Series | NAT-0305 | $1,452.00 |
| Bostrom Wide Ride + Serta | BOS-0710 | $1,922.00 |
| Knoedler Extreme Low Rider Seat | KNO-0108 | $1,975.00 |
| Minimizer Comfort Sears | MIN-101358 | $1,570.99 |
| Prime TC200 Series Air Ride Seats | PS-TC200C | $589.99 |
What makes a Semi Truck Seat Luxurious?
The secret to making a semi-truck seat luxurious is the pleasure and comfort that comes with it. With the dawn of advanced technology, semi-truck seats are more comfortable now than ever.
Most semi-truck seats come with a memory foam seat cushion. Memory foam minimizes the risk of butt pain for drivers. On top of that, this memory foam pillow will not get flat or lumpy. They will adjust with the rear, suitable and comfortable for long-distance driving.
Another top-secret in making a semi-truck seat luxurious is the gel pad cushion. You can try this to keep your semi-truck seats cool during long driving hours. Plus, this is perfect for maintaining the butts of drivers dry, especially during the summer season.
Furthermore, semi-truck seats are luxurious nowadays because of their beaded seat covers. While this may often be overlooked, these wooden beads are good at massaging drivers' backs and butts. In addition, this improves air circulation.
All in all, semi-truck seats are incredibly luxurious and highly comfortable because of their promising feature of supporting the lumbar.
Gone were the days of pain and torture that comes from long-haul driving. Semi-truck seats have become opulent and way more deluxe in this modern age.
What Features do Luxury Semi Trucks Seats come with?
These days, luxury semi-truck seats have many features to keep drivers alert, safe, and comfortable.
We list some of the striking elements of luxury semi-truck seats to avoid sore back and bottom plus tight muscles and help drivers improve their focus while driving. Here they are
Cooled Seats: At present, luxurious semi-truck seats have cooling features. These keep the drivers' butt dry and pleasant. This upgraded feature will prevent semi-truck drivers from feeling sticky, hot, and sweaty.
Comprehensive Seat Arrangement: No longer do semi-truck drivers will feel cramped and crowded. Luxury semi-truck seats have massive seats, giving more space and comfort for drivers.
Memory Settings: Modern luxurious semi-truck seats offer memory settings. Memory settings automatically set the chair to its exit position when the driver parks the truck. When the driver starts the engine and returns to its seat, the memory setting will turn the center into its default mode.
Isolator: Luxury semi-truck seats have an isolator. Isolator helps reduce and minimize abrupt jolts and sudden vibrations while accelerating or braking. Plus, the isolator provides the driver to lock and keep the seat in its proper place.
Memory Foam Cushion: Now, semi-truck seat designs have memory foam pillows for better comfort and improved support. Plus, this feature decrease hip and back stress, promotes circulation, and improves the overall posture of drivers.
Who are the Top Manufacturers of Luxury Semi Truck Seats?
Are you experiencing any stiffness or back pain while driving your semi-truck? To help you, we provided a list of some of the top manufacturers of luxury semi-truck seats that you can choose from:
Knoedler Manufacturers: Knoedler Manufacturers has been committed to providing high-quality and durable seating brands since 1946. Up to this day, Knoedler has evolved to offer innovative solutions for the driver's comfort, health, and safety.
Suburban Seats: Since 1947, Suburban Auto Seat has been one of the largest distributors of bus, truck, and semi-truck seats, cab accessories, seating parts, and safety equipment. In addition, they've been offering cushion covers, armrests, suspension bases, seat mounting brackets, and seat pedestals.
Seats Incorporated: What makes Seats Incorporated unique and outstanding is that they offer a custom seat builder. It allows its customers to design and create a product fit for their seating needs. Also, Seats Incorporated helps drivers choose the best elements, such as armrests and suspensions.
Minimizer Products: Minimizer claims to be the aftermath solution for the truck industry. For the past 60 years, Minimizer has been committed to producing customized floor mats, workbenches, and slick plates. Their latest products are the Long-Haul Series for heavy-duty semi-trucks mattresses and seats.
Raney's Truck Parts: Raney's provides their customers with excellent semi-truck seats and replacement covers available in the market. Plus, there are a variety of add-ons, such as an automatic massage system and heated cushions to give you the most comfortable semi-truck seat possible according to your budget.
Can a Luxury Semi Truck Seat Fit in all Semi Trucks?
Luxury semi-truck seats can accommodate all semi-trucks. Most luxury semi-truck seats can be customized and adjustable to address the specific needs of the drivers.
In addition, luxury semi-truck seats can help you adjust the height and depth of the chair to obtain the most comfortable and pleasurable position for drivers.
Can you have a Luxury Semi Truck Seat Custom made for your Truck?
Yes. There are semi-truck seats that can be customized and adjusted based on the driver's liking, needs, and comfort.
Minimizer's Long-Haul Series offers the most adjustable semi-truck seat with all the necessary adjustments that can be made to match the specific needs of the drivers. Long Haul Series promises to provide the best available semi-truck seat found on the market.
It combines safety, ergonomics, and overall body health into one product. On top of that, with durability and support of drivers in mind, Long Haul Series has a lifetime guarantee.
Do Luxury Semi Truck Seats Last Longer?
Luxury semi-truck seats have good, long-lasting quality compared to other semi-truck seats. 
Most often than not, semi-trucks seats can withstand the test of time. While they may be pretty challenging to maintain, luxury semi-truck seats are undoubtedly tried and tested.
Do Luxury Semi Truck Seats come with a Warranty?
Yes, luxury semi-truck seats offer a warranty. Some offer a full warranty, limited warranty with exclusions, while others offer a lifetime warranty. 
The warranty claims' coverage depends on manufacturers' terms and policies, including inclusions and exclusions.
The Minimizer Semi-Truck Seats have a limited lifetime warranty. The Legacy Series-Silver also provides seven years of structural guarantee plus one year warranty of cushion and cover.
Also, the National Commodore Series has a limited seven-year contract for the first 1,000,000 miles of operation.
It would be helpful to check the warranty policy when choosing and purchasing from semi-truck seat manufacturers and dealers.
Do Luxury Semi Truck Seats Need Extra Care and Maintenance?
Owners must maintain luxury truck seats to keep their look and function. In addition, if the semi-truck seats degrade, it may hurt the driver's safety and comfort.
Using a vacuum to remove dirt on the surface would be helpful to keep your luxury semi-truck seats sleek and clean. Doing this will prevent the dirt from hanging around the floor or finding its way to the fabric of the semi-truck seats.
Experts also advised that you need to clean the materials deep at least every three months. Plus, you can opt to book a detailing service once a year to deal with stubborn and long-lasting stains.
To extend the lifespan of your luxury semi-truck seats, they need extra care and maintenance.
Are Luxury Semi Truck Seats Expensive?
The price of luxury semi-truck seats is considerably higher compared to other high-quality truck seats. 
The Boss Ride Truck Seat is 3-4 times more expensive than other semi-truck seats. However, the luxury semi-truck seats have good features. 
It is composed of excellent and high-quality materials. It also has adjustable seat controls, lumbar support, a perfect seat cushion, and dual and adjustable armrests.
Are Luxury Semi Truck Seats Worth it?
Semi-truck seats are worth it. Luxury semi-truck seats have excellent features that other cheaper semi-truck seats do not offer.
On top of that, luxury semi-truck seats are proven to give drivers greater body relaxation, reduce drivers' fatigue, provide extra support, improve good posture, and minimize stiffness of tight muscles.
You might spend more money purchasing and maintaining luxury semi-truck seats, but you will not regret it. You might consider it an investment.