A semi truck comes in various types of wheels. You've come to the correct spot if you're seeking durable wheels for your semi-truck.
This article will direct you to a variety of high-end alloy and steel wheels that meet industry-wide quality and dependability standards.
Here is a quick answer to what types of semi-truck wheels are there:
The different types of semi-truck wheels include Dayton-style wheels, also known as spoke-style wheels, Budd-style wheels, disc-type wheels, Hub pilot wheels, and Stud pilot wheels, which might also be called Ball-Seat or Old Style, and the Widowmaker wheels.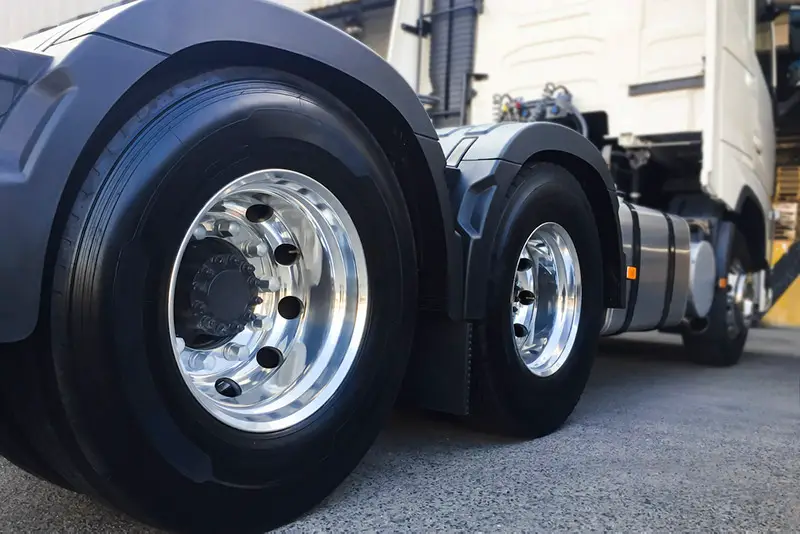 What Kind of Wheels do Semi Trucks have?
Six or ten wheels are standard on semi-trucks.  Two steer wheels are on the front axle of a tractor with ten wheels, while four wheels are on both rear axles.
The front axle of a medium-duty tractor unit will have six wheels, two steer wheels, and four wheels on the single rear axle.
What Materials are Semi Truck Wheels Made of?
Wheels are available in several forms and materials. However, the most prevalent in the early twenty-first century are aluminum and steel.
Steel wheels are heavier and more durable than aluminum wheels.
What Size Rims do Semi Trucks have?
Rims are tires with widths ranging from 225 to 295 millimeters. 
They also feature a height to width ratio of 70-75 and a rim diameter of 19.5-22.5 inches, often known as an aspect ratio.
What Bolt Pattern do Semi Truck Wheels have?
Typically, a semi truck has a 10×285 bolt pattern. 
On 10-lug Peterbilt, Freightliner, Mack, International, Kenworth, and Volvo semi-trucks, a 75 bolt pattern in a 22.5″ rim is popular.
What are Dayton-Style Wheels?
Dayton-style wheels are a thing of the past in today's trucking environment. The five bolts on Dayton design wheels attach to the rim and secure the tire to the truck.
The bolts are removed to disconnect the tire, but the hub or spoke remains attached to the truck. With this sort of wheel, the rim has no central section. 
Collectors make the argument that a Dayton wheel looks right on the vehicle models of the past. Another advantage of spoke wheels is keeping snow, ice, and grime out of the brake drums. 
Some downsides include correctly mounting a Dayton-style wheel takes more skill and time. A shaky wheel and tire wear come from improper mounting. Due to heat concerns, top speeds are also limited. 
Despite being named "California" type wheels, there was a solid east coast bias to spoke-style wheels in the ancient days of trucking.
This is most likely attributable to the fact that many truck manufacturers are located east of the Mississippi River.
What is a Budd Style Wheel?
What's the latest take on Dayton-style wheels? The Budd. Almost every truck currently has this type of wheel.
It looks like the wheel on your passenger car or pickup truck. The tire is attached to a wheel with a central hub. Budd wheels are available in steel or aluminum. It can be painted or chromed.
As previously stated, stress cracks around the bolt holes can occur on this wheel model.
On the other hand, Budd wheels' low cost and ease of maintenance helped propel this wheel to the top of the heap.
What do Hub Pilot Wheels mean?
The center of a hub piloted wheel is "piloted" or steered onto the hub. Hence the name "hub piloted." 
A single lug nut with a flanged type is employed, possibly 10 or 8 each, to fasten these. The oldest "disc" type wheel is the stud or lug piloted wheel.
The wheel studs are used to "pilot" or "steer" onto the hub. This kind uses ten of each type of lug nut to secure the drive axle in dual wheel assemblies, for twenty per dual wheel. 
Both come in two or five "hand hole" configurations. It is called hand holes because you have to put your hand through them to check the inner tire's inflation pressure.
What's the Difference Between Hub Pilot and Budd Wheels?
Hub Pilot Wheels Features:
has a center hole hub bore 
are held in place by a single nut
Budd Wheels Features:
have an outer nut that secures the exterior wheel 
has an inside stud nut that secures the interior nut.
What is the Difference Between a Hub Pilot and a Stud pilot?
Except for their design vent holes, virtually all-aluminum alloy wheels look reasonably similar. There is more of a difference between them once installed on a vehicle. 
The wheel distinguishes the two most common commercial wheel types centered on the hub.
Hub Pilot Features:
has flush wheel bolt holes
use the center hole hub bore of the wheel to fit over the hub's equal size ridge
the wheel is kept centered on the hub by the hub bore
the lug nuts will have a flush face when in contact with the wheel
the wheel is only held to the hub by the lug nuts
metal extensions called "tangs" that provide perfect alignment
systems do not have inner nuts
Stud Pilot Features:
beveled stud holes
stud holes on wheels are tapered, as are the lug nuts
if each lug nut is inserted into the wheel's stud hole, the wheel will be centered on the hub
hub hole in the wheel is only there to provide hub clearance
use studs and ball-seat cap nuts to position the wheels on the axle ends
for the right and left sides of the vehicle, you'll need both right-hand and left-hand threads
as a result, you'll need more nuts, more manpower to install and remove them, and four distinct types of nuts in stock.
Ball-seat nuts for stud-piloted systems work differently than the new two-piece flange nuts for hub-piloted systems. 
Because the diameters and threads are different in some circumstances, the hardware will not interchange.
Even if you could find nuts that fit, altering them is not recommended because it could harm the wheel.
Can Hub Pilot Convert to Stud Pilot?
If the appropriate stud is available, hub-piloted ConMet hubs can be converted to stud-piloted 34-inch studs. 
In the Hub Catalog, look up the part number for your stud. There is also a stud chart available.
Style "W" can be used in place of "5". Style "P" can be used in place of "L." A 1.31 to 1.44-inch stud protruding from the mounted drum or the hub flange for disc brake installations is required for dual-wheel applications.
For super-single or wide-base wheels, the stud standout from the mounted drum, or the hub flange for disc brake installations, must be at least 1.31 inches.
Steel wheels must have a minimum standout of 1.32 inches from the mounted drum or the hub flange for disc brake systems, and aluminum wheels must have a minimum standout of 1.80 inches.
It is impossible to convert front hubs to 1-1/8 inch studs. Compare the diameter of the drum pilot on your hub to the pilot diameter required for the drum you'll be using.
The average drum pilot diameter is currently 8.78 inches. There is no conversion for an 8-stud hub because stud-piloted hubs only come with ten studs.
What is a Split Rim?
Split rims are multi-piece wheels with a locking ring that keeps the tire in place.
Split rims are rare on cars or light trucks. However, it can be seen on various larger vehicles, such as lorries, tractors, forklifts, and other large vehicles employed in the construction and mining industries.
What are Widowmaker Wheels?
Widowmaker wheels are tough to notice since you can't see how they're formed when they're being built. 
When the other wheel types are gone, it's easier to spot them.
They aren't "Locking Ring," "2-Piece," or "3-Piece Wheels" because one side lip of the wheel lacks a readily visible ring or rings.
Which is the Best Type of Wheel for your Semi Truck?
When choosing the best wheels for your semi-truck, the aluminum wheels like the Dayton-style wheels are the best option.
With its features like lighter weight, susceptibility to needing maintenance, fuel savings cost, and aesthetics, it will be sure it is worth every penny to buy these wheels for your semi-truck.