River rocks are widely used in the landscaping industry as one of the design foundations. It may look just like a garden hindrance as a single rock, but collectively, they provide a wonderful pattern. 
Also, it does not mean that you have to get this directly from the river. It is widely available in some trusted stores. 
We have chosen some of the best stores in the market that sells river rock for your needs. Check them out. 
Here's a short answer to where you can get a truckload of river rock from:
River rocks are widely available all over the state. You can check out the nearest landscaping material store near your area and their delivery/pickup schedules and pricing, as they mainly offer a similar grade of river rock as any other store. You can also look for their websites for convenience.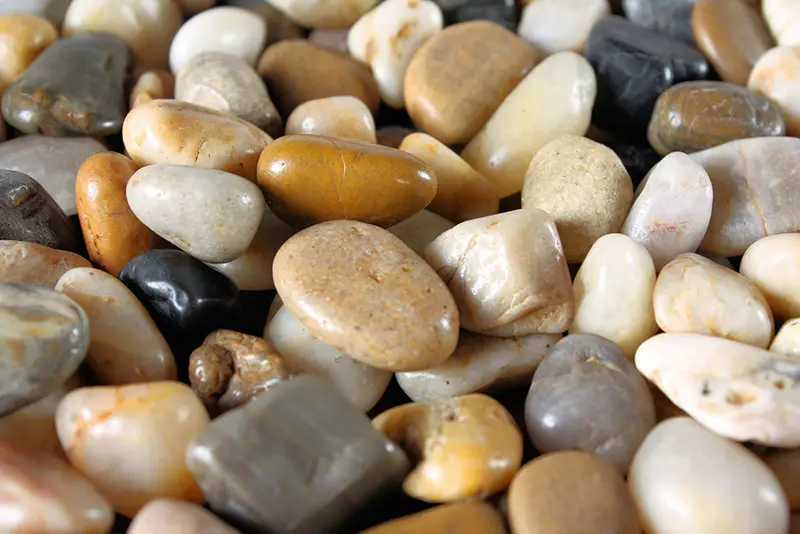 Best Places to get a truckload of River Rock:
What Type of River Rock would you Need?
Granite River Rock is most commonly used in the landscaping industry. Its design and texture match almost the entire interior of any house and even the garden area. 
But the type of river rock you need will still depend on how you would like to decorate your specific area. 
Aside from the price and design that you are aiming for, here are some of the things that you need to look for: 
It would be best to consider this first because it will affect your desired landscaping design. The size of a river rock ranges from 3/8 of an inch to 5 inches. 
The medium size of river rock is ideal for accenting flowers and more. Also, they are not quickly scattered, unlike other types of stones and rocks. 
They keep the weeds out and make your garden neater and more compatible with modern type landscaping. 
However, when weeds appear, it will be hard for you to remove them due to the size of the rock. It may chip your weeding tool. 
The color of a river rock varies from black, brown, white, mixed colors, or even marble-like. Its versatility in coloring makes it in demand for design as its almost compliments every color. 
When purchasing, you can opt to have a solid pack of color or have them assorted, depending on your news. But most of them are differentiated by color. 
Generally, river rock is smooth in texture and flat with some small pits or cracks. It doesn't have the same shape as the other, but they all have a clean and smooth look. 
The texture of the rock adds depth to the landscaping design. 
This is also one of the reasons why river rock is primarily used in wall facades, garden landscaping, and others because the texture adds a certain aura that other types of rocks cannot provide. 
Its smoothness gives off a calming and welcoming ambiance. 
Where can you Get a Truckload of River Rock for Landscaping?
You can get a truckload of river rocks from trusted landscaping stores near your area. 
 We handpicked some of the best stores out there. Check them out:
These are just some of the numerous available landscaping materials supply stores across the United States of America. 
Checking out the nearest one in your area would still be best to see the products personally. 
Where can you Get a Truckload of River Rock for a Driveway?
Driveways should not be dull-looking because vehicles often step on them. They can still be aesthetically beautiful while still serving their purpose as a driveway. 
Here are some of the stores that offer the best driveway river rocks available for truckload delivery: 
These stores have limited availability of decorative stones and driveway rocks. 
They also offer stone fabrication, especially if you want your driveway to have that identical look. 
Where can you Get a Truckload of River Rock for Paving?
Pavement is way much different than a driveway. This is just intended for people to walk on or strollers to stroll in your garden. 
Hence, it does not require extreme durability as the driveway rocks do.
Here are some stores that offer the best pavement rocks in truckloads:
These stores have various pavers in different sizes. You can also request a quotation of the cut that you wanted. 
Where can you Get a Truckload of River Rock for Drainage?
Drainage rocks are specific for drainage purposes which means more water will be flowing to them. They are small in size and vary in colors and texture. 
Here are the stores that offer truckloads of drainage rocks:
These stores guarantee the best quality of drainage rocks for your landscaping needs. You can ask for a quotation in their store through email or at their store. 
What Area does a Truckload of River Rock Cover?
Most landscaping suppliers offer truckloads of river rock because it covers more extensive areas better than when sold in packs or bags. 
Plus it is cheaper as well. Usually, a ton of river rock can cover 166 square feet with three feet of depth. For landscapers, this is quite a lot already. 
On the other hand, if you choose to have a two feet depth instead, your coverage will increase by 250 square feet. 
How much does a Truckload of River Rock Cost? 
Before you indulge in converting your garden into a magnificent rock landscape, know first the price of a truckload. 
This will help you set up a budget plan for the entire project. 
For gravel or pea-sized river rock, it ranges from $45 to $280 depending on the price range of the river rock. 
It will cost you around $100 to $350 for small to medium-sized river rocks. It will be about $300 to $800 per ton for large stones. 
Where can you get the Cheapest River Rock from?
Each state has its cheapest alternative and equivalent for every landscaping need. However, the cheapest river rock can be found at EarthStoneRock.com.
They provide a discount sale for Home and Building projects. This store delivers to Arizona, Nevada, Texas, Colorado, and California.   
But if you are out of this state, checking out each store available in your area will be the best option. 
It will not hurt if you will request free quotations so that you can compare where to purchase. 
How Readily Available in the River Rock for Pick Up?
Generally, it depends on the availability of the river rock. If the store has them in stock, then they can deliver immediately. 
Before finalizing an order on their website, coordinating with the first is very important so that they can cross-check in their inventory that your desired amount of river rock is available on hand. 
Do you Need to Arrange for the Delivery of a Truckload of River Rock?
Not necessarily, but the moment you order, you need to wait in line for your order to be delivered to your area. 
This is because of the availability of the truck and your location as well. They might be delivered to the other side of the state, affecting the delivery time. 
If you are on a contract, your contractor will handle it regarding the delivery time to match the contract date still and avoid any delays. 
What is the Delivery Cost of a Truckload of River Rock?
The delivery cost varies depending on your location. 
The farthest you are from the store/warehouse location, the higher the delivery cost will be. Some stores charge by the axle. 
A single axle delivery charge for a minimum of one hour is $105. At the same time, quad-axle delivery charges $120. State and other applicable taxes could be an additional cost. 
Where can you Get Smaller Quantities of River Rock From?
Landscaping stores also offer smaller quantities of river rocks like in packs or bags. 
Also, you can check out online selling platforms such as eBay and Amazon as they also provide and deliver in smaller quantities.