Volvo truck prices range quite widely as do a lot of other brand prices.
They can go from as little as $15k and sore up to $250k. We're going to take a look at why this happens and which models cost more.
In our opinion, Volvo trucks are one of the best trucks in the market and are definitely worth buying.
Here are the average new and used prices of the most popular Volvo Semi Truck models:
| | | |
| --- | --- | --- |
| MODEL | NEW | USED |
| Volvo FH | $200k | $130k |
| Volvo VNR | $230k | $140k |
| Volvo VNL | $240k | $160k |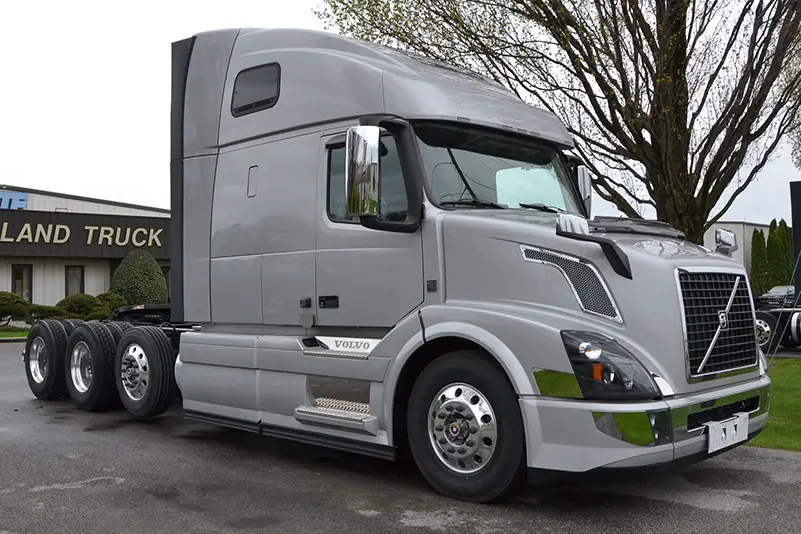 How Much are Volvo Semi Trucks?
The price of a new Volvo truck is approximately $230,000 whilst the price of a used Volvo truck is around $140,000. The price largely depends on the type of the truck, condition, mileage, model year, and to an extent who is selling it.
You could pick up an 8 year old FH16 for $45k or a 2018 model for between $85k and $91k.
The best advice we can give is to know what you will want the truck for, not just now but for a few years, then to test drive as many as you can.
How Much is a New Volvo Semi Truck?
A new truck will set you back around $140k. If you purchase it upfront on finance will cost you around 30% more.
This price is based on the VNL models but will also depend on body style and specs.
A new Volvo VNR can cost you around $150k for the tractor itself. It will cost more for the tractor and body combined, for example, a VNR packer garbage truck is around $250k.
A Fuel/Lube truck is around $240k to $260k. A Firetruck can set you back around $200k. The dump trucks can go for $180k to $200k. And a Hooklift truck can go for around $210k.
How Much is a Used Volvo Semi Truck?
A used truck is as good as the new ones if they have been taken care of and can get close to their original price.
A 2019 VNR Hooklift truck will go for $185k, a 2020 VNR dump truck is around $125k.
A 2018 VNR flatbed will go for $98k. $137k will get you a VNL 2020, $65k can get you a nice looking VNL 2018 model, $58k will get you a VNL 2017 and for $38k you could get a VNL 2015.
These prices vary on each model and are examples of what is on the current market.
How Much does a Volvo VNL 760 Cost?
A brand new Volvo VNL 760 will set you back around $140,000 depending on which specs you choose. If you're buying on finance you can add another $40k – $60k on top of that.
A used Volvo VNL 760 can range in price from around $30k to $110k depending on the year and the vehicle's condition.
Mileage is something to consider but if they have been well maintained it's not going to matter too much.
How Much does a Volvo VNL 860 Cost?
A brand new Volvo VNL 860 will set you back around $140,000. Again this depends on the specs, and finance once again bumps it up to nearly $200k.
A used Volvo VNL 860 ranges from $40k to $130k depending on the year, condition, and mileage. It is always a great idea to do your research and bring a friend along who knows what to look for when buying used.
If you do choose a used truck through Volvo dealership they will offer you an extended 150 point check warranty.
What is the Top of the Line Volvo Truck?
The latest model of the Volvo VNL 760 with its excellent cab space for driver rest and comfort. It has loads of storage and a reclining bunk feature is an added bonus. The mattress is made of innerspring and foam.
It comes equipped with a remote panic door lock in the bunk, window shutters to close out any daylight, the sleek outer body design was inspired by a combination of motorsport, architecture, and boat designs.
The engine efficiency is above and beyond anything Volvo has produced to date. It has sensors for safety and lets you know what's happening all around you even if you can not see it.
Great visibility and a very smooth ride really do make this model hard to beat.
What is the Best Volvo Truck to Buy?
It really does depend on your needs, lets assume you need it for the short and long haul then we would suggest the VNR models they have a few different body styles so you would need to check them out.
If it's long-haul all the way for you then a VNL would probably better suit you. Both these trucks are Volvo's most popular and not for no reason, they are both exceptionally good trucks.
Finances also come into it so do your research and we would suggest a test drive. Ask around and then take your time making your decision.
What is the Cheapest Volvo Semi Truck you can Buy?
If we're talking trucks you can actually use in service on our public roads today the cheapest one we have found is a 2014 VNL for $18,500 with over half a million miles.
There are surprisingly quite a few older out-of-service trucks out there for sale like the 1983 F717 for $16,640 and the 2003 FM340 for $23,296 or the 1998 WX64 for $15,900.
So whether you are in the market as a collector or a buyer you can pick them up pretty cheap.
How Much does Maintenance Cost on a Volvo Semi Truck?
On average a Volvo yearly maintenance will cost around $18k this includes tire replacement and any brakes or hose lines that need replacing.
Prices can get a lot higher depending on what needs doing.
Our money-saving tips for maintenance: regular checks on your fluids, pipes, and seals will save you time, checking the condition of the tires for any damage or wear can reduce your downtime.
Book your truck in advance for a service by calculating the mileage.
How Much does Insurance Cost on a Volvo Semi Truck?
Insurance can be very costly to a truck driver and requires some research on the best policy for you. The average is between $3000 to $16,000 a year per vehicle.
The price changes depending on the age of the driver and their experience, their credit history (for installments), the value of the truck itself, what you will be hauling, and the typical mileage you'll be covering.
It is definitely worth shopping around to see what's out there and remember to read the small print.
Are Volvo trucks Worth it?
What might be worth nothing to you might be of value to another.
The Volvo is in our opinion a great truck that looks stylish and is very reliable with all the latest technology.
The main aim of any truck business is to earn money. When you consider the durability and comfort of a Volvo truck it goes without saying that you only have to concentrate on driving.
The owners of Volvo trucks don't need to worry about breakdowns and system failures as long as they are regularly maintained and can focus on the main goal of hauling and making money… Volvo is well worth it!
Are Volvo Trucks Safe?
Every trucker has no doubt heard of Volvo's vision for zero accidents.
They have dedicated 90 years towards the safety of their drivers and the public, they hold the number one spot in safety.
Their approach is to avoid a collision in the first place and they do this with their advanced technology which allows the driver to see things they wouldn't ordinarily see.
The cameras and sensors give the driver a supersense in terms of what is around them. If that's not enough the trucks actually slow down and even stop themselves.
Are Volvo Trucks Fuel Efficient?
In general, Volvo trucks are fuel-efficient.
Volvo has been known to break mpg records with their SuperTruck back in 2016 reaching an all-time high of 13 mpg. Their standard trucks are not too far behind with records of 9 and even in some cases 10 mpg.
Their new streamlined bodies allow them to reduce wind resistance as they glide through the highways. Their new engines reduce the amount of fuel they burn.
The lighter frame and cab also reduce fuel as they venture towards their goals to save our planet.
Do Volvo Trucks Last Long?
For a good uncomplicated run, a Volvo truck will last up to 400,000 miles without much wear and tear, and then you can expect more frequent maintenance to be done. That being said they can last past a million miles.
Taking care of a truck is pretty simple enough. You just have to do your daily checks and keep on top of all your gauges and not ignore any irregularities in the drive itself.
Don't miss any service intervals and the truck should go on forever.
How Well do Volvo Trucks Hold their Value?
Volvo trucks retain their value at a rate of approximately 37% of the retail price over a 5 year period.
The Volvo VNL series retained 37.3% of its value over a 5 year period in 2020.
A truck's value is determined by its mileage, model type, condition, and ability to stay in service, considering that a Volvo truck is built with great care, efficiency, reliability, and durability in mind.
In general, they hold their value very well.
Where in the U.S. Can you Buy Volvo Semi Trucks?
There are thousands of dealers across the United States, you can buy a new or used Volvo semi truck from any of them or even buy private although this is riskier.
Buying from a reputable dealer will give you more peace of mind because of the trustworthy company name, buying private can cause you future issues with the truck.
This is not always the case and as long as you do your checks and even pay a company to verify the condition of the truck you should be ok, but when spending a lot of money on your career you want to get it right.
The list below is of some major Volvo truck dealerships in the U.S.
Trucks Inc – Sikeston, Missouri – +1 573 472 2650
Vanguard Truck Center – Atlanta – +1 404 362 3755
Volvo Trucks – Worcester Massachusetts – +1 508 753 8177
Conway Beam Truck Group – West Seneca – +1 716 821 9911
Nextran Truck Centers – Tuscumbia AL – +1 256 383 9546
Nacarato Truck Centers – Tifton GA – +1 229 386 4060
M&K Truck Centers – Arlington Heights Illinois – +1 708 343 4980
Bruckner's Mack & Volvo – Dallas Texas – +1 866 790 5078
Happy Trucking!