Kenworth is a well-known name in the trucking world.
A new one can set you back around $170,000. We're going to take a look at why these amazing trucks are worth their weight.
We'll check out different models, give you the breakdown on insurance and maintenance costs, and even tell you the best places to purchase the possible truck of your dreams.
Here are the average new and used prices of the most popular Kenworth Semi Truck models:
| | | |
| --- | --- | --- |
| MODEL | NEW | USED |
| Kenworth T680 | $170k | $95k |
| Kenworth T880 | $190k | $105k |
| Kenworth W900 | $160k | $125k |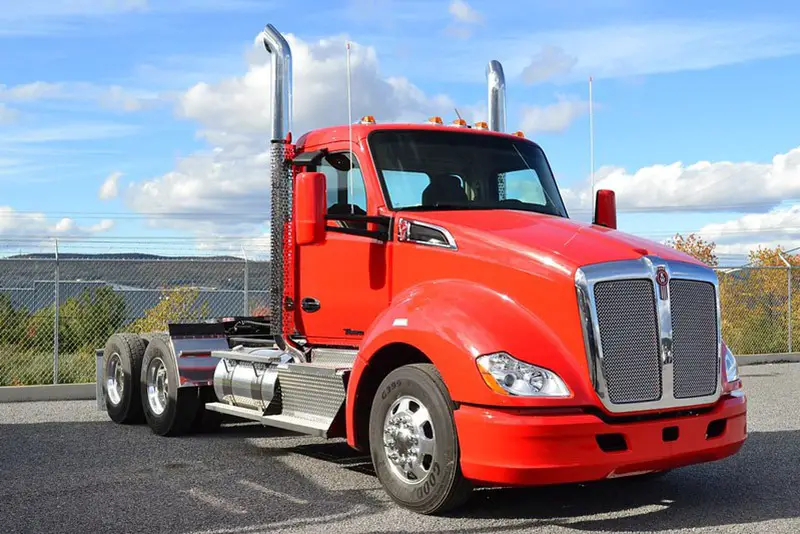 How Much is a Kenworth Semi Truck?
The price of a Kenworth truck can vary from $20,000 to $200,000. These massive jumps in prices come from the age of the trucks as well as the mileage and condition.
Believe it or not, where you buy a truck can affect the price too. If you have the money to buy a new truck, then great. But if you don't, it isn't something you should worry about, a used truck can do you just fine.
How Much is a Brand New Kenworth semi truck?
In general, a brand new Kenworth semi truck is about $170,000. The prices of the Kenworth W900, T680, and T880 are $160k, $170k, and 190k respectively. Price varies per model and each model has its own unique specifications and add-ons to give you a true feel of the range Kenworth has to offer.
How Much is a Used Kenworth Semi Truck?
The price for a used truck depends on how used it is.
You can get a used Kenworth T680 2017 model with 300k miles on the clock for $56k or a T880 with just over 600k miles at $62k.
A good idea is to shop around and take your time.
Do a lot of test driving and take someone with you who knows their stuff about used trucks and the usual things that could wear.
How Much does a Kenworth T680 Cost?
A new one will cost you around $170k but could be more depending on specs, and can go up to $200k or more with finance.
Used ones on the other hand are a lot cheaper.
The T680 model is a lovely-looking truck you can pick a good one up for $50k to $60k. Of course they will have variations in price due to the usual culprits like mileage and condition.
There are great finds out there at good prices sometimes it is a case of timing.
You could buy the truck you like and a week later another one comes on the market better than yours at a better price, have patience.
How Much does a Kenworth W900 Cost?
A new W900 will start at basic around $160k.
If you want all the bells and whistles then the price can be bumped up to over $200k or more and again finance rears its ugly head and puts another 30 – 40% on top.
Most people, unfortunately, have to go down the finance route when buying a new truck as it is like getting a mortgage, a huge investment, which is why it's not a bad idea to buy a used truck to start with.
A used W900 can go for $125k but you can get them cheaper if you go older. Older does mean higher mileage though however if they have a good service history it will generally work out fine.
What is the Top of the Line Kenworth Truck?
There are lots of different opinions on which one is top of the line. You can custom build these trucks from the body to the engine and interior which makes it hard to choose.
The T680 can have chrome bumpers, grills, and mirrors. The mirrors can be heated and flipped down when parked. The body is aerodynamic to reduce emissions.
You can even arrange your gauge cluster how you want it. The dashboard has a dimmer light. The leather seats can be cooled and heated depending on the weather. It also tilts and the bottom seat cushion can be adjusted.
All these features can be found across the Kenworth range so it would be your choice to which is or even can be top of the line.
You could turn your average truck into a top truck.
What is the Best Kenworth Truck to Buy?
If you were to ask a dealer what is the best Kenworth truck to buy they would ask you, what do you need it for? Will it be used for long or short-haul and how much weight do you need to pull.
The truth is they are all as good so you would have to decide on the above questions then go from there. The W900 is a great-looking truck that still has that classic style.
The T880 and T680 have new sleek beautiful aerodynamic looks and can be uniquely modified to order.
What is the best? it's like asking a kid to only choose one sweet in the candy store.
What is the Cheapest Kenworth Semi Truck you can Buy?
I found a sorry-looking 1980 W900 for $5,900 that could probably only be used for scraps or a restoration project. It's sad to see a beautiful truck go to waste like that.
I also found a 1982 W900 in good nick for $23,950.
A 1979 W900 for $31,500, a 2007 W900 for $37,500, and a 2014 W900 for $59,900 are good examples of what you can get at a cheap enough price.
If you're looking for a good workhorse then you would need upward of $30k.
How Much does Maintenance Cost on a Kenworth Semi Truck?
The average cost of maintenance for a Kenworth truck per year is around $18k, including tires and providing you do the required services.
The cost could be considerably more if you fail to do your checks.
To prevent any further unnecessary costs it is our advice to keep ahead of the things that can be sensitive like air hoses and tires, and any out-of-the-ordinary movement when accelerating or steering.
Keeping a rough record of your daily, weekly, and monthly mileage to pre-book your service at the correct intervals will save you on downtime.
How Much does Insurance Cost on a Kenworth Semi Truck?
The cost of insurance for any semi truck driver varies considerably by different influences like age, experience, and what you're hauling. It can range from $600 to $950 a month.
Make sure you shop around, compare prices, and read the small print.
If you are still unsure ask your fellow truckers for help.
Are Kenworth Trucks Worth it?
It's a simple yes from us. They have the stylish and elegant look to the older models which is much preferred by the veteran truckers and the new streamlined look is preferred by the newbies.
They're affordable and come in models to suit any market, and the best part is you can custom make your own truck from the steering wheel to the engine, how cool is that!
Are Kenworth Trucks Safe?
Kenworth pride itself on safety and adds safety at the very beginning of the manufacturing process starting with a lower cab window for more visibility, placing the seat in a position to reach the instrument easily.
The air ventilation system has been designed to provide a smooth uninterrupted flow through the selected points within the cab to prevent the driver from feeling drowsy.
Sensors have been incorporated in bumpers and cameras are mounted on the windshield to collaborate and read the road to warn the driver of their surroundings they may not see otherwise.
They use software to write a program that is specific to the chassis of your vehicle which calculates over 100 parameters to operate optimally, delivering a safe and comfortable drive.
Are Kenworth Trucks Fuel Efficient?
Kenworth trucks average between 6.4 – 6.8 mpg. Better for the open road or town driving. Either way, they must be doing something right as truckers still love them. 
The lightweight inner components and the aerodynamic body of the Kenworth T680 make it one of the most efficient trucks out there. The weight of the vehicle greatly affects fuel consumption.
The skill of the driver is another factor to consider, changing gear at the wrong times, harsh accelerating and braking late reduce efficiency by around 15%.
Overall Kenworth trucks are very efficient and continue to improve with each new design.
Do Kenworth Trucks Last Long?
On average semi trucks last around 15 to 16 years and around 750,000 miles to over a million. In some cases, a well-looked after Kenworth truck will reach over the million mark and more.
Their engines are Paccar one of the most reliable on the market and popular for their durability.
How well do Kenworth Trucks Hold their Value?
Kenworth trucks retain their value at a rate of 37% to 55% of the retail price over a 5 year period. This varies from model to model.
The Kenworth T800 model retained 37% of value over a 5 year period in 2019, whilst the Kenworth T880 retained 55% of its value in 2020.
There are a few factors in the depreciation of a vehicle.
One of them is how popular that particular model is.
Keeping up with the maintenance and making sure it stays in good condition is one way to hold its value.
Unfortunately, mileage reduces its value too but there isn't much you can do about that.
A well-looked after Kenworth truck will hold good value in the marketplace.
Where in the U.S. Can you Buy Kenworth Semi Trucks?
Kenworth dealerships cover the whole of America and Canada and have more than 400 locations. There are other dealers that also sell Kenworth trucks as well as private sellers.
There are also online companies that specialize in new and used trucks for sale that dealers and private selling both go through to find customers. For peace of mind buy from a dealer.
If you choose to buy private then pay a company to check the vehicle over for you, or utilize a good mechanic who can advise on the condition of the truck.
The list below is of some major dealerships across the U.S. and Canada:
Michigan Kenworth – Clinton Charter Township – +1 586 468 6301
Performance Kenworth – Houston Texas – +1 713 844 7111
Kenworth of Columbus – Ohio – +1 800 589 9400
Kenworth of Jacksonville Inc – Florida – +1 904 739 2296
Inland Kenworth – Phoenix – +1 602 658 7791
Kenworth of Indianapolis – Indianapolis – +1 317 247 8421
MHC Kenworth – Atlanta – +1 404 691 9999
MHC Kenworth – Kansas City – +1 816 483 7035
Kenworth Witchita – Kansis – +1 316 838 0867
Happy Trucking!