Anyone driving across the US roads or any highways must have seen a semi truck carrying another semi truck on its rear. 
This process is called piggyback trucking.
Piggyback trucking is a known vehicle transportation business. 
Curious how piggyback works? Read on to know more.
Here's a short summary on how to Piggyback Semi Trucks:
Piggybacking semi trucks or truck decking is a vehicle transport where a trailer has to haul 3 to 4 semi trucks in a chain. It utilizes a heavy wrecker to load the trucks and a fifth wheel hitch to secure them. The front of each truck is mounted to the hitch while the rear wheels touch the ground.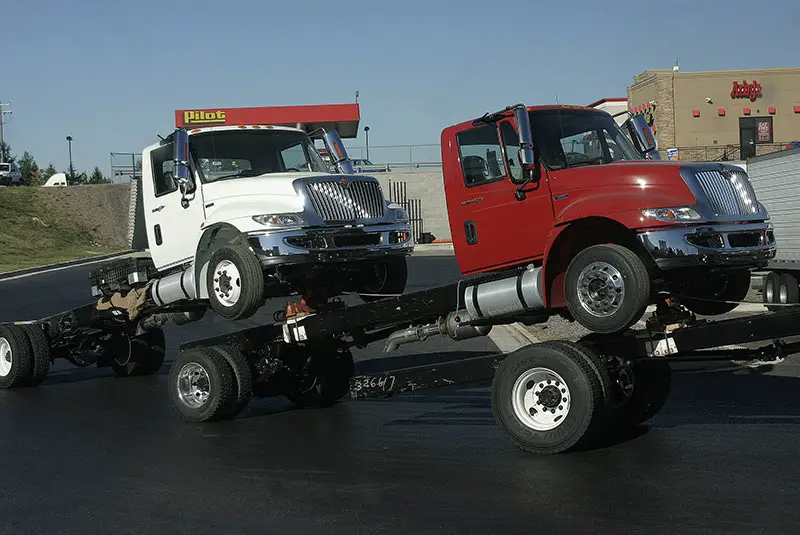 What does it mean to Piggyback Semi Trucks?
To piggyback a truck is to carry one, two, or more trucks in a semi truck's back. It resembles a human piggyback, hence its name.
This process is often called "piggyback truck transport."
In most cases, a semi truck can piggyback up to four trucks creating a chain of trucks behind a semi truck. 
This mode of transportation is resource-saving, cost-effective, and convenient.
Why would you Piggyback Semi Trucks?
Piggyback is a standard mode of transporting vehicles from one place to the other.
It is the most affordable way of delivering multiple trucks in a particular location at once.
A driver can quickly load and unload semi trucks with heavy hauler equipment to a larger semi truck.
In addition, piggyback are secure because they are firmly attached to the truck through a fifth-wheel hitch.
In this way, there's a slim chance of the truck getting loose while transporting it.
Also, labor costs are lesser because a single driver can do piggyback on his own.
How to Piggyback Semi Trucks?
The way to piggyback a truck is simple.
First, the trailer must have a fifth-wheel hitch attached to the truck. A fifth wheel hitch allows large vehicles to be attached securely to the rear of a much larger truck.
Second, once the hitch is placed, you can start attaching another truck to the back of the truck.
The hitch can accommodate up to 3-4 semi trucks, depending on the weight and length of each truck.
What Equipment do you need to Piggyback Semi Trucks?
If you hire a transport company, you don't need to worry about other equipment to piggyback your truck.
However, if you want to do it yourself, you may need a heavy wrecker lift. This equipment is used to lift the truck to the back of the semi truck.
The fifth wheel hitch, tow booms, and saddle mounts are other crucial equipment to secure the trucks.
How to Prepare Semi Trucks that Need to be Transported?
Before you load the semi truck to the hitch, ensure that you have eliminated the gas or any fluid to prevent leaks.
Remove personal belongings inside the trucks, and for extra precautions, you may be required to remove the front tires and exhaust stocks.
Take note as well that inoperable trucks are not eligible for transport. Inform the driver beforehand so there would be no surprises along the way.
How to Apply the Protective Covering to Semi trucks being Transported?
Open transportation is is the safest way to ship a semi truck. Hence, protective covers are not advised while transporting a vehicle.
Many piggyback trucking companies will not allow transporting a semi truck with a protective cover because there's no safe and reliable way to secure the cover to the vehicles while in transit.
The wind will take away this cover, and it may damage or scratch the trucks, especially with covers having zippers or grommets.
Protective covers are also a liability of the carrier company or the driver. In addition, when covers fly off, they may cause an accident.
But if you insist, make sure to install a protective cover that will fit the truck.
Place the cover on top and secure it under the front and rear bumper. 
For double security, utilize the straps to fasten the cover. If belts are not available, create some holes and tie down the cover to the truck.
Protective covers can also be placed in the interior of the new trucks being transported.
How do you Pick up and Load the Trucks that need to be Transported?
A heavy wrecker or heavy tow truck is needed to pick up and load the trucks.
These type of semi trucks is used to haul medium to heavy-duty trucks. 
It utilizes solid hooks and chains to pull the truck to the vehicle used for piggyback trucking.
More chains may also be required to secure the connection of the trucks to be picked up.
How to Secure Piggyback Semi Trucks?
Unsecured piggyback trucking may cost the operator and the driver variety of ways. It may cause an accident, road hazards, and damage to the trucks. 
As such, it's vital to ensure the trucks are being transported safely and correctly.
Here are the many ways you can secure piggyback semi trucks:
Check the trucks before the trip.
Whether good or bad weather, every driver must check the trucks before starting the hauling journey. He must check locking devices, fifth wheel, take steps to ensure that the trucks are secured.
Use the straps and brace for loading the trucks.
Drivers must know how to use the straps and brace properly. For double security, tie-in straps or rachet are recommended.
Well-balanced truck weight
Semi trucks to be transported may vary in length and size. The proper position should be from the heaviest to the lightest truck.
Drive safely
Finally, truck drivers should drive safely. He must pay attention to the surroundings and maintain proper distance to avoid road accidents.
Here is a cool video on how to piggyback semi trucks:
Can you use any Semi Truck to Piggyback on?
Not all semi-trucks are capable of transporting another truck through piggyback. 
Sometimes the one-size-fits-all kind of truck is not applicable.
No matter how big they are, there are trucks whose purpose is to deliver goods, do construction work, or carry a particular payload.
Since trucks are heavy to haul, the construction and capabilities of a truck matter.
Some of the semi trucks used for piggyback transport are trailers, big rigs, and a tractor-trailer.
Are Trailers used to Piggy Back Semi Trucks? 
Trailers are often used to piggyback semi truck. This is also the type of semi trucks employed by hauler companies to transport vehicles.
The most common piggyback trailers are removable gooseneck, drop deck, double drop deck, and flatbed trailers.
It's essential to determine the size and weight of the hauler to know whether or not it can haul the truck/s you want to ship.
Removable Gooseneck Trailer
Maximum weight: 150,000 lbs+
Maximum length: 29ft.
Maximum width: 8.5ft.
Maximum height limit: 11.6 ft.
Drop Deck Trailer
Maximum weight: 48,000 lbs+
Maximum length: 53ft.
Maximum width: 8.5ft.
Maximum height limit: 11ft.
Double Drop Deck Trailer
Maximum weight: 45,000 lbs+
Maximum length: 29ft.
Maximum width: 8.5 ft.
Maximum Height Limit: 11.5ft
Flatbed Trailer
Maximum weight: 48,000 lbs.
Maximum length: 53ft
Maximum width: 8.5 ft.
Maximum Height Limit: 8.5ft
Is Piggybacking Semi Trucks a Safe and Secure Way to Transport Trucks?
Piggybacking is safe, secure, and legal. This is one of the most popular options for shipping medium to heavy-duty trucks.
Piggybacking is also a more affordable and convenient way of shipping large vehicles. However, this is not the fastest method of transporting semi trucks. 
Shipping is slower because the chain of trucks makes the piggyback truck slower.
In addition, if there are several truck owners, multi-stop deliveries will also affect the shipping process.
Nevertheless, piggybacking is reliable and does an excellent job in transporting semi trucks.
How many Semi Trucks can you Piggyback?
Typically, you can piggyback four semi trucks at once. This is also the maximum limit of trucks to piggyback in the US. 
However, the number of semi truck you can piggyback actually depends on the size of the track you would like to transport. 
If the semi trucks are longer than usual, then you may load three trucks to piggyback.
Talk to your truck shipping carrier if you'll be allowed to transport 3 or 4 trucks at once.
Is there a Truck Length Limit when Piggybacking Semi Trucks? 
For US states, the maximum length limit varies. 
In most states, the maximum limit is 40 feet. But some states provide 53 and 48 feet limit.
Others states may provide additional lengths. As such, it's wise to check the laws of your shipping destination before attempting to piggyback oversize trucks.
Is there a Weight Limit when Piggybacking Semi Trucks?
Whether you're a professional or novice driver, it's wise to know the weight limitations imposed by law to ensure public safety. 
The FMCSA imposed a weight limit of 80,000 lbs. loaded or not. This is the heaviest weight a semi truck or trailer can be.
The law aims to ensure road safety and to prevent any damage to roads and bridges.
Take note that the federal government doesn't issue a permit for heavy haul or overweight shipments.
Each state has different regulations, and they may or may not issue special trucking permits.
If allowed by your state law, get a trucking permit before starting the shipment.
Are Truck Drivers allowed to Sleep in the Trucks they're Driving in?
There's no law or any job description that prevents a truck driver from sleeping in the trucks they're driving in.
According to the House of Service (HOS) rules imposed by FMCSA, a truck driver has a maximum of 11 hours to drive a semi truck.
Thus, after work hours, any driver can use their time to eat, relax, and sleep.
Most operators or employers allow their drivers to sleep if necessary to ensure that they're awake and alert during the trip.
however, truck drivers are not allowed to sleep in the trucks that they are transporting. This is the typical practice.
Is Piggybacking Semi Trucks a Lucrative Business?
The cost of piggybacking semi trucks ranges between $800 to $1200 across the US. 
The price may go up or down based on certain factors like size of trucks, demands, and distance to the shipping address.
As you can see, this type of business is one of the most lucrative industries. 
However, semi trucks are not considered a glamourous industry. Hence, many investors tend to overlook them.
But in reality, it generates meaningful profits and is an industry well worth getting into.