Getting your first truck, or replacing an old truck, requires you to find the perfect fit for your needs.
The best trucks can deliver your needs with efficiency and without the worry of failure.
With all the multitudes of options out there, your first concern will be to narrow down your options.
Although most trucks will meet the basic needs, there are options that can go beyond the bare minimum and satisfy you further. 
Here is the answer to the Most Reliable Semi Truck Brand:
The most reliable semi truck brands are Peterbilt, Kenworth, Volvo, Mack, and Freightliner. Peterbilt and Kenworth semi trucks have PACCAR engines with good fuel efficiency and power and are great for long-distance hauls. Volvo trucks are stylish and best suited for inter-city driving.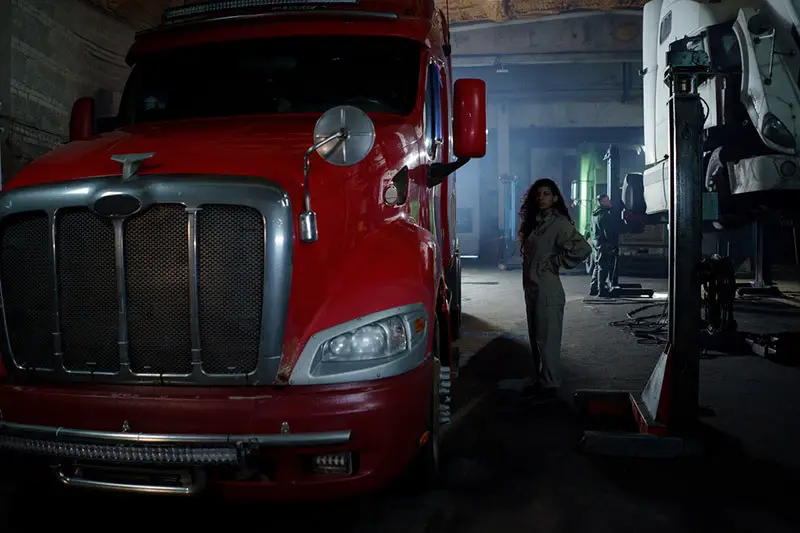 What does it mean for a Semi Truck to be Reliable and Dependable?
What makes a semi truck dependable is similar to what you would search for in any vehicle, big or small.
Although, one substantial difference is the costs associated with breaking down, mechanical errors, and needed repair. 
No one wants their car to break down, or get a flat tire.
However, when you are hauling thousands of dollars worth of merchandise thousands of miles you stand to be at a much higher loss if you experience such setbacks. 
For a truck driver time is money. So what makes a semi truck reliable and dependable is the ability to trust the vehicle will get front point A to point B.
They do not want to worry about breaking down on a lonely highway and have to find some way to be refueled or towed. 
They, therefore, want a truck that can travel long distances, efficiently, and without the threat of overheating.
Below we will explore various models and engines and what sets them apart as dependable and reliable. 
Are Peterbilt Semi Trucks Reliable?
Peterbilt semi trucks use the PACCAR engine, which ranks as one of the best engines for hauling. They are specially built for long travels, with high torque and enduring power. 
With an average of 500 horsepower for the larger models, these trucks are capable of maintaining 1,850 pound-feet of torque.
This makes a big difference when you need to scale hills and travel vast expanses with heavy loads. 
Peterbilt is also fuel-efficient and meant to be able to endure long distances without the need to refuel constantly.
Lastly, Peterbilt semi trucks are known for being aerodynamic, safe, and comfortable for those long trips. 
Typical Problems with Peterbilt Semi Trucks
Peterbilt did have some recalls due to the PACCAR engine having some malfunctions, which have since been rectified. Otherwise, they are fairly well-liked for their engine reliability. 
Otherwise, some of the larger models aren't preferred for city driving, even though they do have good turn radiuses.
For some, the investment in a Peterbilt may not be necessary for local driving, since it especially shines during long distances. 
Are Kenworth Semi Trucks Reliable?
Kenworth is also owned by PACCAR along with Peterbilt. Overall quality and efficiency are about the same as  Peterbilt.
PACCAR has consistently gained rapport for its high-quality machines and engines. 
Kenworth, similar to Peterbilt, excels with their large semi trucks designed for hauling large loads long distances.
The engine is meant to endure a lot of use and usually has large fuel tanks to ensure you can travel far without the need to stop.
As long as routine maintenance is consistently performed, you can depend on this truck taking you where you need to be.
Typical Problems with Kenworth Semi Trucks
The biggest complaint about Kenworth and Peterbilt is the fuel efficiency. This is why these trucks can be overkill if you only plan to do local driving. 
Although they do have an excellent turn radius, keep in mind these trucks were designed with highway driving in mind.
You may find their size a difficult aspect of navigation when going around tight spaces. 
Are Freightliner Semi Trucks Reliable?
Freightliners are most loved for their comfortable rides and efficiency.
These trucks are also loved by those not looking to spend an unseemly amount on their first semi truck.
These trucks are loved for being efficient and economical.
Unlike PACCAR trucks like Peterbilt and Kenworth, these trucks aren't necessarily designed for long distances.
Freightliner is an efficient and economical choice for those looking to do mainly local deliveries and shipments.
Typical Problems with Freightliner Semi Trucks
Freightliner trucks have shifted over the years from the heavy-duty hard hitter to a more fuel-efficient, economical brand.
Unfortunately, the quality of the truck has gone down over the years as well. 
In comparison to PACCAR, the Freightliner engine is not designed for long distances and heavy loads.
When overexerted they tend to begin having malfunctions and overheat, so it's best to keep these trucks where they shine the best: local city driving. 
Are Mack Semi Trucks Reliable?
Mack trucks have a great reputation for being powerful and efficient.
They are a subsidiary of Volvo which has been striving hard to create semi trucks that can haul heavy loads without wasting excessive fuel. 
Mack semi trucks shine best on long trips and have excellent safety features which help prevent accidents.
Additionally, they have improved sleeping spaces, and methods of resisting friction and noise reduction so you can sleep safely and soundly. 
Typical Problems with Mack Semi Trucks
Even though Mack semi trucks have an excellent reputation, no brand is without its fair share of ridicule.
Mack trucks did experience an engine recall where drivers experienced an unprecedented number of engine failures,  the company has since corrected this flaw. 
There have been reports of the gears wearing down quicker than anticipated, resulting in axle repairs.
Although, overall these tend to be isolated occurrences and not an overall reflection of the brand's quality. 
Are Volvo Semi Trucks Reliable?
Volvo is the parent company of Mack, and have a splendid reputation for their quality vehicles.
The VNR and VNL series has been especially popular for their fuel efficiency and aerodynamic construction. 
As long as these trucks are well maintained, they reach 1 million miles with ease.
A lot of drivers believe that Volvo is the future of the industry, even over Tesla due to their ingenuity and adaptability.
All in all, Volvo has a long line of semi trucks for almost every need.
They have been making their semi trucks since the 1920s, and with that many years of experience, they have earned their position of respect and you can depend on them to deliver a good experience. 
Typical Problems with Volvo Semi Trucks
The most common complaint about Volvo semi trucks is that they are a foreign brand and it might be difficult to find a mechanic who can work on them.
However, this is primarily an issue with the location, and whereas some find that they can't get the help they need others rave about Volvo's excellent service. 
The company has around 400 authorized dealerships across the country, and many of these have experts who can work on your vehicle.
These locations also usually have the parts on hand, and if they do not, they can order them.
The availability of parts was an issue some faced when Volvo recalled some 8,000 semi trucks back in 2015.
This may have had more to do with the quantity of trucks in need of repair in a short space of time, but it was inconvenient to many truck drivers. 
Are International Semi Trucks Reliable?
International semi trucks get some mixed reviews due to their lack of innovation.
They are praised for their economic and heavy-duty nature. They are sturdy, affordable, and can haul heavy loads with ease.
These trucks are designed for those seeking a straight forward vehicle without all the bells and whistles.
They can definitely satisfy any truck driver seeking a truck that runs fairly reliably and can be operated through towns and cities effectively.
The best selling point for the International brand is its affordability.
These trucks are definitely the most economical and if you are planning to pay for your truck upfront rather than financing it, this may be your option. 
Just keep in mind that the cheaper models tend to have more issues, and this brand was not designed for long distances.
If you overwork its engine, you might end up losing money while the truck gets repairs. 
Typical Problems with International Semi Truck
The main complaint about the International semi truck is that it's "ugly".
That is to say, the interior cabins are thought of as especially comfortable on long trips, and they have a tendency to shake and rumble a lot from friction. 
They have not fully implemented the aerodynamic design and therefore can experience some lag when driving.
This can lead to wasted fuel, and inefficient travel.
The best way to think of this brand is as simple and straightforward: what you see is what you get, but this is what some people prefer.  
Other complaints about this brand are that the fuel lines break, and the emissions filters do not meet many of the new EPA standards.
This can cause a lot of issues when it comes time to be inspected, and it's an issue many don't feel is necessary given most truck brands having met or surpassed these standards. 
Are Western Star Semi Trucks Reliable?
Western Star semi trucks are built like a tank, which is to say, they are very heavy and sturdy vehicles.
They are excellent for hauling heavy loads as they can easily manage the bulk.
They are simple trucks similar to International, but with a much better reputation for quality and dependability. 
They are really best as dump trucks and they have good navigation and mobility.
Although very heavy, they can maneuver in traffic fairly well. Their turning radius isn't bad either, given their size and weight. 
These trucks are best for local driving, and heavy loads.
Overall, they aren't the best brand for a solo truck driver but are better for company vehicles with multiple workers and drivers. 
Typical Problems with Western Star Semi Trucks
Western Star semi trucks are very heavy-duty trucks.
This means they are very good at what they do, however, they also burn a lot of fuel in their travels.
This can mean that you would end up spending a lot on fuel, especially if you choose to drive this truck long distances. 
The engine is also not the best at handling long distance without having issues such as overheating and breaking down. 
Last, similar to International trucks, this brand isn't seen as the most aesthetically pleasing.
For many, this is exactly what they want: a truck without a lot of extra gadgets.
But, if you were to choose to drive it long distances, the cabins aren't the best for sleeping and the engines are very loud. 
Tips on Buying the Most Reliable Semi Truck Brand
One of the best aspects to keep in mind when looking for the best truck is, what do you plan on using your semi truck for? 
Many trucks are especially designed for long-distance travel.
PACCAR is one of the best varieties for these needs, since it has excellent fuel economy while providing a nice place for the drivers to rest.
You don't want to be too cheap when you are looking for a truck to take across the country. 
If you are a local delivery driver, and operate on narrow roads on a more regular basis, Volvo may be the better option for you.
You don't want to go overboard if you are seeking to operate on a smaller, more local scale. 
The best advice is to know your routes, know your needs, and the needs of your customers. These should be the pivotal aspects when choosing your next semi truck brand. 
Also, remember that cheaper doesn't always save you money.
Although International semi trucks are more affordable, you run the risk of needing to spend extra money repairing them.
Also, the time you spend with it in the shop is time you aren't spending on the road making money. 
Just be sure to weigh all your options before going and buying your truck!