Buying your first semi-truck can be quite intimidating especially when you're entering a new career.
We hope to give you more confidence in selecting the best-used truck for the job.
If you can afford to buy something new, great! But if not this article will give you some great tips to help you make the right choice.
Here is a short summary on the Most Reliable Used Semi Trucks:
The most reliable used semi trucks are from Peterbilt, Kenworth, Volvo, and Freightliner. These brands have been producing reliable and dependable semi trucks for many years. However, a used semi truck under 5 years old, having low mileage, and with regular maintenance done, is the most reliable.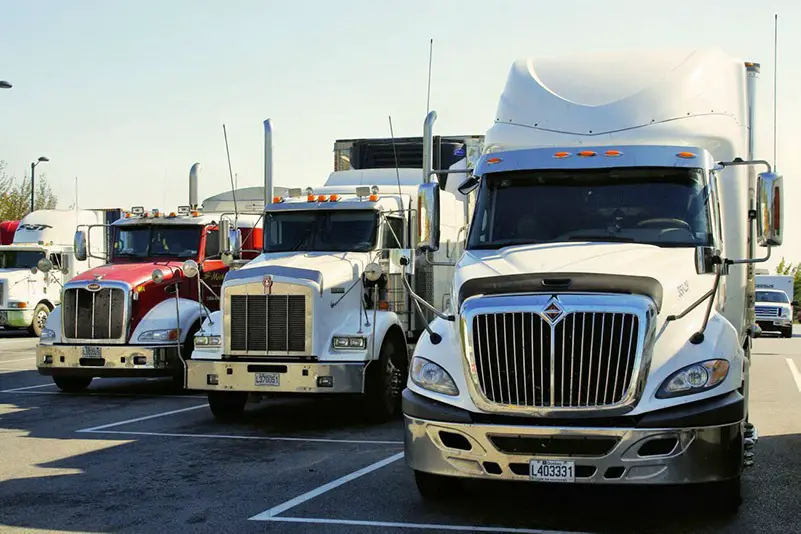 Are Used Semi Trucks Reliable?
This is a tough question to answer and can be very tricking not to get stuck with a lemon i.e. they can be very reliable provided they have had the proper care.
Buying private is a huge risk and can leave you in a situation where you're left on the side of the road and paying through the nose for repairs.
However, buying from a reputable dealership will give you peace of mind with an extended warranty.
Volvo for example does a 150 point inspection and recon of all their used trucks before they put them back on the market.
This should be enough for you to be happy to part with that hard-earned cash.
How Long will a Used Semi Truck Last?
A used truck with a good history of care will last just the same as any other well maintained truck.
Buying a truck from a retired trucker is more comforting than buying it from someone that's in it for the profit.
Usually, a retired trucker is getting rid of his fleet due to the end of his/her trucking career.
There is no reason why a used truck couldn't reach the million mile or more mark.
What is a Good Mileage for a Used Semi Truck?
When you look at a used truck's mileage you normally see very high miles and automatically think it's too much, but you shouldn't compare it to a car's mileage.
400,000 miles on a semi is like 40,000 miles on a car which isn't that much.
Let's remember that trucks although higher on the mileage, have less wear on their engines as most of their driving takes place on highways.
A car will have city traffic miles with a lot of stopping and moving which is more wear on their engines, so don't be afraid to consider buying a truck that has 700,000 miles which is the equivalent to 70,000 miles on a car.
What is a good Year Model for a Used Semi Truck?
The newer the better is the obvious choice for anyone buying a used truck.
Budget, of course, plays a role as the price of the truck is generally more cheaper for older year models.
10 to 12 years old is the maximum you want to think about getting a used truck.
It also depends on how long you want to keep the truck for, so generally the younger the better. A good range to aim for is generally around 5 years old.
Which Used Semi Trucks are the Most Reliable?
There are a lot of good trucks on the market and when buying a used one it's hard to know how it's been looked after.
As far as servicing and maintenance go, there are records but for harsh braking and over accelerating and general bad driving it really is a guess.
The most dependable semi-trucks are listed below:
Peterbilt.
Freightliner.
Mack.
Navistar International.
Kenworth.
Volvo.
People's opinion varies on each truck and preference plays a role.
It's worth noting that two identically used or new trucks could suffer different issues or one could outlive the other. It all depends on the history of owners care.
How do you know if a Used Semi Truck has been Well Maintained?
Every vehicle comes with a service book which will be stamped and have a record of any work or maintenance it has undergone.
A good look around the truck inside and out as well as under is highly recommended.
Look for a smart and clean appearance of the bodywork, brakes, and if tires are evenly worn.
Check that the lights all work and also check the engine for any oil or air leaks.
The fire extinguisher and any safety equipment should be in place and have not been used.
A test drive is well worth it as you can get a real feel of things from gear shifts to brakes and steering.
How do you know if there are any Problems with a Used Semi Truck?
Unfortunately not every truck gets the care it needs and deserves and it can't talk to tell us what could be wrong.
We have to look for signs and while some are visible, some aren't.
A test drive is one way of checking for problems but it doesn't cover everything.
We have all had that issue with our car where a warning light comes on and we take it to the garage for it only to not show up.
The engine is the most important part to consider. Check for codes on the dash and on your test drive feel how smooth the engine is and listen for any grinding coming from the transmission.
You can also get an oil sample if you want to have peace of mind.
Over rev the engine. Listen and feel for any signs of needles not settling as they should. This may also spark any warning lights to show that have been dormant.
And finally, check the records for any reoccurring visits for the same issues.
How do you know if a used Semi Truck has been in an Accident?
The honesty of the truck owner or dealer you're buying from would be great and while that is unfortunately something we can not 100% rely on, there are other signs and records to look at.
Look for any new welding that may have taken place around the framework.
Check the times between wheel alignments are not too close and any new paintwork that appears on the body of the truck.
The lights and/or driver windows may look brand new as well as bumpers and rims.
But to be perfectly honest with you, if a repair shop has done an amazing job and that's what most of them do then it will visibly be very tough to see any evidence of a collision.
The trucks come out looking and feeling better than before the accident took place.
How much does a Used Semi Truck Cost?
A used truck price varies with mileage, model year, and service history. It is not uncommon to pay $25,000 or more but you can also find great deals for less than $15,000.
You could pick up a Volvo 2012 with around 650,000 miles at around $15,000 as an example.
You have to know what the truck will be used for and then match up the truck that will suit your needs.
We recommend finding out how much each truck price range is and work out which is best for your budget.
If you get two Peterbilts at the same year and specs but one is cheaper than the other and sold by the same dealership it would probably be down to the mileage as a high mileage affect the price somewhat.
What Warranties do you get on a Used Semi Truck?
Extended warranties are now more popular than ever on used trucks as it a sure way to protect yourself against any possible neglect from previous owners.
There are a few packages on the market with length and component coverage calculators.
The options range from as little as 6 months/50,000 miles that cover from engine only to transmission and differential.
You can get a longer cover of 4 years/400,000 miles that again covers the same. Each package has restrictions with the mileage and if exceeded the cover will be void.
Some dealers may offer you an extended warranty or you may be buying a newer used truck that still has an original factory warranty.
These can make a difference in the price of the truck but is well worth it.
A warranty on a used truck is normally a 150 point check by the manufacturer or certified workshop that comes with a certificate.
Should you do a Service Immediately After you buy a Used Semi Truck?
Personally, I would have one done to put my mind at ease as this is your new home or office and you'll be spending more time there than anywhere else.
Although most would probably just have been serviced if it still makes you feel better.
The engine oil used to service the truck will probably be standard oil and I'm guessing you want the best.
What about Used Semi Truck Tires?
There are high-grade and low-grade tires and like anything else on a truck high grade is generally going to be safer.
The lower the grade the quicker they'll wear out. So although at first glance it looks like you're saving money, your not.
A retread tire is where a casing (used tire) is molded to a completely new tread by a heavy-duty industrial machine.
While it may look brand new and is cheaper, it can actually peel apart under extreme heat.
Used tires are cheaper and can last just as long as a new one in most cases and of course, don't forget to check their expiry date code on the sidewall.
Look for a reputable tire shop and don't be afraid to buy the best you can.
What is the Best Semi Truck to Buy Used?
The best one to choose is the one that matches the job you want it for and with the used semi-trucks available on the market today, you really are spoilt for choice.
The same list of best-used trucks will come up again and again but it will really boil down to one thing, what you want!
One that's got a good maintenance record is a good start. These can last forever and one you'll enjoy driving.
It's important to remember to test drive all of them as you may like the way one looks but not so much how it feels when you drive it.
But if you're going for looks then I would have to say the Peterbilt or Kenworth and if you're going on efficiency I would probably pick the Volvo but that's just my opinion yours may well be different.
Tips to Buying your first Used Semi Truck:
Find a reputable dealership.
Pay for a level 3 inspection (by third party).
Don't rush into it.
Test drive a few of each model you like.
Take someone with you who knows what to ask or write it down and ask yourself.
Check for codes.
Measure the mileage to the year and then against the price.
Check tire conditions.
Do a walk round (take your time).
Look for leaks under the truck and under the hood.
Check for any obvious signs of new parts and ask to see proof of replacement.
Don't be afraid to ask questions.
The dealership should have records of all work carried out even if they didn't do it themselves.
Ask what the truck was used for prior to them getting it as it could tell you how much abuse it has taken.