Sure, most truckers will agree that driving on an open road is one of the most exciting parts of the job. After all, moving forward is far safer than going backward.
This is so true when maneuvering a large vehicle like an 18-wheeler, big rig, trailer, and the like.
As we know, many accidents happen when piloting a vehicle backward. Thus, it would probably be cool if manufacturers installed backup cameras in their semi trucks to ensure road safety.
If you want to know if semi trucks have backup cameras, or how backup cameras work, read on to find out more.
Here's a quick answer to whether Semi Trucks have Backup Cameras:
All semi trucks on the road must have backup cameras. It was mandated by the U.S DOT in 2018 that all commercial vehicles including vehicles under 10,000 lbs, must have backup cameras installed as a safety measure to prevent collisions that resulted in over 200 lives lost in the US each year.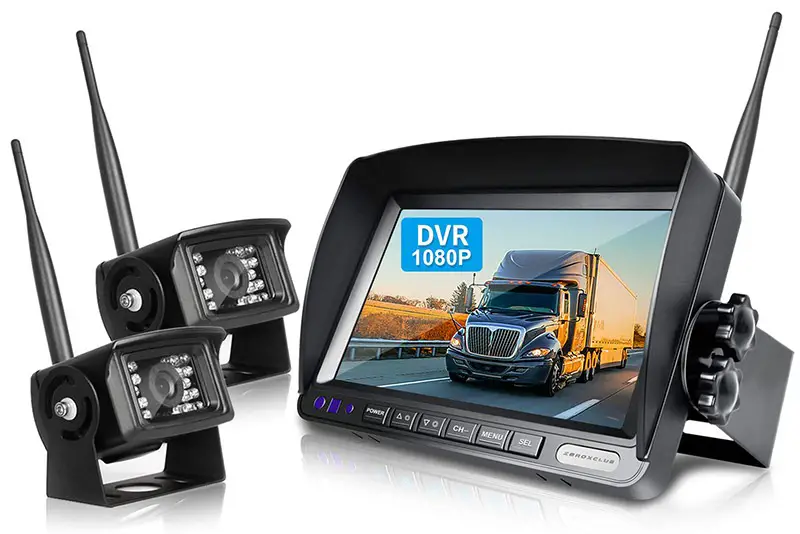 Do Semi Trucks Have Backup Cameras?
For so many years, most semi trucks don't have backup cameras. This is because the US government did not require backup cameras back then. 
But in 2018, this feature became mandatory after the passage of the rear-view camera law by the US Congress. 
The law covers all types of vehicles under 10,000 lbs. If you have purchased your truck before 2018, it's most likely that backup cameras are non-existent.
But with the law imposed, backup cameras are no longer optional equipment. So those who have bought a truck from 2018 to the present have to expect backup cameras on the vehicle.
Are Backup Cameras in a Semi Truck Helpful?
According to National Highway Traffic Safety Administration (NHTSA), over 200 people die annually in the US due to backing incidents.
With a backup camera, it is anticipated that more lives will be saved each year.
Backup cameras help prevent potentially fatal backover incidents by expanding one's field of vision. The camera will allow the driver to see at least 20 feet from the back of the vehicle.
The driver can also eliminate blindspots as he can see the condition that mirrors cannot accommodate. 
In addition, the camera will help the driver park safely. Some backup cameras have extra features that assist drives to park quickly and view obstacles behind the vehicle.
It also has a warning tone that alerts drivers that the car is near to hit an object.
When would you Need a Backup Camera for your Semi Truck?
Typically, a backup camera is needed when one is backing up a semi truck. But since it's a standard feature in vehicles, it needs to be installed in a truck at all times.
Hence, whether you're backing up or not, semi trucks should permanently mount this technology.
Backup cameras will ensure road safety. As we know, among all the vehicles on the road, semi trucks are the most difficult to maneuver. Not to mention that it stops belatedly when trucks are overloaded.
In addition, when trucks are loaded, it's challenging to see everything from the rear-view mirror.
You have to turn the vehicle to ensure that all is well. This situation will result in a blind spot. And every trucker knows the hassles of a blind spot when backing up. 
Moreover, semi trucks are large vehicles that causing an injury while backing up is likely fatal. Through backup cameras, these problems, if not resolved, will somehow be minimized. 
Do Semi Trucks Come with Backup Cameras as a Standard?
Most semi trucks are not manufactured with backup cameras as a standard feature. It's only in 2018 that it becomes a piece of standard equipment among semi trucks and other vehicles under 10,000 lbs.
So the trucks of today have this feature already installed. Those who don't have backup cameras or have only purchased a truck before 2018 have to install an aftermarket backup camera on their own.
Which Semi Trucks come with Backup Cameras Installed?
Generally, semi trucks sold in 2018 and beyond have backup cameras.
However, most semi trucks, especially high-end brands, already have this feature installed even before it becomes mandatory. 
As early as 2014, some notable truck manufacturers like Volvo, Freightliner, Kenworth, International, Mack Trucks, and Peterbilt have already incorporated this safety feature.
What would a Backup Camera System Consist of?
For newer trucks, built-in cameras only consist of the camera and the monitor beside the steering wheel system.
However, aftermarket backup cameras come with cameras, cables, monitors, adapters, and installation accessories.
Of course, the backup camera captures everything behind the vehicle while the monitor allows you to see what the camera sees. Cables and adapters are transmitters that help the monitor to operate. 
Meanwhile, installation accessories are those parts used to install the backup cameras system. Typically, they are the mounts and brackets.
What Types of Backup Cameras do you Get for Semi Trucks?
Backup cameras come with many variations.
But the most recommended cameras for semi trucks are wired, wireless, and smartphone-based backup camera system.
Wired Backup Cameras
Wired is the most used type of backup camera system in semi trucks. This offers better video quality and stability than its counterparts. 
This type of backup camera is also the oldest, so car manufacturers are comfortable with it. The market also offers a variety of high-end wired cameras.
Wireless Cameras
Conversely, the most apparent advantage of the wireless camera is the ease of installation. It's less hassle to mount because you don't need to use any wires.
Wireless cameras are also affordable and comfortable to use. The only downside of it, though, is its poor video quality.
Smartphone Cameras
The smartphone-based system is the most technologically advanced type of backup camera. It is affordable as there's no need to buy a separate monitor because you can use your phone instead.
However, smartphone-based cameras are only helpful in the city or urban highways. It relies on the wifi feature to send live video to your phone.
The backup camera will not work if the truck operates in remote areas with no decent internet connection.
Where on a Semi Truck would the Backup Camera be Installed?
Most of the time, a semi truck's backup camera is installed above the license plate. However, you can install it anywhere in the back of the bumper. 
Most built-in cameras are permanently fitted in the license plate frame or the bumper area.
Would a Backup Camera go on the Trailer?
You can install a backup camera to your trailer. However, since trailers are long, it would be a headache to install a wired backup camera system.
The most recommended backup camera is the smartphone or wireless backup camera. 
These types of rear-view camera systems work with a Bluetooth or wifi feature to see the condition behind the vehicle through the monitor. 
So don't worry if the trailer is long because these types of backup camera got your back.
How to Install a Backup Camera on your Semi Truck?
Whatever type of camera you choose to install, the good news is that the installation procedure is roughly the same. Here's an easy and quick step-by-step installation process:
1. Install the camera
Detach the license plate by removing the screws. Install the camera above the license plate through the screws and wrench that comes with the installation kit.
2. Route the wire or cable
Route the cables up to the front of the truck by following the brake light cables. Skip this step if you choose to install a wireless or a smartphone-based backup camera system. 
3. Connect the camera 
Connect the camera through the reverse light cable. You can find the reverse light in the fuse box where power cables are placed.
4. Connect the camera system to a power source 
For some rear-view camera systems, you can simply plug the system into a 12v fuse. For others, use a plier to connect the cables to the negative and positive power lead to the fuse box.
5. Mount other accessories
Some camera kits have Bluetooth dongles and GPS sensors. You can now connect this before turning on the rear camera system unless otherwise provided by the installation manual.
6. Fix the monitor on your chosen location
Now that you're done fixing the camera behind the truck, it's time to install the monitor.
First, choose where you will mount the monitor. The most common locations are in the center console, on the dash near the steering wheel, window, and usually integrated with the rearview mirror.
Install the monitor at your desired location. Use the mounts or suction mounts from the installation kit for this procedure.
Finally, connect the splitter cable of the monitor to the fuse box.
7. Connect the Camera Cable and Monitor Splitter Cable
Attach RCA or Camera cable to the monitor's splitter cable. Wrap these cables with electric tape, so they are connected firmly.
8. Connect the monitor cable to the fuse tap
The last bare wire from the monitor cable must be attached to the fuse tap. To do this, push the red end of the monitor cable to fuse the tap's open end.
9. Power on the camera
Test the camera by turning on your truck. Make sure to check the power source to prevent electric circuits or accidents.
Take note that this process is for the wired backup camera system. The wireless or smartphone-based systems are easier and quicker to install.
You only need to mount the camera and monitor to your truck, then pair these devices together through the Wifi or Bluetooth feature.
Are There Any Regulations for Backup Cameras in a Semi?
There's no specific regulation of backup cameras for semi trucks. The rear-view camera law already covers semi trucks as the regulation is meant for all vehicles.
Backup cameras, in particular, are regulated by the Cameron Gulbransen Kids Transportation Safety Act of 2007. The objective of the law is to prevent fatalities caused by backing up. 
As you can see, it took eleven years for the law to be strictly enforced. The gap years give car manufacturers time to adjust and make the backup camera system a built-in feature for their 2018 vehicle releases.
Moreover, law enforcement officers will rarely inspect a truck whether or not it has a backup camera system. The authorities assume that all vehicles required to have backup cameras are already installed.
Nonetheless, it's advised that your install this feature at all times. After all, semi trucks are prone to accidents.
What is the Best Backup Camera System for your Semi Truck?
With the proliferation of backup cameras in the market, finding the one suitable for your semi truck is quite challenging. 
To help you in your decision-making, here is our list of the best aftermarket brands and models you can make use of:
Best Wired Backup Cameras
Best Overall: eRapta Backup Camera 2.0
Best for Medium to Heavy-duty Truck: Yakry Y12 HD
Best for Trailers: Hikity Reversing Camera
Best Wireless Backup Cameras
Best Overall: Auto-Vox CS-2
Best for Medium to Heavy-duty Truck: Dallux Backup Camera
Best for Trailers: LLC-Power
Best Smartphone Backup Cameras
Best Overall: EsiCam EH-05-B
Best for Medium to Heavy-duty Truck: LeeKooLuu LK3
Best for Trailers: Swift Hitch SH04
Newer trucks have built-in cameras, so there's no need to buy an aftermarket camera.
If your vehicle doesn't have this feature, don't fret. Installing a camera on your own has a significant advantage: you can choose what is suitable for your truck.