A truck engine is considered the heart of a truck. Since trucks are used for extensive jobs, the right engine for your truck is essential in maximizing its full capabilities. 
Volvo trucks only use particular engines tailored to fit their trucks. Let's take a look at the type of engines Volvo trucks use. 
Here's a short summary of What Engine Volvo Trucks Use:
Volvo trucks typically use Volvo-built engines and Cummins engines, of which both come in diesel or gas. Volvo truck diesel engines include the Volvo-built engines D11, D12, D13, D13TC, D16, D6B, and Cummins X15, whilst Volvo truck gas engines include the Cummins ISL G and Cummins ISX12 G.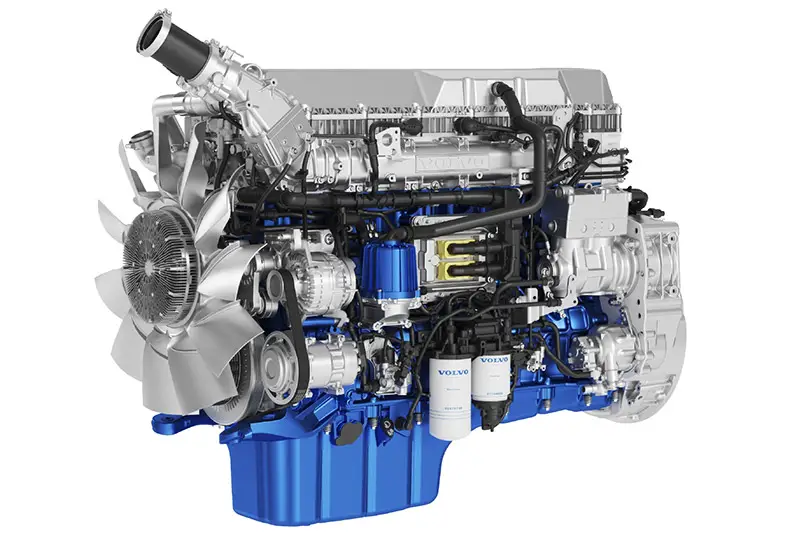 Are Volvo and Detroit Engines the Same?
Volvo and Detroit engines are not the same. They differ in power and some extra features. 
Moreover, they also differ in efficiency, power ratings, and torque. 
On the other hand, Volvo and Detroit engines have some similarities in their key performance details. 
Do Volvo Trucks use Cummins Engines?
Yes, Volvo typically uses Cummins engines, too. The Volvo VNL truck series uses Cummins ISX15 as its engine. 
VNL truck owners notice that this truck with this engine boasts reliability, durability, and long-lasting effect. Cummins engines can also act as a great alternative to Volvo engines. 
Volvo Truck Diesel Engines
Throughout the years, Volvo has kept on innovating its diesel engine. The diesel engines they offer for their Volvo trucks are D11, D12, D13, D13TC, D16, and D6B. 
They also provide Cummins as an option. The Cummins diesel engine available for Volvo trucks is Cummins X15.
Volvo D11 Engine
The Volvo D11 engine is a 2,85 Gallons engine that provides a low noise level and low fuel consumption. Its instrumentation has full Electronic Vessel Control functionality. 
Moreover, the Volvo D11 engine has electronic high-pressure unit injectors, and the electronic controls are standard.
SPECIFICATIONS
Crankshaft Power kW
375
Crankshaft Power HP
510
Number of Cylinders
6
Control System
Electronic Vessel Control
Volvo D12 Engine
Volvo D12 Engine offers not just a new electronics system but efficient combustion, fantastic fuel economy, and reduced combustions. 
You can rely on this engine very well as it ensures safety and a longer operating time for the engine. It is also manageable to use and has low operating costs. 
If you are eyeing an engine that can perform with maximum efficiency and built-in minimum weight, the Volvo D12 engine is the one for you. You will be surprised with the power it gives but in a compact design. 
It has more delicate controls for more accurate fuel injections promoting fuel efficiency. Moreover, it has lower friction due to its wave piston design. 
SPECIFICATIONS
Crankshaft output
550 hp/405 kW
Max. torque crankshaft
2,256 nm
Cylinders
In-line 6
Displacement
3.20 Gal.
Volvo D13 Engine
The Volvo D13 engine provides high-pressure fuel injectors, standard electronic controls, and a heavy-duty engine cover. 
Also, the truck engine controls are easy to use and access, ensuring that there will be no obstacles as you operate them. You will also notice that the design is solid and robust, promoting durability. 
Just like any other Volvo engine family, the Volvo D13 engine is manufactured to provide the power you need in your semi-trucks.
Semi-trucks are mainly used in extensive jobs along the road; of course, you will need a core that is as strong as you are. 
SPECIFICATIONS
Crankshaft Power kW
515
Crankshaft Power HP
700
Number of Cylinders
6
Control System
Electronic Vessel Control
Volvo D13TC Engine
The Volvo D13TC engine is one of the engines that has the most straightforward design but is one of the next-generation turbo engines. 
It provides less fuel consumption than previous models and can last longer in daily operations. Also, with its shifts, you can do application-specific solutions. 
This engine is compatible with the Volvo VNLl truck series. The moment you have this in your semi-truck, you feel faster and smoother performance like no other. 
It also has high efficiency after treatment that provides better thermal encasing.
SPECIFICATIONS
Aspiration
Sliding Nozzle Variable Geometry Turbocharger
Cam / Valve Configuration
SOHC / 4 Valves per Cylinder
Cylinder Head
One-Piece Rigid Deck Cylinder Head
Displacement, cu. in. (L)
780 (12.8)
Volvo D16 Engine
Volvo D16 can move large payloads with ease. It has a mighty torque power sufficient for heavy loads along the road. 
In addition, this engine features a fuel system that regulates fuel temperature. It is designed to take power directly to the engine with its rear-mounted engine PTO. 
The Volvo D16 engine has been in service for years already.
It has a nifty exhaust brake that will help maintain engine temperatures at low idle, meaning you won't have to fast idle the engine to sustain sufficient combustion chamber temperatures.
SPECIFICATIONS
Fuel Injection Pressure, psi (bar)
35,000 (2,400)
Electronic Management System
Volvo VECTRO
Compression Ratio
16.0:1
Full Dress Dry Weight
3134 lb
Volvo D6B Engine
If you are searching for a truck engine with accessible service points, you should consider the Volvo D6B engine. 
This engine also provides low maintenance and operation cost. Moreover, this 1.42 Gal. engine can assure electronic vessel control. It has a robust design promoting longer operating life. 
SPECIFICATIONS
Displacement Gallons
1.42
Number of Cylinders
6
High-pressure fuel injection
Common-rail fuel injection
Cooling System
Heat Exchanger Cooling, Keel Cooling
Cummins X15 Engine
Now the only Cummins in this line will not disappoint you. You can use Cummins X15 engine on heavy-duty trucks, fire and rescues, and even truck equipment manufacturers and bodybuilders. 
The best thing about this engine is that it provides a 2% fuel economy improvement compared to other engines. 
Cummins X15 engine is also easy to operate and will keep you out of the bay. 
Indeed, Cummins X15 is the best fuel economy of all engines. But there is more to efficiency than miles per gallon. It has superior uptime in the industry.
It is designed with uptime with the most prolonged maintenance intervals so that you can rack up more revenue miles yearly.
SPECIFICATIONS
Advertised Horsepower
525-565 hp391-421 kW
Peak Torque
1850-2050 lb-ft2508-2779 N•m
Governed Speed
1900 RPM
Engine (Dry)
2961 lbs
Volvo Truck Gas Engines
After talking about the diesel engines, let us move forward to the one that uses gas as fuel. 
We will hand you a comprehensive list of the Volvo truck engines. 
Most of it is manufactured by Cummins. It will include Cummins ISL G, Cummins, and ISX12 G.
Cummins ISL G
The ISL G engine was the first MidRange engine in North America to receive emission certifications from U.S. Environmental Protection Agency (EPA) and Air Resources Board (ARB) in California to meet the 0.02 g/bhp-hr optional Near Zero NOx Emissions standards.
This Cummins gas engine is compatible with transit buses, medium-duty trucks, and natural gas engines. It is available in 16 countries across the world. 
SPECIFICATIONS
Advertised Horsepower
320 hp 239 kW
Peak Torque
1,000 lb-ft 1,356 N•m
Governed Speed
2,200 rpm
Net Weight w/ Std. Accessories, Dry
1,625 lbs
Cummins ISX12 G
The Cummins ISX12 G is compatible with heavy-duty trucks and natural gas engines. In addition, Cummins ISX12 G has reliable pulling power, perfect for trucks that pull heavy loads or tractors in fields.
In addition, it shares many of the same parts as the diesel engine. 
This gas engine also has advanced combustion technology, which provides noticeable high performance.
Cummins built this engine with maintenance-free after treatment for you to have low-cost operation and maintenance. 
SPECIFICATIONS
Advertised Horsepower
400 HP (298 kW)
Peak Torque
1450 LB-FT (1966 N•m)
Governed Speed
2100 RPM
Oil System Capacity
12 U.S. GALLONS
Best Volvo Truck Engine
The best Volvo truck engine is Volvo D13 engine. It is said to be the most flexible and reliable engine of all the Volvo engines. 
It does not just offer fuel efficiency but power too. Moreover, it is used by many due to its fuel-saving feature.
The Volvo D13 can also easily carry more payloads than others, even on long journeys. You won't even feel you have a heavy load on your back. 
To highlight more of its amazing features, the D13 engine comes in a variety of HP configurations.
It is available in 375hp, 406hp, 425hp, 435hp, 455hp, 500hp. With 1450lb-ft, 1450lb-ft, 1550lb-ft, 1650lb-ft, 1750lb-ft, 1850lb-ft of torque respectively.
D13 engine can also provide more power without adding extra weight to your truck. Truck power doesn't need to be heavy.