Many years ago, truck drivers had to fill out the Record of Duty Status (RODS) to document their hours of work (HOS). The whole experience is, of course, time-consuming and susceptible to errors.
Fortunately, electronic logs come to life. It has become a law and made the lives of truck drivers more straightforward and safer.
In this article, we will talk about Electronic logs and the laws surrounding them. Let's find out if your truck is covered by the ELD rules or among the exemptions.
Here's a quick answer to whether All Semi Trucks have to have Electronic Logs:
In general, semi trucks that are classified as commercial motor vehicles (CMV) have to have electronic logs or eLogs installed. This is a requirement imposed by the FMCSA amongst commercial vehicles. There are, however, certain CMVs such as short-haul drivers, that may be exempt from using eLogs.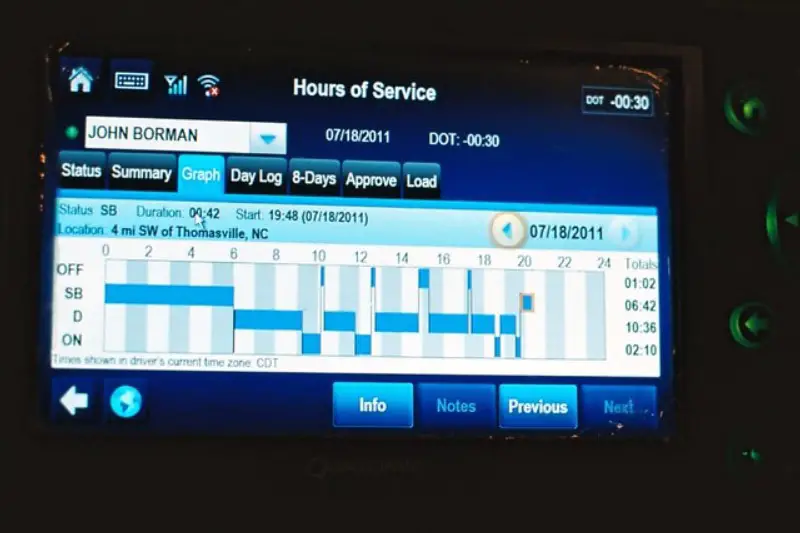 What are Electronic Logs?
Before we dig deeper, let's familiarize ourselves with electronic logs first.
Electronic logs, commonly known as "eLogs," have replaced paper truck logs. It works like the paper RODS but is more advanced, convenient, and easier to use.
Electronic logs take the driver status of a driver automatically. It utilizes an IoT device that is attached to the vehicle for electronic logging.
The information that electronic logs can capture from the driver are the following:
Location
Date
Time
Type of vehicle
Carrier name
Driver Identification
Number of miles reached
Engine hours
User Authentication
How do Electronic Logs in a Semi Truck Work?
Basically, the eLog is a group of devices in a single package.
It has many functions, such as a GPS tracker, logbook and navigation tracker, and a JBUS connector.
GPS tracker
Electronic logs as a GPS tracker is referred to as black box in the trucking industry. It records GPS position, speed, mileage, and many others. It is attached to the dashboard. 
Logbook/navigation tracker
This device is installed above the dashboard. Truck drivers have to report their HOS and duty status by logging in to this device. This device works with the GPS tracker for data communication.
JBUS connector
Under the law, eLogs and the truck must tightly integrate. Hence, it needs the JBUS connector. This device is also responsible for transmitting telemetric and troubling data like oil pressure, water temperature, and a lot more.
In general, electronic logs process all the information from the vehicle to know whether its engine is working, moving, and to measure miles metric.
Do All Semi Trucks come with Electronic Logs? 
The majority of semi trucks in the market today have a built-in electronic logs as a standard requirement for manufacturers.
However, vehicles manufactured before 2000 don't have eLogs because they are less technologically advanced. Electronic logs need an engine control module (ECM) which is not available in older vehicles.
Unfortunately, for those who think that they can equip their truck with eLogs by changing the engine, it doesn't work that way. 
The "before 2000" threshold depends on the truck and engine's manufacturing date.
To determine your truck's manufacturing date, check out the last 4-digit of the VIN. For the engine, check out the machine itself or the product manual.
Do All Semi Trucks have to have Electronic Logs?
Ideally, a semi truck used for commercial purposes should have electronic logs. 
In 2017, the Federal Motor Carrier Safety Administration (FMCSA), through the US Congress, had enacted a law mandating the use of eLogs to commercial vehicles like semi trucks.
The law intends to ensure a much safer working environment for truck drivers. 
Semi trucks that are not used for commercial purposes are not required to have electronic logs. 
The law is clear in mandating that eLogs are exclusive for commercial motor vehicles (CMV) only.
What do the Regulations say about Semi Trucks having Electronic Logs?
ELD rules are strictly enforced since its compliance deadline in December 2017.
The law requires eligible CMV to install certified ELD. These rules apply to small carriers, owner-operators, and commercial truckers.
Anyone non-compliant with the rules will undergo an inspection report and may be penalized with civil sanctions or issuance of a violation ticket. 
All ALD violations are recorded in the Safety Measurement System. The list of violators will be part of the selection for investigation by FMCSA. The latter will determine appropriate sanctions for non-compliant drivers and employers.
When did eLogs become Mandatory?
Electronic logs became mandatory in December 2017. 
However, the law had a grace period under the grandfather clause, which allowed the Automatic On-Board Recording Device (AOBRD). The AOBRD is the older system of eLogs. It also records a driver's HOS through software that is less advanced than the ELD system.
The grace period gives truck operators time to mount electronic logs on their trucks until December 2019. 
Since the extension has already lapsed, the ELD rules are strictly mandatory. As such, all commercial vehicles by now should have equipped eLogs in their trucks.
Can I Drive a Semi Truck without ELD?
As a general rule, commercial vehicles need to be compliant with the ELD rules. 
But even if your semi truck is used for commercial purposes but is not considered CMV, the ELD mandate will not apply.
To determine if your semi truck is CMV, it should exceed the 10,001 weight limit loaded or not.
Even if your truck is a pick-up truck used for commercial purposes, it's a CMV. Hence, you need to follow the ELD regulations unless falling under the exemptions.
Do Owner Operators need ELD?
Owners operators who use their trucks for commercial purposes and are not covered by the exemptions provided by law need to install ELD. 
As mentioned earlier, truck operators need ELD as a replacement for the paper logbook.
The main objective of the ELD is to monitor hours of work and to prevent fatigue, road accident, and work-related exploitations among truck drivers.
The federal laws only allow commercial truck drivers a maximum of 11 hours of service. Any driver and employees who violate the regulations have to face harsh consequences.
Do Short-haul Drivers need ELD?
CDL short-haul drivers are one of the exemptions provided by the ELD rules. Short-haul drivers complete their work daily and return the truck to the owner-operator after work.
To qualify for the short-haul exemption, CDL drivers must meet at least one of these requirements:
Driving below the 11-hours of service limit
Time-clock service
Off-duty within 14 hours after the last duty
Reports to the same work location every day
Driving at least 150-miles radius
At least 10-off hours before another shift
Do Box Truck Drivers need ELD?
Box trucks or cube vans are usually used for commercial purposes like delivering goods and hauling large cargo.
Although box truck is smaller in size than semi truck, they are likewise covered by the ELD.
The ELD has clearly provided who can avail of the exemptions. Unfortunately, the FMCSA did not make exemptions concerning the size of a vehicle.
According to FMCSA, allowing relief for a small-size vehicle will not ensure road safety. Regardless of size, the ELD regulations are still in place if the job descriptions don't fall under the short-haul criteria.
Who is Exempt from ELD logs?
Like other laws, there are also exemptions in the EDL rules such as:
Vehicles manufactured before the year 2000
Non-commercial truck or personal property
Driveaway-towaway drivers who transport vehicles for sale, repair, or rent
Drivers who use paper RODS less than eight days over the 30 days
Commercial and non-commercial drivers whose work fall under the short-haul exception
For-hire drivers of agricultural vehicles 
Farmer or their family members driving a farming vehicle
What year Semi Trucks are ELD Exempt?
When it comes to the ELD rules, there are no exceptions. The law covers all commercial trucks, whether drivers are American or non-American based.
However, there are certain exemptions.
Semi trucks with engines manufactured before 2000 are ELD exempt. 
If the CMV has a manufacturing date of prior 2009 (1999 and below models), it's not required to follow the rule. 
The "before 2000" cut-off is implemented because older models are not capable of eLog installation because of the lack of ECM.
If the cut-off does not cover the vehicle, but its engine is manufactured before 2000, it's also ELD exempt.
These situations happen when the vehicle is rebuilt through the glider kit.
This exemption doesn't mean that trucks couldn't operate and be driven anymore for commercial purposes. It only means that the laws are more lenient to older vehicle and engine models.
Why are Older Trucks Exempt from ELD?
According to FMCSA, older trucks, regardless of registration date, are exempt from ELD. The exemption applies to all semi trucks and engines manufactured before 2000 because they don't have ECM. 
If the truck has a glider kit and the engine and truck model manufacturing dates are different, inspectors must check the engine's manufacturing date.
The model year, which is based on the National Highway Traffic Safety Administration (NHTSA) rules, is the basis of whether the truck is exempt from the ELD mandate.
What is the Best Electronic Logbook for Truckers?
Since the FMSCA mandatory compliance in 2017, many manufacturers have produced electronic logbooks.
With the proliferation of eLogs in the market, consumers need to be wise. You have to make sure that the product is certified by the manufacturer and FMCSA.
Check the FMCSA website to determine if the eLogs are certified. Meanwhile, some of the best electronic logbooks for truckers are the following:
1. Best-seller: KeepTrucking ELD
2. Best value for money: Garmin eLog
3. Best for data management: Gorilla Safety ELD
4. Best for ease of use: Rand Mcnally ELD
5. Best for data privacy and security: Lytx Go Cloud ELD
Can Truck or CLD drivers still Use Paper Logs?
Truck or CLD drivers are no longer allowed to use paper logs unless covered by the exemptions. The strict compliance started in December 2019.
FMCSA has warned drivers of strict compliance with the law. Once found as a violator, eLog malfunction, or eLog is about to be installed kind of reasons are not acceptable.
But if eLogs are not working due to a fortuitous event, FMCSA can allow drivers to use paper logs for eight days. If eLogs are not still not functioning by then, FMCSA will give you another day of extension to fix them.
Overall, for truck operators and CDL drivers who need to keep logs, eLogs are a must.