Working in farms requires the services of farm trucks to move things and produce around. With that in mind, have you ever stopped to consider if farm trucks need insurance and their cost?
On average, insurance for a farm truck will be within the range of $10,000 to $16,000 a year. Despite their use in special designations (farms), they're still subject to insurance requirements as prescribed by law.
We're going to highlight a few details about farm truck insurance in this post to help you understand it better.
A Brief Answer to How Much it Costs to get Farm Truck Insurance:
Farm truck insurance typically costs around $11,000 per annum and will vary based on the type of coverage taken. Several other factors have an influence on the insurance cost such as the type and worth of farm truck insured, driving and road experience, and the type of goods being transported.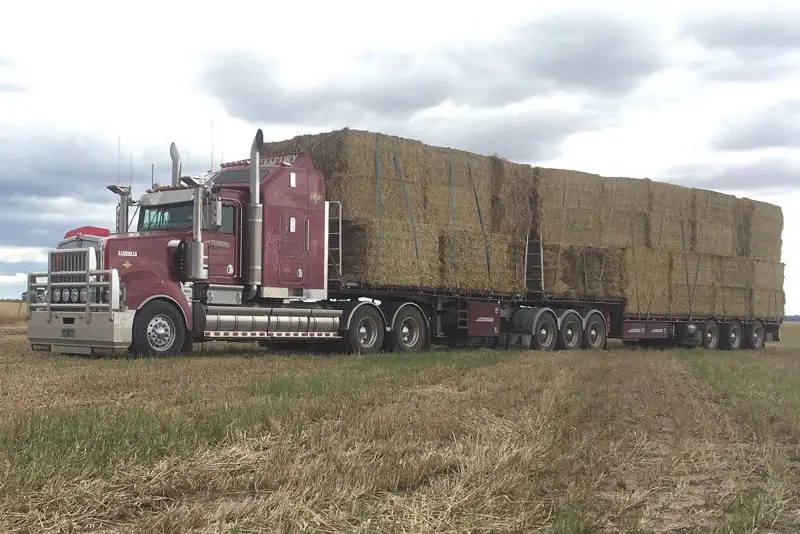 What Classifies as a Farm Truck?
When describing what farm trucks are, the name already gives it away. Farm trucks are trucks used in and around farms.
They're used to transport agricultural supplies to and within a farm and transport the final produce out of the farm.
Trucks, in general, come in a variety of sizes. We have the pick-up trucks up to the different classes of multi-wheeled trucks (i.e., an 18 wheeler). Farm trucks can also be fashioned out of various parts to create a vehicle capable of doing the job.
However, a few rules regarding farm trucks need to be considered. For instance, owning just one truck when you operate a farm doesn't guarantee it will have a 'farm truck' status.
The reason is that it's assumed that a single truck is also used for personal activities and travels that don't relate to farm work.
Also, many states have regulations regarding how far a farm truck can travel away from its farm. It's often a limited distance, so you should keep this in mind when you want your truck designated as a farm truck.
What Type Of Insurance do you get for Farm Trucks?
It's essential first to recognize the role insurance plays.
Consider the cost or worth of your farm trucks. They cost a lot to purchase and maintain, don't they? Their worth, however, ends up being more than is the case in a literal monetary sense.
They're necessary tools for the day-to-day running of your farm. Without them, operations on your farm could grind to a halt, and that would create significant losses to your business.
It's also no secret people develop a sentimental value for vehicles too. These two simple facts necessitate insurance, a way to protect them.
As such, you are having them protected under an insurance cover leaves you to work at ease constantly.
Since insurance covers several things, from theft to breakdowns, it can allow you to quickly resume operations in case you ever face these kinds of issues.
When focusing on farm trucks, there are different types of insurance available. They all generally fall under the category of auto insurance. (auto insurance mandatory for all types of vehicles)
Since vehicles are employed for specific uses, their insurance falls under a subcategory of auto insurance.
Within this subcategory that deals with farm truck insurance, further options, all aimed at catering to the level of the farmer and farm truck in question.
How Much Does Farm Truck Insurance Typically Cost?
Depending on the type of insurance cover you opt for, the costs involved are different. The table below shows a cost comparison of the available farm truck insurance covers.
| | | |
| --- | --- | --- |
| Type of Insurance | Coverage | Approx. Cost/Year |
| Commercial Auto Policy | Farms and farm trucks | $1,800 – $5,000 |
| Personal Auto Policy | Farm trucks are also used for personal use. | $1,900 – $6,300 |
| Farm Auto Policy | Commercial vehicles are ineligible for personal auto policies. | $1,500 – $3,500 |
| Farm Owner's Policy | Vehicles absolved from standard registrations. | $1,400 – $4,000 |
Is Farm Truck Insurance Cheaper?
Auto insurance is a legal requirement to own and operate any vehicle. Looking through the various insurance options available can help decide what policy is best. 
The same applies to Farm trucks. In a general sense, farm truck insurance is cheaper than regular insurance.
That said, however, the insurance cover for your farm truck will depend on several factors. A few of them include:
Worth of the Farm Truck
Depending on the year, make, and model of the truck in question, the insurance cover cost can vary. The reason is that the truck's worth plays a big role in calculating a suitable insurance policy.
Driving Record and Experience
Having a good driving record helps in getting fair insurance coverage. Insurance is all about mitigating risks, and for the insurance providers, considering this aspect helps mitigate theirs when they sell you insurance.
So, whether you or a hired driver, ensure this box is checked if you want a good insurance deal for whoever will be operating the farm truck.
What you Transport
There are many different types of farms in the agricultural world. As such, the risk exposures vary for farm trucks. Hauling some things poses a higher risk profile, and as such, the insurance cover would need to be calculated concerning this factor.
These factors and the fact that farms are, by default, special operation zones all enjoy lower insurance premiums.
Is Farm Truck Insurance Tax Deductible?
Taxes are an inevitable part of life, more so when running a business like a farm. However, authorities regulating taxes offer some relief when paying taxes in the form of tax deductibles.
A tax-deductible item or expense can be subtracted from the business's gross income when calculating taxes. The aim is to lower the amount of taxable income. That, in turn, leads to decreased tax expenses.
There are two main ways to access tax deductibles when it comes to farms. They are through the following:
Standard Mileage Rate Method
In this method, a set mileage rate is used in calculating the total deductible tax. For instance, the current rate is 58.5 cents per mile. So for every mile covered when operating for the farm business, a farm truck can claim this amount as a deductible expense.
Actual Cost Method
When you opt for this choice, finances spent solely on using the farm truck for business purposes are considered—expenses like fuel, repairs, and insurance.
With insurance being part of the above modes of getting tax deductibles, we see that farm truck insurance can indeed be used to claim tax deductibles.
Note that precise record-keeping of the expenditures is required to utilize these tax deductibles. Accurate records can help attain higher tax deductibles than expected!
Does Homeowners Insurance Cover a Tractor?
Homeowner insurance is mostly marketed toward the urban population. Farms (and, by extension, farm trucks, and tractors) are rare in the urban sphere.
As such, it may prove challenging to find a homeowner insurance policy that covers a tractor.
Though difficult to find, the few available have several thresholds that need to be met to get consideration. For instance, being based in a rural area can get insurers to consider covering your tractor in a homeowner insurance scheme.
That's because tractors usually reside in farms, and in this case, the farm is the home.
Another way to have tractors covered in homeowner insurance is to guarantee that the tractor will only operate inside the farm area. This aspect avails a degree of control and appeal enough to have it included in the insurance cover.
Do you Need Insurance on a Farm use Truck?
Yes! It would help if you had insurance for a farm-use truck.
Firstly off, the insurance requirement is prescribed by law. It clearly states that all types of vehicles intending to use public roads at any point must have insurance cover.
Secondly, it's because it's a smart move to make. Let me explain.
A farm truck is an asset to you and your business. It facilitates efficient movement in and around your farm. Depending on local regulations, it could also venture on publicly used roads.
As an asset, your farm truck needs to have security in the form of insurance. It's susceptible to damage, theft, destruction, breakdowns, and all other kinds of problems.
These problems can prove very costly to cater to when they happen. An insurance cover will help settle such instances more quickly than you would out of pocket.
Tips to Pick a Broker for Farm Truck Insurance
Getting an insurance cover is essential for ensuring your farm truck's safety and longevity. As such, choosing a good insurance broker is imperative.
There are many insurance providers available, so how can you choose the best one? We'll highlight a few things to look at in this regard below.
Types of Insurance Covers Available
Different farmers own different types or classes of trucks. Therefore, first, check whether the broker you have an eye on has suitable insurance options that cater to your type of truck.
Also, considering your farm, the fleet size of your farm trucks, and other aspects, you could opt for comprehensive coverage insurance that services more than just farm trucks.
Credentials of the Broker
Does the broker have all their paperwork in order and are legally able to provide the service?
Reputation and Customer Reviews
What is the word on the street about that broker? Are users online or by word of mouth praising or cursing the broker you want to opt for?
Transparency and Accountability
Based on reviews or actual meetings with the broker, do they seem trustworthy enough to work with? It's imperative to have an insurance broker who has your best interests in mind when signing on with them.