Truck insurance provides coverage to independent truckers, trucking businesses, and owner-operators.
However, the best truck insurance companies ensure that customers experience the best of both worlds: cheap rates and excellent service.
Curious about the best truck insurers in the United States? Read on to find out more.
Here's a quick answer to where to get Truck Insurance:
The top five insurers to get commercial truck insurance from are State Farm, Hartford, Progressive, InsurA, and CoverWallet. They offer good coverage at an affordable price. In addition to looking for coverage and affordability, also consider an insurer with a good claim settlement ratio.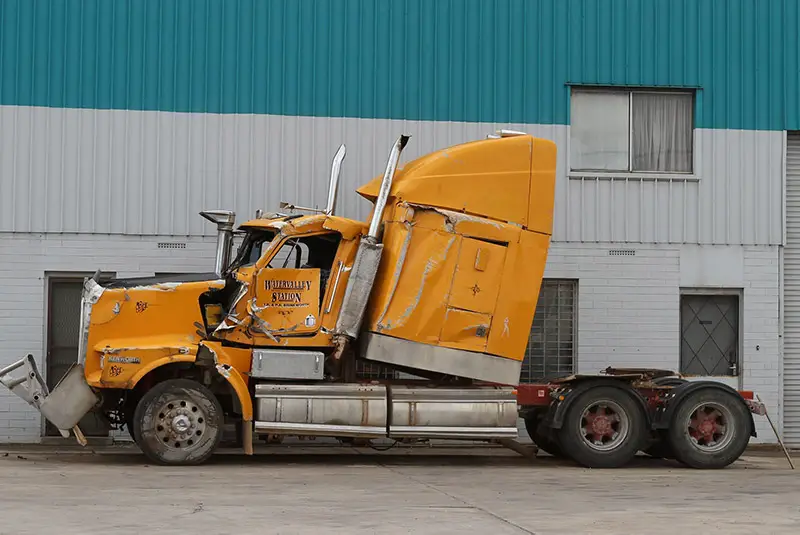 Where to get the Cheapest Semi Truck Insurance from?
Trucking is a livelihood, so as a trucker you want to search for insurances that offer the best value customized coverage with reasonable and competitive pricing, at a first-rate service.
For those looking for the cheapest yet the best insurance in terms of customer satisfaction, we recommend State Farm. This company offers competitive rates that are genuinely affordable for all.
Their truck and home insurances are approximately 33% and 16% cheaper than their competitors, respectively. They also offer the most affordable renters insurance coverage than other top insurers.
In a study conducted by J.D. Power, State Farms ranks second in customer satisfaction out of all business insurers in the U.S.
Their insurance policies are sold by their 19,000 agents throughout the United States.
Where to get the Most Expensive Semi Truck Insurance from?
Hartford is the most expensive semi truck insurance you can find in the U.S. They are best for high-risk drivers and offer rising costs and limited discount options to potential policyholders.
The company offers various coverage selections for commercial trucking industries such as motor truck cargo, trailer interchange, property in transit, on-hook towing, livestock transit, and more.
The Hartford is also a part of J.D. Power's Survey of top rankings mid-sized insurers. They have been in the industry since 1810, making them the most reputable insurers in the U.S.
Where to get the Best Comprehensive Semi Truck Insurance from?
If you're looking for one-size-fits-all insurance coverage, Progressive is the most comprehensive of all.
Progressive insures an extensive range of semi-trucks, including tow trucks, flatbeds, tank trucks, and refrigerated trucks.
They also allow customers to customize their coverage suitable to their situation, whether you're an independent truck owner, under a lease, owner-operator, or for commercial purposes.
The good thing, though, is that Progressive offers discounts to drivers with commercial driver's licenses, those who utilize bundle insurance, and those who have been in the business for more than three years.
Where to get the Best Third-Party Semi Truck Insurance from?
InsurA has the best third-party liability insurance for any trucking scenario.
It offers standard policies for all types of commercial operations, such as overall accident coverage, liability coverage, non-trucking liability coverage, and motor truck cargo coverage.
Old and new trucker insurance costs may vary. Still, final quotes are influenced by several factors such as USDOT authority, coverage requirements, operating radius, vehicle type, cargo, driving history, and many more.
Customers are allowed to discuss their needs and include them in the coverage.
For instance, if you're a business operating refrigerated trucks, you can have liability protection for the perishables other than the usual coverage.
Where to get the Best Value Semi Truck Insurance from?
CoverWallet offers affordable plans and the easiest to understand, manage, and buy truck insurance.
The entire process to get a policy is quick and fast as you can complete it online for a few minutes. The plan starts for as low as $39 per month. CoverWallet ensures that you are covered with all the risks involved in your trucking business.
They provide a quick assessment to discuss what coverage is appropriate to minimize risk.
Where to Avoid Getting Semi Truck Insurance from?
Any trucking companies that offer a bare minimum, old coverage, unreasonably priced plans, and those that don't have 24-hour claim service are the insurance companies that you should avoid.
Semi-truck insurance is a serious investment, thus the importance of getting the right policies from the best insurance companies.
The thing about insurance is that no matter how good your record as a trucking business, your trucking insurance will keep increasing.
Despite the hefty cost, don't try to outsmart the system and settle with the cheapest liability coverage. Otherwise, you will lose an enormous amount of money in the long run.
Things to Consider when Getting Semi Truck Insurance
Sure, you would want to save a few bucks and forego any coverage that seems too good to be true.
But, of course, you also don't want to be in a situation where the cargo or truck is destroyed, and you have to pay the entire damage.
Here are some tips that may help you get the best semi-truck insurance:
Cost
Typical truck insurance for owner-operators is around $8,000 to $14,000. Yes, it's a significant amount of money, but it's nothing compared to the liability you might pay later if you don't have insurance.
You should know how to compare the insurance cost. Insurers may offer a price that sounds so promising and way cheaper than other companies.
However, you should keep in mind the old saying, "If something is too good to be true, then it probably is."In insurance, the more money you spend on a policy or coverage, the more you will get to save later on.
Take time to consider your total insurance cost before deciding which policy is the best for you.
Coverage
Studying and understanding the coverage is vital as well. Cheaper plans are excellent, but if it offers a range that you don't need for your trucking business would be useless.
Most insurance companies offer basic truck liability coverage, but not all of them cover cargo, accident, and other third-party liabilities.
Cargo liability is essential for commercial trucking industries. Find the ones that offer Broad Form Cargo coverage to protect the truckload from any harm.
Personal details
Asking for personal details may seem overwhelming to take in. Ensure that you have a broker to help you out. Never hesitate to ask questions, so the broker will give you the policy details you're getting.
Questions that you can ask your broker :
"Is this an unlimited policy?"
"What type of cargo is to be insured?"
"Does the company address 24/7 claims?"
"Does the policy has an additional deductible?"
"Are any previous commercial trucking business that has availed the policy?"
Fleet status
The trucking industry relies on fleets to assist in their regular operations and essential tasks.
To ensure that these essential assets are safe and reduce overall risk, owner-operators must discuss the fleet status requirement with the insurance provider.
Fleet insurance is the best insurance plan for owner-operators. It has a wide range of insurance coverage for a single policy.
Obtaining such insurance will save you money, time, and hassle for truckers as they eliminate the need to have an insurance plan for each vehicle.
To ensure that the insurance has a good fleet status, check if the policy covers all risks and liabilities that the vehicle may encounter in its operation.
Terms and Conditions
The easiest way to understand what you are getting in the insurance is to read the terms and conditions written in the contract.
The terms and conditions provide information about what is covered and not, the cost of premiums, the validity, and other agreements.
Review the terms and conditions to ensure no errors that may affect your costs and coverage later on.
Go through each section of the contract before signing the fine print. Take note that carelessness and lack of knowledge will cost you a lot of money.
How to get the Best Semi Truck Insurance Deal?
The most effective way to get the best semi-truck insurance is to shop for them and compare. Compare local and international insurance providers, big or small companies.
Look beyond the deductibles, costs, or monthly premiums, to understand what is covered in the policy.
A lower premium is excellent however it's important not to cut corners on the coverage aspect and put your trucking business at risk just for a cheaper deal. It may cost you much more in the future when an unfortunate event arises.
Remember to always check the insurer's claim settlement ratio. A good insurance company always pays out more than 90% of the time, and this means less financial stress during distressing times.
Get the quotes from each semi truck insurance you speak to and compare each of them. From there, decide which company seems to offer the best deals suitable to your trucking business.