With the average warranty that comes with purchasing a Semi-Truck covering you for up to 3 years or 300,000 miles, it might seem like you have it covered.
However, there may be a need for extended (aftermarket) warranty cover. We'll take you through some good answers to help you decide.
Here's the rundown on the Best Semi Truck Extended Warranty:
National truck protection offers the ULTRA 2, one of the best semi truck extended warranty plans. This comprehensive plan for class 8 vehicles has a no limit for repair costs on engine, critical components, turbochargers, transmission and rear differential. Terms offered are between 6 to 48 months.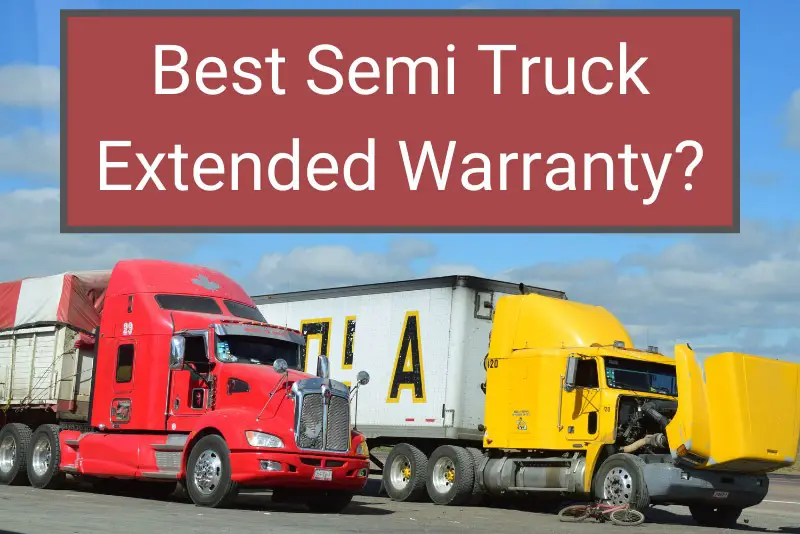 What are Semi-Truck Extended Warranties?
Extended warranties offer peace of mind for the truck owners and operators as they provide essential protection for new and aging trucks.
It covers critical components and equipment that keep them in the game of making money.
What do Semi Truck Extended Warranties Cover?
There are a few packages to choose from each with add ons as you upgrade, but the main coverage will be the larger more sturdy parts of the mechanics.
Engine and critical components, as well as transmission and differential, are covered.
They all come with terms of agreements which means that you could actually breach them and therefore not be eligible for a payout on any repairs.
The list below can help with what is covered:
Internally Lubricated Hard Parts.
Cam shaft and Cam bearings.
Crankshaft.
Cylinder Head and Liners.
Intake and Exhaust Valves.
Main Bearings.
Pistons.
Complete Injector.
Fuel Pump.
Engine Control Module (ECM).
Water Pump.
Aftertreatment Electronic Control Module (ACM).
Diesel Oxidation Catalyst (DOC)
DPF Dosing Module.
Exhaust Gas Recirculation Valves (EGR).
EGR Cooler(s).
Selective Catalytic Reduction Calalyst (SCR).
Wiring Harness Emissions Systems.
Internal Parts of Manual or Automatic Transmission.
Internal Parts of Power Divider for Differential.
There are extras for each package and probably best to speak to the company of your choice when you're ready.
Our advice is to not rush or feel pressured into a deal. Take your time and read the long and boring small print… it's worth it.
How Long Semi Truck Extended Warranties Cover you for?
The cover length is measured in either months or miles, whichever comes first.
Here's a rough list to help:
6 months or 50,000 miles.
12 months or 100,000 miles.
12 months or 125,000 miles.
24 months or 200,000 miles.
24 months or 250,000 miles.
36 months or 300,000 miles.
48 months or 400,000 miles.
These months and miles will vary a little from company to company and depending on the package you choose.
What does a Semi Truck Extended Warranty Cost?
They typically range from $3300 to $9800 or more depending on what package you have chosen.
With the new technology trucks have today from all their sensors to the new emission regulators there is a lot that needs to be covered as a lot more could go wrong.
A diesel oxidation catalyst is in the range of $500 to $2000 and an ACM can set you back $500 and that's just for the parts.
Companies take the smallest items into consideration and that can affect your monthly payment plan.
Each time you add components on, the price rises.
Who offers Semi Truck Extended Warranties?
National Truck Protection, Premium 2000, TLG Tucks (part of the Larson group), Truck Master Plus, and many more offer extended warranty.
You can also purchase extended warranties from your dealer.
However, the dealer will just be doing what you could do yourself then they get a commission for it which will eat into your pocket.
Do Semi Truck Manufacturers offer Extended Warranty?
In the last few years, manufacturers introduced a fairly new extended warranty certificate mainly to attract customers to their pre-owned trucks, which have certainly done the job.
In 2018 Peterbilt provided customers with the assurance of the Peterbilt Red Oval certificate which is a comprehensive 150-point factory-certified inspection performed by factory-trained service technicians.
It has now become common practice for manufacturers to offer extended warranties on their trucks, some even outsource their policies to a third party to reduce paperwork.
What about Volvo Semi Truck Extended Warranty?
Volvo has a similar system in place to Peterbilt with a comprehensive 150-point inspection and reconditioning process which will give a pre-owned truck up to 24 months and 250,000 miles of coverage.
The certificate warranties engine and transmission cover.
The idea is to give every customer the experience of buying a new truck even when it's used which also benefits dealers in increasing sales.
The warranty covers more or less the same as any other third-party company does.
However, the difference is that you do not have to waste time waiting for a call back from a third party to get the go-ahead on starting any work that needs doing.
Are Extended Truck Warranties Worth it?
There are two ways to look at this and many, many opinions on the subject.
Ultimately it is your decision but we're going to give you a few ideas to help you on your way.
While warranties don't cover everything that could go wrong with your truck, they can be a good idea to purchase even with the high price tags, admittedly they're not for everyone.
Ok! let's say for example you don't take out an extended warranty and your factory warranty has expired, you have little savings in the bank and a major engine component starts to cause you problems.
You take it to the garage (if you can) and they tell you "this is going to take a few days and be around $2700". You scratch your head walk out and start to wish you bought that darn warranty.
You check your bank and see you don't have as much as you thought you had or it's just about enough but you're going to be having some downtime for a few days, still wishing?
Now let's say you did buy that warranty and you have something go wrong that is covered.
You take it in and they say the same thing. Now you can go home kick back and use that money you saved to get by, while you're down and out.
Are Extended Warranties on Diesel Trucks Worth it?
It is worth it, semi-trucks have all types of issues and having an extended warranty is peace of mind when you're hauling large loads all day every day.
Some might say it isn't a good idea and that you could put the same money you would give for a warranty into your savings.
While this is very true you must consider the fact that your repairs may well outweigh what's in your savings, which leaves you dipping into your pockets.
But if it outweighs the cost of your warranty it really doesn't matter.
It really is not worth the gamble, especially if you have more than one truck and have to claim on the warranty.
You could find it saves your business, and not having one can cripple it.
If your routes involve driving through extremely hot or cold conditions then it would be something else to consider as the truck will go through more than the normal abuse that it's used to and speed up the chances of an issue.
The price of peace of mind is immeasurable.
What are the Best Semi Truck Extended Warranties?
Shopping around can be quite frustrating, we'll try to alleviate some of the pressures…
Premium 2000 plus with its cover of the turbo and DEF (Diesel Exhaust Fluid) emission system as an added package is an attractive deal and a good buy.
National Truck Protection offers roadside assistance offering you a tow if you break down, they have the premium and premium plus packages which can outsell most warranty providers.
Tips on selecting the Best Extended Warranty for your Semi Truck
Find an affordable plan that will cover the most expensive and important components.
Breakdown cover is a good one too but do your research with reviews on each of them and ask fellow truckers.
Buy from reputable companies and read the small print. Remember it is their job to part you with your money and will sell you anything they can.
If you feel too much pressure do not buy. You may feel a little pressure as it is in their nature to rush you to make a quick deal. Just take your time.
Do research on the warranty you want and ensure it covers the parts you want it to cover.
Also research the reliability of those parts then weigh out your options, it sounds like a lengthy process but it doesn't take too long at all and it's worth it.
You should come across as someone who isn't buying their first truck or extended warranty and negotiate with prices obtained from other warranty offers.
Think about which approved repair shops near you cover the work your truck may need.
It may sound like a great idea to take the warranty out with the biggest US support structure, but that won't help you if it's 50 miles from your house and they'll have your truck for a few days.
Happy Trucking!