International trucks have been in production for over 100 years.
These powerful heavyweight semi trucks made their way into the farming industry, where they made a huge impact and quickly saw the need for their trucks in the commercial trade.
Since then, they have built a reputation in every field and have joint forces with Traton, one of the world's largest commercial truck manufacturers.
We will take you through the best model, the most efficient model, and the top-of-the-line model.
We will also cover how much insurance will cost and why these trucks are worth buying.
Here are the average new and used prices of the most popular International Semi Truck models:
| | | |
| --- | --- | --- |
| MODEL | NEW | USED |
| International LoneStar | $160k | $130k |
| International DuraStar | $230k | $93k |
| International ProStar | $160k | $110k |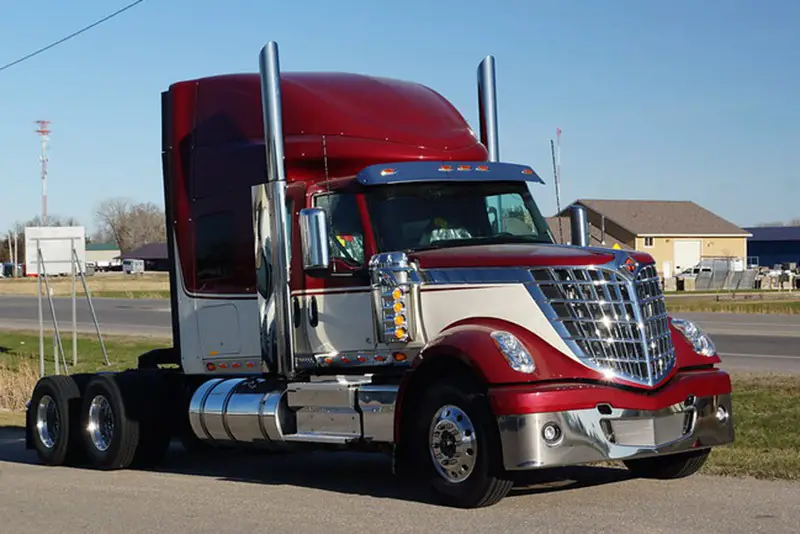 How Much is an International Semi Truck?
The average price of a new International semi truck is between $160,000 and $230,000. The average price of a used International semi truck is around $100,000. The prices of new and used International trucks will vary due to the features, model, age, mileage, condition and popularity of the truck.
International semi trucks are well built, great-looking machines that can take on any work environment and comes at a reasonable price.
A truck in good working order will cost you $70k to $100k.
The prices can go higher or lower and may vary from model to model and new to used.
How Much is a Brand New International Semi Truck?
A brand new International truck price starts from $160k and can go as high as $500k or more depending on spec and model.
The new LT series starts at $160k, and the new HX models start at $320k.
What is the Price of an International Lonestar Truck?
The Lonestar truck is one of the most popular. The cost for a new one starts at $160k and can go as high as $550k. A used one, as you can imagine, will cost you a lot less.
A standard used Lonestar in good condition will set you back around $100k to $130k. The Harley Davidson Edition could cost you $150k or more there are many trucks out there with many prices.
How much are you willing to pay for your career?
What is the Top of the Line International Truck?
The new HX model is one of the most sophisticated trucks International has to offer. Not only does it look good, but it also has a diamond elite interior with signature stitching.
It has a corrosion-resistant tough line coating and self-healing intercoat, premium heated and ventilated seats, diamond logic system control function, and programmable rocker switches within arm's length.
It also comes with a factory-installed lift axle, a crack-resistant three-piece hood. The new cab is reinforced and protected with Chemguard, Line-X coating, and reinforced B-pillars.
An International A26 engine delivers up to 500 horsepower to help maximize payload delivery, Bendix driver-assist technology to increase drivers awareness.
This truck is truly top of the line with LED headlamps, dual steering gears, and advanced ABS systems to help with turning and traction.
What is the Best International Truck to Buy?
Choosing the best truck is a hard decision to make. There are many International truck models to choose from, and It would largely depend on what the vehicle will be used for.
The Lonestar, LT series, and Prostar are great for the long hauling, the Workstar, HX series, HV series are great for off-road work, and the Paystar is great both on and off-road.
In our opinion, the best truck to buy is one that suits your finances and will do the job you want it to do. They are all great trucks.
What is the Cheapest International Semi Truck you can Buy?
The cheapest is not always the best option, but if it's your only option, there are some quality trucks to start your career in that don't have to break the bank. Here's a few we found.
A 2017 Prostar with 456k miles on the clock at $59k, the 2018 LT series with 489k miles at $77k. A Lonestar 2017 with 677k miles at $60k, and a 2017 8600 model with 241k miles at only $39k.
They all have lower prices compared to their newer models.
How Much does Maintenance Cost on an International Semi Truck?
The cost of maintenance on a semi truck can leave you feeling broke. It doesn't have to be that way. There are some simple checks you can do to reduce the yearly cost.
On average, maintenance will cost you between $12k to $18k, roughly around 10% of the value of your truck. Daily checks of the tires and hose lines for damage or leaks will reduce downtime.
Recording your mileage to pre-book a service will also help you save time.
How Much Does Insurance Cost on an International Semi Truck?
Insurance is one of the most crippling payouts to most truck drivers, an increase in fees year on year makes it even less comfortable to part with the cash.
On average, the cost to truck drivers is around $600 to $1000 a month. Insurance companies look at what you will be hauling, how many miles you will travel per year, and your commercial driving experience.
Considering all of the above, they do a valuation and offer you the option to pay either yearly or monthly.
Are International Trucks Worth It?
International trucks are underrated. With International trucks, you get a lot for your money. It is well worth investing in them, and not only do you get a quality truck that is reliable and tough.
You get comfort and style at a competitive price. The HX520 Tandem Axle Sleeper has a GVW rating of up to 92,000 Ibs, built on a super single 12″x 1/2″ frame rail, front axle capacity of 20,000Ibs and rear at 52,000 Ibs.
A Hendrix rear air suspension, more legroom in the cab, along with an increased view of the road, comes with the International A26 or Cummins X15 engine with up to 600 horsepower, 56 inches to 73-inch sleeper sizes.
If that impresses you, you should be even more impressed when we tell you that this isn't their best model.
Are International Trucks Safe?
International trucks have collision mitigation systems that have the potential to reduce collisions by up to 70%. It has a lowered beltline on the side windows for up to 20% extra side visibility.
Additionally, it has Rolltek seats, in the worst-case scenario of a driver rolling their truck, and adaptive cruise control that helps the driver keep a safe gap when traveling at higher speeds. Driving an International truck is as safe as driving gets.
Are International Trucks Fuel Efficient?
Fuel efficiency is a big thing for truckers. It affects their earnings. This is why International has worked long and hard to improve their models to produce a more fuel-efficient truck for their customers.
The LT series is their most efficient truck yet, with an International A26 engine and an aerodynamic cab, making it reach on average 10 mpg, an improvement on the 2018 version at 7 – 8 mpg.
And more than twice the miles covered by the 2016 models, that at best covered 5 mpg.
Do International Trucks Last Long?
We all by now know that any truck can last on average 750k miles, and in many cases, even more, International claims their trucks can last 20 years. I can not see any reason they would not last that long.
They have very reliable and durable engines, but this is no match for neglect. If you fail to maintain the truck, the truck will eventually fail you. Some truckers service their trucks before they need to.
It is a great way to prolong the lifespan, a simple oil change will do, and you can get well over a million miles.
How well do International trucks Hold their Value?
After 5 years from being put into service, a truck will depreciate. Each brand is different. Last year the International Workstar 7400, heavy-duty conventional cab and chassis, won the Highest Retained Value Award.
The average resale price for this truck was $109k. This showed a 46.80% 5 years retained value. The International Workstar 7000 also won the same award the year before.
The average resale for this truck was $127k. This showed a 43.86% 5 years retained value.
Where in the U.S. Can you Buy International Semi Trucks?
International trucks have catered for the entire trucking market and can be found across the whole of America. Over 1000 dealers are spread around the United States, Canada, Brazil, and Mexico.
Below is a list of the major dealerships in America.
Sun State International Trucks – Davenport – Florida – +1 863 424 2411
Sternberg International Trucks – Jasper IN – +1 812 482 5753
Astleford Interantional Trucks – Minneapolis – Minnesota – +1 612 378 1660
Rechtien International Trucks – Fort Pierce – Florida – +1 772 466 1842
White's International Trucks – North Carolina – +1 252 636 1837
Centre State International Trucks – West Burlington – +1 319 753 6539
Nutmeg International Trucks – Hartford – Connecticut – +1 860 249 8635
Price International Trucks – Texas – +1 800 658 1100
Happy Trucking!