Mack semi trucks are some of the most popular on the market. We see them everywhere, and they are one of the most recognizable brands in the industry.
Have you ever wondered why there are so many Mack semi trucks on the road? Have you thought about how much they cost and whether they are a worthwhile investment?
Read on to find out more about Mack semi trucks.
Here are the average new and used prices of the most popular Mack Semi Truck models:
| | | |
| --- | --- | --- |
| MODEL | NEW | USED |
| Anthem | $100k – $140k | $80k – $120k |
| Pinnacle | $100k – $130k | $70k – $110k |
| Granite | $160k – $220k | $100k – $170k |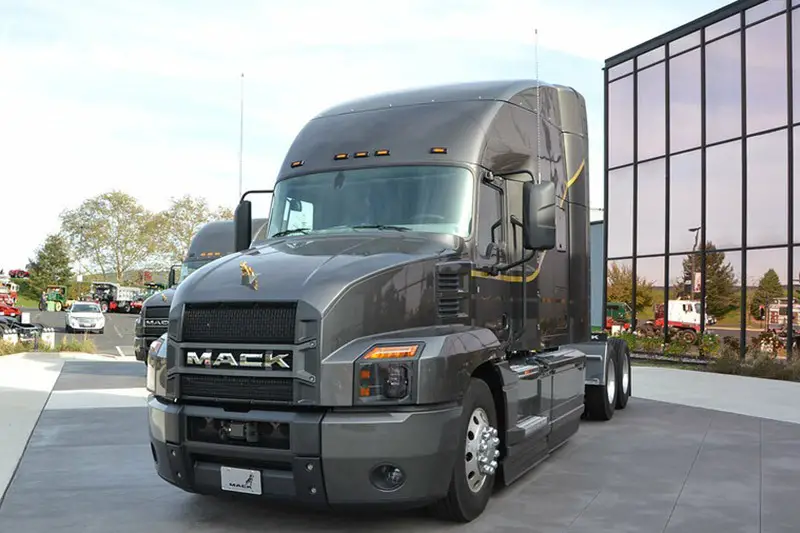 How Much is a Mack Semi Truck?
The average price of a new Mack semi truck is between $100,000 and $220,000. The average price of a used Mack semi truck is around $70,000 – $170,000. The prices of new and used Mack trucks will vary due to the features, model, age, mileage, condition, and popularity of the truck.
How Much is a Brand New Mack Semi Truck?
A brand new Mack semi truck costs between $100k – $220k depending on the model and features included. The base price for the new Mack Anthem is $100k for the day cab and costs up to $140k for sleeper cabs. A new Mack Pinnacle costs between $100k – $130k. The Mack Granite costs between $160k – $220k.
How Much is a Used Mack Semi Truck?
Mack semi trucks hold their value extremely well. This makes them expensive even when you are buying them second-hand.
In most cases, you should not expect to pay much less than you would for a new Mack semi truck. This is especially true is the semi truck is still relatively new and has very little mileage.
In some cases, you can negotiate the rice of the semi truck down. It depends on the condition of the semi truck, the mileage, and how old it is.
However, when it comes to Mack semi trucks it can be extremely difficult to negotiate the price down since their build quality is fantastic.
How Much does a Mack Anthem Cost?
The Mack Anthem is the flagship model when it comes to Mack's semi trucks. It's the ideal semi truck for long hauls and driving large amounts of cargo around.
The Anthem is built for driving on highways over incredibly long distances and it offers tons of safety and comfort features.
Mack calls the Anthem the 'home away from home' and the sleeper cab offers an interior that is spacious and comfortable for drivers.
Safety features on the Mack Anthem go even further by offering incredible driver assists.
For example, during parking and low-speed maneuvers the steering wheel will automatically return to its neutral spot, which helps to reduce driver tiredness.
The price range for the Mack Anthem is between $100,000 and $140,000.
The Anthem without the sleeper cab is $100,000, and if you choose to add in the comfortable space for drivers you can expect to pay $40,000 more.
Each Mack Anthem is fully customizable as well. You can spec out your own semi truck and choose from a variety of different engines on offer from Mack.
How Much does a Mack Pinnacle Cost?
The pinnacle is The Mack Pinnacle is the definition of power and grit. It was built using durable and stronger components to ensure that it can handle tougher situations.
The Pinnacle is a workhorse on any terrain, whether it is on roads, highways, and even offroad. The Pinnacle can handle steep inclines and declines and even longer hauls.
In short, this is the perfect truck to have if you need one that can handle some rough terrain.
You can expect to pay between $80,000 and $120,000 depending on whether you get the day cab or the sleeper cab.
What is the Top of the Line Mack Truck?
The top of the range model offered by Mack is the Anthem. The Anthem is stacked with all the latest technology and features.
It is the ideal semi truck for long hauls and highways. It is the most comfortable and the safest semi truck on offer by Mack.
The Mack Anthem has the perfect driver environment, with comfortable seating and several interior features that assist the driver while they are on the road.
All of these features make the Anthem a significantly more comfortable and safer semi truck to drive on long hauls.
The sleeper environment is a home away from home for the drivers. It features tons f storage space, an HVAC unit, power outlets, fridges, TV screens and even a microwave.
The top of the range sleeper cab also offers extra space. Enough room for the driver to be able to stand comfortably in their sleeping quarters.
What is the Best Mack Truck to Buy?
Mack has a variety of semi trucks on offer. It can be difficult to decide which one is best for you to buy.
Each semi truck that Mack has on offer has been designed for a specific purpose. This makes it much for your to decide which one you need to get.
The Mack Anthem is the top-of-the-range semi truck and is ideal for driving long distances on highways. It is extremely safe and comfortable, and it is also easy to maintain.
The Mack Pinnacle is a workhorse. If you're hauling heavy cargo or even driving off-road, this is the semi truck for you. It's ideal for rough terrains such as ranches or construction sites.
The Mack Granite model has a lighter powertrain. This semi truck is ideal for situations where you need a nimble truck that can maneuver easily, yet still offer you a lot of power.
What is the Cheapest Mack Semi Truck you can Buy?
The Mack MD7 is one of the cheapest models on offer. This is because the entire powertrain of the MD7 model is much lighter and built from cheaper materials.
However, this does not by any means that it is lacking in the quality department. The Mack MD7 is still durable and capable of madium-duty work.
You can expect to pay between $80,000 and $100,000 for the MD7 model. However, just like all the other semi trucks on offer from Mack they are fully customizable.
How Much does Maintenance Cost on a Mack Semi Truck?
Mack semi trucks have average maintenance costs compared to other brands of semi trucks. Annually, they cost around $15,000 in repairs. The average for semi trucks is between $10,000 and $20,000 per year.
However, due to the complex and innovative features of Mack semi trucks, they can cost more than average in some circumstances.
Some of the tech found on these semi trucks can be expensive to repair and replace, however in most cases it will not be necessary.
If the semi truck has taken a lot of damage or has not had its regular maintenance at the recommended intervals, the repair costs of the truck can be much more expensive.
How Much does Insurance Cost on a Mack Semi Truck?
Insurance on semi trucks is significantly more expensive than on average cars. You can expect to pay a lot more on insurance fees.
For Mack semi trucks, you can expect to pay between $640 and $980 per month. However, there are some factors that affect the price of your insurance.
For example, it depends on the type of cargo you will be hauling, how far the semi truck will be driving and how experienced the driver is.
Are Mack Trucks Worth it?
Mack semi trucks are some of the best on the market, and they are absolutely worth the investment.
Below we will break down some of the biggest concerns people have when looking into buying a new semi truck.
Are Mack Trucks Safe?
Mack semi trucks have tons of safety features on the semi truck. The trucks have controls on the steering wheel so the driver never has to take their hands off the wheel.
All the center console controls are placed close to the driver as well, so they will never need to lose focus on the road ahead of them.
Mack semi trucks also feature comfortable executive seats for drivers. This helps to prevent drivers from becoming tired quicker and helps them to focus for longer.
Another feature on Mack semi trucks is that the steering wheel will automatically return to zero during parking and slow-speed maneuvers. This means the driver has less steering work to do, and it will help them to preserve their energy.
Are Mack Trucks Fuel Efficient?
Mack engines are some of the most fuel-efficient that can be found in the semi truck market. The new MP engines burn much cleaner than before, which gives them significantly better mileage.
You can now also invest in an MP8 HE engine, which features a high energy recovery system. Any energy that is lost during braking will be converted back into extra horsepower.
Overall, this will improve the fuel efficiency of your semi truck, especially over long distances.
Here are the MPG figures for Mack engines:
Average Semi Truck – 6.5 MPG
Do Mack Trucks Last Long?
Mack semi trucks last an extremely long time thanks o their incredible build quality. You can still find Mack semi trucks on the second-hand market that are more than 15 years old.
This is a testament to how long these semi trucks can last. Although they might be expensive, it is an investment you won't regret when it comes to the longevity of their lifespan.
How well do Mack Trucks Hold their Value?
Mack semi trucks are known for holding their value very well. If you're looking for a second-hand Mack semi truck, you can expect to still pay a lot of money.
Their excellent build quality ensures that their resale value is still very high, even if they are a couple of years old and have high mileage.
If you're buying a Mack semi truck, consider it an investment. You can still make a big chunk of your money back if decide to sell it in the future.
Mack were finalists in the 2020 Highest Retained Value Awards for semi trucks. Despite not winning the award, being a finalist is an excellent achievement.
You can expect to pay around $78,000 for a Mack semi truck that is five years old. That is a decrease of $42,000 or $8400 per year.
Where in the U.S. can you Buy Mack Semi Trucks?
Mack semi trucks are extremely popular, and they are not difficult to find.
There are several dealers where you can buy your own Mack semi trucks. You can find a comprehensive list of them below:
Mack – Macungie, PA – +1 610-966-8909
Bergey's – PA & NJ – 866-237-4393
Legacy Truck Centers – PA & WV – +1 814-898-8396
Arrow Trucks – IL, NJ, & FL – +1 618-667-1236
Tristate Trucks – TN, DE, MS, PA, AR, MO – +1 901-947-5000
TEC Equipment – OR, CA, WA, NV – +1 503-285-7667
Bruckners – LA, TX, OK – +1 866-897-8274
CIT Trucks – IL, MO – +1 309-452-8392
Commercial Truck Trader – TX – + 1 877-872-3373